As you begin your digital strategy preparation for 2018, we understand that task can be overwhelming with the fast paced and ever-changing capabilities. So, lets focus on one aspect of that strategy. Search Engine Optimization Strategies should be your building block and hub of all marketing as it resides on your website. If you are looking to revamp your SEO efforts, here are some of the hottest trends going into 2018.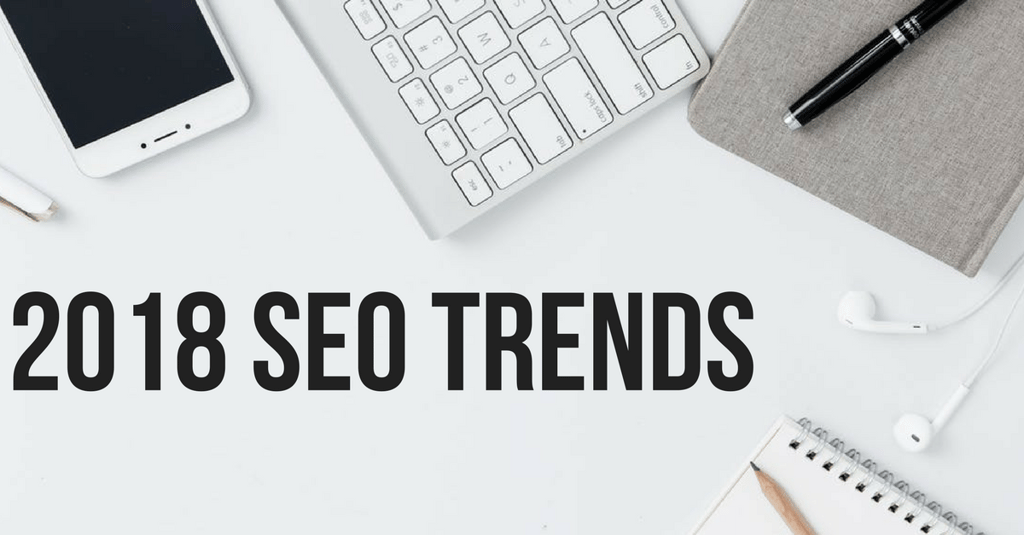 2018 Search Engine Optimiaztion Tactics
Voice Search - According to Comscore, 50% of all searches by 2020 will be voice search, and Google reports 20% - 25% of Google searches were voice related in 2016. With the continual rise of mobile devices and voice first technology like Google Homes, this is a must do for the upcoming year. So, what are some voice search checklist items to get in order?
Start by thinking like a user, local and mobile focus is key. What would you search through voice? These phrases will get you off to a good start (Who, What, When, Where Why and How)
Content should be humanized and conversational with Long tail keywords intertwined within the content. A great place to begin your optimization would be an FAQ page.
Lastly, claim and verify local citations like Google my business and Yelp. These are "low hanging fruit" opportunities to get your brand found for free. Additionally, Google My Business is local focused, so searches like "Pizza near me" is primed for Local listings.
Try out some voice search phrases with Google Trends.
SSL Adoption (HTTPS) - If you are unaware of Google webmaster tools warning to site owners of non-secure sites to be flagged, check out this recent Google Search warning. In short, sites without an SSL will have warnings to users when forms are present on a page. This will have an immediate impact on site leads, conversions, engagement stats and debatably even search engine rankings. The good news is you still have some time to implement as this hasn't taken full affect quite yet, but it is on the way as Google warned the implementation will begin in October 2017.
Backlinking - This is a staple year in and year out of a strong search engine presence. Paired with useful content, relevant and industry specific backlinks are one of the main components search engines use when dissecting the authority of your site. Continually growing the backlinking portfolio of your site will pay dividends in ranking your content. Here are some ideas for backlinks that you may have left untapped.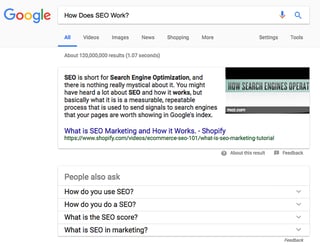 Useful Content & Featured Snippets – Content is still the king of SEO, which drives your strategy and helps build the ranking factors of your site. Along with blogging on a regular basis in 2018, you may want to consider Q&A and FAQ pages (this was also a theme for the voice search section) for the purpose of gaining a "position 0" or featured snippet. According to Stone Temple Consulting, nearly 30% of Google Searches show featured snippets. To no surprise, these featured snippets are also utilized by voice first search devices. Check out this example of a featured snippet on "How Does SEO Work?"
User Experience & AMP – I would be remiss not to mention user experience as a factor of SEO if not for overall site health and lead nurturing. With one of the main aspects being site speed and mobile responsiveness. Did you know that nearly 60% of all Google searches are on a mobile device and over 53% of mobile users leave a site that takes longer than three seconds to load? So, have you tested your site speed score on mobile lately? Test it here with Googles free tool. If you are unsatisfied with the results, you should consider the implementation of AMP (Accelerated Mobile Pages). AMP pages load instantly within Google search rankings, here are the factors allowing quick loading. According to Tech Crunch, Googles AMP now powers two billion mobile pages and over 900 thousand domains.
Above these strategies, traditional SEO techniques are still just as effective as ever. Staying up on the latest trends will help you to stay ahead of the game as you prep your marketing for 2018. If you would like more information on SEO services or consultation, contact THAT Agency today.