The hospitality industry is evolving at a blisteringly fast pace: hotels face increased competition from "nontraditional" sources, such as Airbnb. Consumers are savvier - with more tools at their disposal; websites inundate guests with a deluge of information; and a greater share of bookings is made online. A hospitality digital marketing strategy is essential to compete - and thrive - in this business environment. But are you getting maximum value from your hotel marketing agency?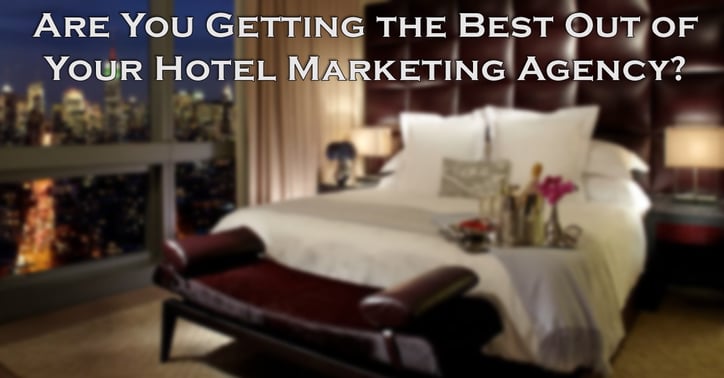 Mission Critical: A Strong Online Presence for Your Hotel
Two of the fastest growing segments in the hotel industry: business travelers, which account for over $72 billion in spending per year, and millennials. What ties them together is not just the need for comfortable accommodations - it is the desire to research and book online. These consumers expect that hotel websites will be responsive, easy to navigate, and feature a full suite of functions (from price lists to booking calendars to onsite reservations).
As a result of these influences, hoteliers must launch full-scale digital marketing campaigns. Must. Not should. Not maybe. Not in the future. They must, and they must act quickly to ensure they do not miss out and erode brand value among today's tech-oriented travelers.
An agency that specializes in hospitality digital marketing is your most potent weapon in the fight to compete in the 21st century. Outsourcing this targeted need enables you to save time - and money - so you can focus on growing your business. The key to success is to utilize your agency as powerfully as possible. How?
Understand That Your Hotel Marketing Agency Is a Partner.
What's the difference between viewing your agency as a partner and as a vendor? A vendor is someone who sells a service: copy paper, coffee, printers. You obviously need vendors, but when it comes to digital marketing, you need professionals who work to understand your business, apply their extensive industry knowledge to your specific needs, and who are committed to your growth and success.
A vendor conducts transactions. A partner becomes an essential part of your team, delivering work for which you have neither the time nor expertise.
Choose the Best Partner.
Not all marketing agencies are created equal - nor will all put exert the effort and put in the time necessary to ensure you meet your unique goals. Before selecting an agency, ask some targeted questions, such as:
Who is going to handle my account?

Will my business have a dedicated account manager and team? Or is my marketing strategy being developed and executed by faceless people who work on countless other accounts?

How many clients does your firm handle? Massive firms may indicate a "superstore" type approach - you want to hold out for boutique. Customized attention is the only way to differentiate your business.

How many hotels do you handle - and how many of my market competitors do you represent?

Do you have a process through which you learn about my business? And what is my role in this? What can my team do to facilitate a faster, more seamless immersion?
Look for an agency that will provide you a 3-5 person team that is committed to learning about your business and developing a strategy that suits you best.
Clarify Your Goals.
Your hotel marketing agency should invest in understanding your business and developing a strategy customized to your needs. The first step in achieving this end is to clarify your goals and articulate them succinctly. What is it, exactly, do you want to accomplish? To move into the business travel space? To attract the millennial segment? To expand into new territories? To concentrate on a niche, go ultra-high end, or become known as the top budget choice?
There is no wrong answer: it depends on your brand identity and the direction in which you want your business to grow. Knowing this before you start creating campaigns is critical, and you have to be able to communicate your goals to your agency. When you do, they become the partner you need.
A critical co-step, if you will, is to set reasonable deadlines and allocate appropriate resources to enable your goals to come to fruition.While quick-turnaround work is possible, and often necessary, you shouldn't expect your agency to operate "under the gun" all the time. They need reasonable time to plan and execute to the fullest of their capabilities. And you can help: provide timely feedback so there are no bottlenecks in the process.
A firm knowledgeable in hospitality digital marketing can help you bring your hotel to new heights of success. When you find a trusted partner, you not only keep up with the incredible pace of change in the industry - you can pull ahead of your competition. Want to learn more? Check out inbound marketing for hotels or what works best for OTAs.