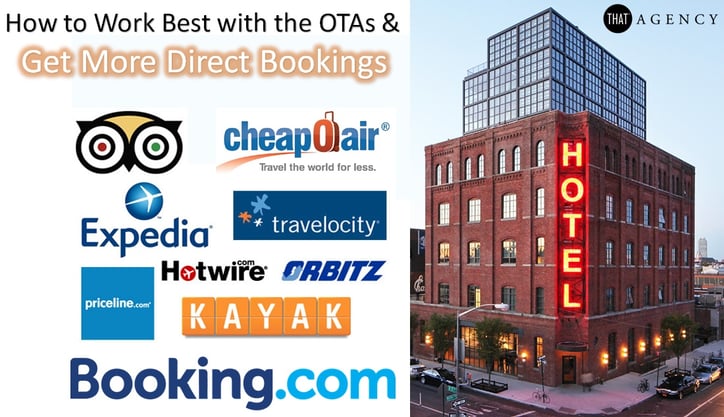 Online travel agencies have been instrumental in the evolution of the hospitality industry. OTAs account for about 45 percent of all travel bookings - a segment hotels would be remiss to ignore. That said, focusing on OTAs at the expense of other channels is a mistake that will impede progress towards business-critical goals. Strategies that enable hoteliers to get more direct bookings can help reduce costs and build the bottom line.
Rate Parity
The relationship between hotels and OTAs is symbiotic: you rely on the booking sites to fill rooms during off-peak times and when last-minute cancellations threaten to tank usually-lucrative periods. And in return, you pay a commission ranging from 15 to 30 percent.
Additionally, when you sign a contract with an OTA (e.g. Expedia, Kayak, Priceline), there is a rate parity clause. This prevents your hotel from publicly publishing rates that are lower than those on the OTA. A quick example of rate parity at its most basic: A traveler visits an OTA site and finds a room at your hotel for $110. This clause means that you cannot publish rates less than $110 on your website.
This would seem to be a major obstacle in the quest to get more direct bookings. But only at first glance. In fact, there are techniques that you can use to maximize direct bookings and remain in complete compliance with all contracts. Let's take a look.
Capitalize On Changing Search Habits
For all the talk of OTAs "cannibalizing" bookings, it's important to remember that they can, and do, lead customers to hotels. A Google study found that more than half (52 percent) of travelers visit a hotel's main website after finding it on an OTA.
The traveler's journey typically begins with research conducted on an OTA. When the consumer has created a short list of possibilities, they visit the hotels' websites to learn more. Here is your opportunity. If your website is difficult to use, unclear, or doesn't easily - and quickly - provide the information consumers need, they will bounce back to the OTA or, worse, to a competitor's site.
If it is intuitive and makes booking a breeze, then there is a much greater chance that they will stay and make reservations. Furthermore, once they have experienced the convenience, it may influence them to return to website directly when they need accommodations for their next business or personal trip.
Optimize the Main Website
The next logical step is to optimize your website so people who go there directly and those who are routed through an OTA can find what they need. Best practices include:
Speed

. Work with your web development/hosting provider to ensure that your site cuts all extraneous weight and loads instantaneously. Even a fraction of a second delay can increase bounce rates.

CTAs.

It is best to include clear calls to action on every page. "Book Now" or "Get Rates" indicates what customers need to do in order to complete their booking easily and quickly. Be sure the CTAs are highly visible and leave no confusion about what you want your customers to do.

Imagery

. Travelers want amenities - wireless, cable, pool, gym, etc - but they also want to feel as comfortable as possible. Room design is a key feature, and high quality photos of your rooms and grounds can help seal the deal.
Rates.

It is essential your hotel advertise its rates clearly. If you offer deals (e.g. vacation packages) or membership incentives, they should be highlighted onsite.
Social.

Leverage the power of social media and peer conversation by connection your websites to your social profiles. Make it easy for consumers to "travel" from one to the other seamlessly.
SEO.

Every business - whether in hospitality, retail, B2B, or consumer goods - should implement sound search engine optimization practices to ensure their sites stand out in among the competitors in the search engine results pages. Given the prominence of OTAs, this is even more relevant to your website.
Utilize a Blog
A blog is an ideal avenue to accomplish a number of marketing, search, and booking goals simultaneously. In terms of hotels, writing about deals - as well as providing travel tips and other essential information - draws targeted traffic to the website. Again, remember to announce new posts on your social platforms and provide a link for followers.
Offer More Value
Use your website, blog, social pages, and other mediums to spread the word about loyalty programs and/or direct booking incentives. How can you do this without violating the rate parity clause? Most contracts do not allow you to advertise lower costs to an "open" audience but permit you to target a select or limited audience.
Members of your loyalty program certainly count, but you can also reach out to other "limited" audiences. For example, you could give your Twitter or Facebook followers a special discount and/or coupons that they cannot access elsewhere.
You can also offer other incentives that go beyond rate. Travelers find your hotel for $110 on an OTA; that's the price you advertise on your own website. But then you can sweeten the pot with free upgrades, a certain amount of comped drinks or meals, a bottle of wine, free parking, a later checkout, etc. The basic price is the same, but you are offering more value - and a more comfortable stay.
The key is to make these incentives enticing and exciting. There are a myriad of ways to do that; think about what your target audience wants and how you can deliver the value they want and need.
These are just a few of the suggestions that can help you get more direct bookings. A firm that specializes in hotel marketing services can suggest even more and help you implement them effectively and efficiently.
OTAs aren't going anywhere; and that's not bad news for hotels. When you work with them while simultaneously leveraging your own online presence, you can get more direct bookings.