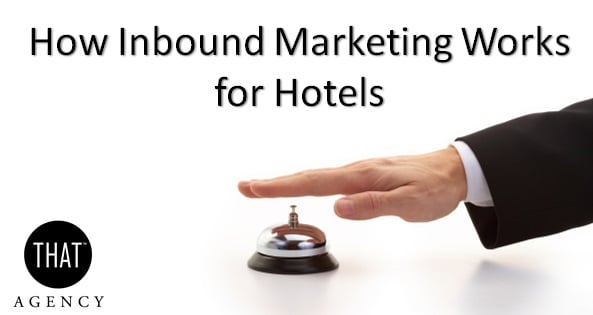 Push vs. pull.
If you've been wondering what the difference between traditional and inbound marketing is, it's that simple. Traditional marketing - commercials, ads, direct mail - pushes your message to consumers. Inbound marketing pulls your audience to you via high quality content that prompts them to seek you out. This is how inbound marketing works for hotels: you create interest in your services and draw travelers to your establishment. They come to you. If you've been relying on conventional tactics, it's time for a paradigm shift.
Consumers Don't Want a Push
There is no doubt that customer behavior has evolved, in large part thanks to technology. Behavior is:
Buyer-Oriented. Consumers search for products - including hotel rooms - on their own time, when they are interested and ready. Telling them what and when to buy no longer works. Push marketing casts a wide net, launching out messages and pitches, hoping it'll stick with some target audience members. Inbound marketing, on the other hand, provides consumers with relevant information and messaging specific to their progress in the buying journey. Again, if you provide this content, customers come to you.
Search-Oriented. Today's consumers depend on search engines to research products, services, and companies. Technology empowers them to look into solutions, narrow down providers, compare pricing and offerings, and, finally, complete a call to action.
Research conducted by Voltier Digital clearly underscores the urgency for a shift in hotel marketing strategies.They found:
86 percent of people skip TV ads.

200 million Americans are on the "Do Not Call" list.

91 percent of consumers unsubscribe from company newsletters.
Push doesn't work. Providing relevant, valuable content, joining in and guiding online conversations, and actively participating in the channels where your prospects are does.
The good news is that inbound marketing works, and that it works more efficiently and effectively. According to a HubSpot study, the cost per sales lead is 62 percent less than with traditional marketing and the cost of customer acquisition is substantially lower. Additionally, customer retention is boosted.
And why wouldn't it be? Your hotel starts providing service the first time a prospect pulls up a blog post on hot summer destinations or a podcast on travel safety tips. You deliver value long before they check in.
Where Your Guests Are - And Where They Want to Go
The key to effective inbound marketing is to understand where your prospects are in the decision journey before they actually embark on a real journey. It's useful to look at the 5 stages of travel:
Dreaming. This is the awareness building stage: you can help them dream by offering information on your locale, events, attractions, etc. that help them get to know more about the overall destination.

Researching. They are getting serious: they want to specific information, such as travel planning guides, tips, travel FAQs.

Booking. Your website is the star here: make sure it is easy and convenient to reserve rooms and provide information guests will need to ensure a great stay.

Experiencing. Continue to build the customer relationship. An app that they can download to guide them through their stay, for instance, is a value-add your competitors are unlikely to offer.

Sharing. Your guests become content generators by sharing reviews, comments, and pictures via social media.
Use a variety of digital channels - your website, blog, social media, ads - to engage prospects throughout the sales funnel. Some strategies to consider - or to inspire you:
Create a blog or app that acts as a guide to your city and its best features, such as entertainment, restaurants, shopping, natural and historical attractions, and more. Prospects will turn to you for information - and then for services. You are proactively building those relationships.

Produce a series of YouTube videos that highlight your hotel and its features. Avoid selling, as much as possible, and focus on the value you offer and how guests can create memorable stays. Tell your story; this is what customers want. Not a pitch. A narrative.

Develop a concierge app that provides guests with tips, recommendations, and critical updates.

Launch an online recommendation platform, group, or forum in which employees help guests find the best gems in your city - whether the hottest restaurant or the trendiest boutique. To each recommendation, you can add images, videos, and maps.

Engage prospects and guests via social. One upscale hotel does this and provides access to its top sommeliers. Guests can questions, discuss flavors, inquire about pairings, and share their own experiences.
Hotel marketing services that focus on inbound strategies will help pull customers to you. These suggestions, and a host of others, enable you to accommodate new consumer habits and deliver the value they need before, during, and after their stay with you.
If you're unsure of how inbound marketing works for hotels, engage a trusted agency partner to help you navigate the landscape. Consumers are tired of being pushed: instead, compel them to come to you.