Many owners and marketers of small- and medium-size businesses (SMBs) consider time and budget constraints to be their top digital marketing challenges. However, these same constraints are cited just as frequently by marketers of big corporations. To dig deeper into the challenges of digital marketing specific to SMBs, I went straight to the source.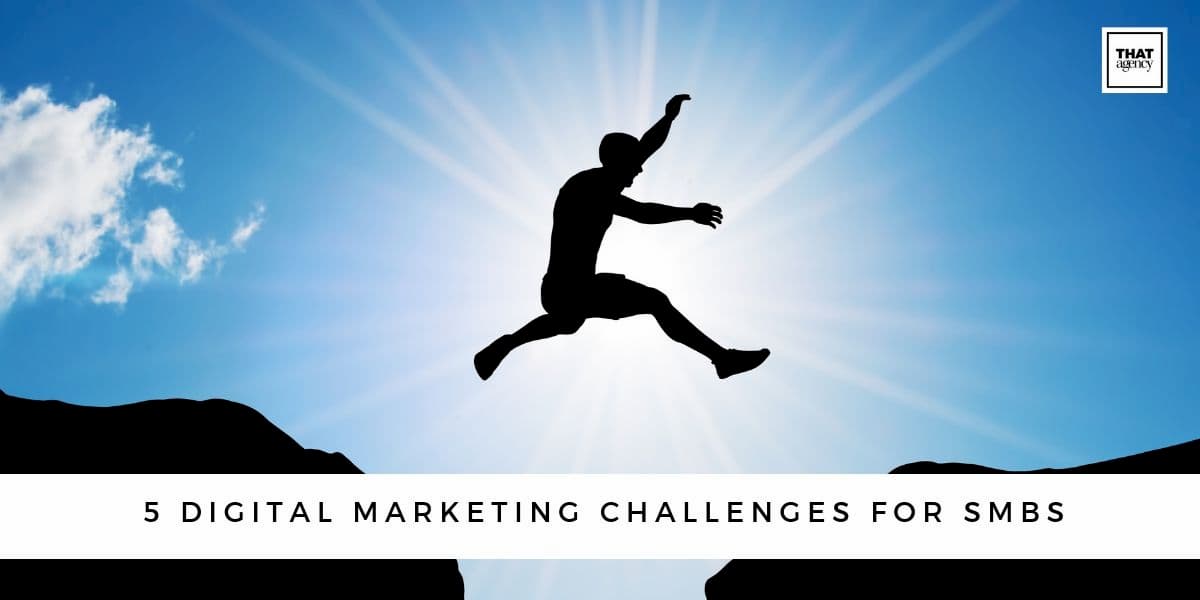 I asked a number of SMB owners and marketers the following question: "Besides time and budget constraints, what obstacles do you face in marketing your business online?" Here are their answers, grouped by similarity:
1. Knowledge & Staffing
"We have found marketing ourselves to prospective employees has been one of the toughest challenges. The hardest we found was acquiring top talent locally, or convincing further afield to commute or relocate to the area.

We changed it up. Hiring remotely opened up the talent pool. I could offer higher salary and perks, due to not needing office space. Less overheads and other costs freed up a lot more capital to recruit the best of the best. Overall staff morale was a lot happier as they didn't have to commute, saved money on work clothes and additional travel costs.

There were a few challenges along the way, making the transition, but it has all been worth it in the end."
— Tom Buckland, Marketing Ops, Choose Wisely
"I find one of the biggest challenges to be knowledge. You're competing against bigger companies for a presence online, [companies] who have professionals doing it for them. However, for a small business like me, we are doing this on our own, learning as we go."
— Laura Burnett, Business Development Manager, MHE Services Ltd
"A successful online marketing campaign is of course governed by several factors, however chief of which is down to the quality and know-how of your marketing staff. When Slickplan were starting out we made an effort to hire local talent and run a traditional office setup. Truth be told, it was a big challenge getting the right team together. We made a decision to accept remote workers and freelancers, which has made a huge difference to what we get done. It's difficult at first, especially as a manager, as you feel somewhat disconnected from your work force. Focus on communication and building trust, and you'll soon see the benefits of remote workers."
— Tom Willis, Marketing Manager, Slickplan
"The two largest obstacles SMBs face when it comes to digital marketing are producing quality content and staying consistent. Both require a tremendous amount of time and many SMBs don't have a dedicated staff to handle those responsibilities."
— Ryan Born, CEO, Cloud Campaign
"Writing content, social media, planning photography, videography, etc....need dedicated staff in order to create quality work that helps the SMBs grow."
— Dan Salganik, Co-Founder, VisualFizz and Commoot
"I'd say SMBs' #1 challenge is access to low-budget (or freemium) tools for digital marketing. For instance, email marketing is one of their top marketing tools because it offers them extremely low-cost access to prospects. Yet, many of them aren't fully aware of email marketing best practices, which prevents them from realizing the full potential of email marketing."
— Mayank Kumar, QuickEmailVerification
"Curating proper content requires good content creators. From experience, I can tell you good content creators are hard to find, not to mention pricey."
— Aditya Kathotia, Founder and CEO, Digital Polo
"The biggest obstacle in SMB marketing is the breadth of knowledge required in multiple areas of marketing; as the industry is so broad, it's hard to get the absolute best out of each platform and area without niche expertise. Specializing in specific areas does have benefits, but for small marketing teams, it's necessary to be 'experts' in lots of different areas, as there aren't enough team members to have a singular focus.. This means there are often trade offs in terms of campaign activity; focusing on a new channel can cause activity and traction to slip in another."
— Megan Meade, Marketing Specialist, Software Path
"Our top two challenges are:
1. Ad-Hocism - Since we have been growing at a fast speed, we realize we can't rely on ad-hocism. Thus, we are focused on building systems and processes.

2. Finding Great Talent - According to a HubSpot report, the third biggest challenge of agencies has been finding the right people, with 28% of agencies mentioning this problem.
This surely has been the case with us as well. We have been working on fixing this by providing greater support for our existing team while expanding to low-cost, high-efficiency markets like the Philippines to find great talent."
— Syed Irfan Ajmal, Founder and Marketing Director, SIA Enterprises
"One of the top digital marketing challenges is finding writers to outsource to that are able to provide high-quality content. I've found people are way less motivated to write good content for your blog than their own blog. This may be because they have fewer incentives to write great quality content for you than for themselves."
— Stacy Caprio, Founder, Growth Marketing
"One of the biggest digital marketing challenges of SMBs is a lack of tech developers: Since it's digital marketing, the business has its shop online. Being online, the biggest requirement is a very good tech team who can troubleshoot problems as and when they arise. Something which the SMBs lack is finding and then maintaining long-term good relations with tech teams who are efficient, have expertise, and are knowledgeable. Digital marketing efforts need a solid tech team to implement stuff such as tracking parameters or JavaScripts at the right events within the website."
— Pratik Renuse, Senior Marketing Manager, PratikRenuse.com
"Small businesses are constrained by their in-house knowledge. After all, a small team can't be expected to be masters in everything. My role as an SEO advisor is to support small businesses with their digital marketing. Specifically, optimizing websites for better search engine performance. To add value, I need to provide my clients with the best possible return for their investments, as they have finite funds to market their companies with. There's no second go at getting it right."
— Liz Hughes, Solopreneur, Blue Bamboo
2. Content: Authenticity, Frequency, & Value
"Digital marketing is a wonderful, cost effective way to market a SME business, but writing about how good your goods and services are simply isn't enough to engage people.

The challenge for many small businesses is to 'open themselves up' to their prospect marketplace and highlight their authenticity as a business. People buy from people, not simply for deals, so becoming an active part of your community is very important."
— Steve James, Freelance Marketing Consultant, smallbizbigbiz
"Each niche has its own unique challenges when it comes to marketing a business. In the online marketing space where we operate, the biggest issue is trust. How do you build trust when the everything is littered with scams, exaggerated results, and unwarranted hype?

We were able to turn this problem into an opportunity and built our branding specifically on being transparent, honest, and emphasizing hard data over subjective claims. It's still a lingering issue though.

After years of activity and strong brand recognition, we still get the occasional suspicious customer come in and express their displeasure with they way we worded things, thinking they were promised something else and scammed out of their money."
— Balazs Hajde, Content Manager, Authority Hacker
"One of the biggest challenges we face in digital marketing is the message. It's imperative that the message of the brand be clear and consistent across all marketing formats. Because digital marketing is at the forefront of our strategies, and it takes on a huge presence quickly, we work hard to create a story the customer can be a part of."
— Danny Peavey, Founder, One Week Website
"Don't let social media drive you crazy. You do not need to be everywhere. It does not matter which platform you choose, just pick one or two that are authentic to you. It should look and sound like you and the brand you have built. Whether yours is polished or more informal, chatty or academic, humorous or snarky, it is a way for your personality to come through."
— Paige Arnof-Fenn, Founder & CEO, Mavens & Moguls
"Although social media has a reputation for being quick, easy, and free, in reality it can be a difficult medium to get right. You've got to watch your frequency, offering of real value, be social, and connect with happy customers!"
— Morgan Lathaen, Marketing & Brand Coordinator, thumbprint
"Not being known in the marketplace is a huge hurdle."
— Jim Clouse, Owner, ClikitySplit
"Creating a pleasant website, writing and creating engaging content, elevating and maintaining a good social media presence with time, and generating qualified leads are some of the major challenges that SMBs face in their online business and digital marketing strategies."
— Murtaza H, Founder & Customer Success Manager, BizProspex
"For small businesses, digital marketing has become an essential factor as it helps in expanding online presence. However, there are a few challenges that SMBs face:

1. Figuring Out The Right Social Media Platform: The most crucial step that many businesses miss in social media marketing is figuring out WHICH PLATFORM is ideal for your potential customers.

2. Content Creation: Content is an essential factor for digital marketing as well as it is difficult, as it has to be of high-quality, and unique.

3. Staying Updated with New Technologies: One of the biggest challenges is staying updated on new technology as there are many new apps and platforms."
— Boni Satani, Digital Marketing Manager, Zestard Technologies
"Content creation is one of the biggest challenges that SMB marketers and business owners face. SMBs struggle to compete with the manpower of larger businesses who are able to hire an in-house team our outsource their content creation to a separate agency.

One study found that the average page one Google result is 1,890 words in length. For SMBs with dozens or even hundreds of web pages who are looking to generate traffic through organic search, creating this amount of content can seem like a daunting task. When it comes to generating organic traffic through content, SMBs face an uphill battle against their more established, positive-cash flow rivals."
— Liam Ridings, Safari Digital
"When it comes to marketing the small- and medium-size business, the biggest obstacle that I find is breaking through the 'big boys.' Fortunately or not, being long-established helps you as an online brand and, if you're starting fresh, the chances are that you'll find it difficult to make yourself easy-to-find in all that noise.
That being said, content marketing is quite hard for small businesses, as the most worthy top 10 Google searches are oftentimes occupied by big companies with established websites. This way, you have to find hacks and ways around the standard approach to make it to the first page."
— Jakub Kliszczak, Marketing Specialist, CrazyCall
3. Search Engine Marketing: Paid & Organic
"We can't afford to compete with the majority of sites in our industry because they're willing to throw so much cash at Google AdWords and, because the cost per click is so high, we usually don't place very high in the list of ads. We try to get around this by making sure our ads look interesting, so we can draw more clicks despite not being the highest placed."
— Sam Williamson, Owner, StreamingMoviesRight
"As a marketing manager for a personal injury law firm, SEO is very important in our line of work. Our biggest challenge is finding placement for our content. Yes, there are millions of websites, but each website has their own guidelines. Coupled with managing communication, the turnaround time for placement is not always as easy as I would consider when pitching to people."
— Michelle Ngome, Marketing Manager, Sutliff & Stout, Injury & Accident Law Firm
"The most consistent and least talked about challenges for digital marketing I've come across are explaining away the misconceptions and managing expectations. For instance, many small business owners expect quick results from SEO (which is a long-term strategy) and get disappointed when they see no results within a week or so."
— Alwi Suleiman, Head of Content, Content Market King
"After you learn about marketing online, it's tempting to go with a content strategy because if you're willing to write, it's the cheapest. Informative articles take almost a year to get noticed by Google. Also, it is almost impossible to predict which articles will capture the public's imagination. I have articles that get dozens of clicks a day and other articles that get none."
— Russell Knight, Divorce Attorney, Naples, Florida
"Our biggest marketing challenge is link building. Earning inbound links to our online store is hard because most of the content is commercial and we aren't a big brand that all shoppers know. This makes it challenging to build enough site authority to outrank large online retailers such as Amazon and Walmart."
— Earl Choate, CEO, Concrete Camouflage
"Staying ahead in search engine results has been the biggest digital marketing challenge we have faced as a company. Over the last few years, we've experienced several 'slips' in our rankings due to increased competition in our niche. We compensated by focusing all our efforts on off-page SEO for a short period of time.

Since then, we've developed a more process-driven approach to help avoid this problem going forward. My biggest piece of advice to start-ups these days is to see SEO as an ongoing process, rather than a quick fix to avoid this kind of situation."
— Tim Grinsdale, Owner, TOAD Diaries
"As a small, local translation service provider, it can be hard to get our web page to rank online when there are much larger, national organizations who provide translation services. Small businesses need to optimize their websites so they aren't competing for websites with the biggest organizations in their industry.
SEMRush is a great tool for finding what people are searching for, and it also shows you keywords difficulty levels. Don't select a keyword with a difficulty greater than 50. While you want keywords people are searching for, as a small business, you'll never rank if you're competing for the most popular searches in your industry.
If you're a local company, you can attach your region onto the most searched keywords to make them both more achievable and more relevant. For example, while people across the country may search 'best translation services,' you'll reach your target audience and have a greater chance of ranking if you add your region, such as 'best translation services in New Orleans.'"
— Andre Dafoe, Owner, TraduccioNOLA
4. Targeting
"One of the main digital marketing challenges faced by SMEs today is failing to recognize the importance of identifying and understanding the business's target demographics, and where and how to reach out to them.

In today's fast-moving digital world, model customer personas and demographic groupings are very fluid, and require regular reviews and reassessments in order to accommodate for this.

Failing to do so is apt to hamper sales and limit growth, because that vital foundation of successful marketing – knowing your audience, who they are, what they want, and how to showcase it to them – is shaky, or out of date.

Appreciating the impact of how audience demographics can change over even a short period of time can't be overstated, but is all too easy to overlook for small- and medium-sized enterprises who are wearing many hats and often, juggling many different roles at once.

However, by continually reviewing and fine-tuning your prospect demographics and looking for ways to better serve their needs, any business can gain an edge over the competition, regardless of their size."
— Polly Kay, Digital Marketing Consultant, English Blinds
"The biggest challenge I face in digital marketing today is putting myself in front of a targeted audience and getting their attention. Social media organic reach on platforms such as Facebook is not what it has been even a couple of years ago. Google has been implementing more and more features to try and keep more of the searchers to stay on the search results pages rather than click to the sites. On top of that, there is more competition and more content than ever before and people have so much choice from playing mobile games, scrolling Instagram, watching Netflix, and so on."
— Marko Saric, Content Marketer, How to Make My Blog
"One of the major marketing challenges for us as an online business is simply cutting through the noise and getting our name out there and in front of the correct target audience. We used Google Analytics and analyzed the interest of our customers in order to then work with media publications that they are likely to consume. It took us some time to learn how to work with journalists and how to create engaging content on a shoestring budget, but it was worth it in the end. Since we started focusing our marketing more towards media partnerships, we have increased our sales and have gained brand recognition which is invaluable in order to build out a loyal customer base."
— Nicole Rohde, International PR Manager, Maxwell-Scott
"The biggest challenge most SMBs are facing right now is the lack of diversification in channels. To target key demographics or segments, you used to be able to rely on niche publications and channels. Audiences have left these publications and, rather than migrate to their digital equivalents. they are getting their news and entertainment from a handful of platforms. This has led to an overcrowded marketplace, too much power in too few hands, and frustration for the consumer as we invade their 'personal' spaces, driving them to ad-free platforms like WhatsApp."
— Jonathan Bennett, Digital Marketing Manager, GlobalX UK
"In my experience, the biggest challenge SMBs face is how to build the right audience to market to.

For example, I've found that anyone can turn on Facebook ads, but few can target the right audience that will want the product they're offering.

Audience definition and building are the biggest challenges because it isn't intuitive, it requires a lot of empathy and there is a learning curve because you have to understand how to use the ad software (like Facebook Ads Manager, Google AdWords, etc.)."
— Cody Schneider, Senior Growth Marketer, Lake City Physical Therapy - Spokane Valley
5. Measuring ROI
"One of the challenges that any digital marketer will face – tell me if you can relate – is measuring ROI with any campaign. Return on investment – depending on the campaign – will require more than a Google Analytics report, Facebook report, or website traffic report.
What the analytics reveal is traffic, engagement, and user activity on your landing page, website, or ad. What they fail to reveal is consumer impact on that particular marketing asset.
What do I mean by this? Simply put, someone may have seen your ad seven times before they decided to call or purchase your item directly from you. That particular conversion may not have been tracked or captured by an analytics report.
So while analytics reveal data-driven information that may help as marketers create more strategic marketing decisions; they may not necessarily reveal how every end buyer was impacted by the campaign."
— Vicky Llerena, CEO, Social Vibes Media
"I would say the main obstacle is properly tracking everything. Almost every company we work with answers "We don't know" when we ask what they are currently getting for their efforts."
— Zack Bowlby, CEO, ROI Amplified
"I see a lot of struggle with proper reporting, and leads allocation by channel. While form submissions are usually easy to track in terms of what channels they came from, other lead types like calls, walk-ins, etc. are very hard to allocate properly. So, for call-driven businesses like lawyers, doctors, etc., it's very difficult to track ROI for digital marketing."
— Dmitrii Kustov, Marketing Director, Regex SEO
In Conclusion
The SMB owners and marketers surveyed expressed concerns about knowledge and staffing, content (authenticity, frequency, and value), search engine marketing (paid and organic), targeting, and measuring ROI. Many respondents shared in their replies helpful tips for overcoming these digital marketing challenges.
However, if you seek additional guidance on tackling key marketing challenges like the ones described in this article, I invite you to contact THAT Agency. We specialize in helping SMBs gain market share through digital marketing. Check out our portfolio of projects and give us a call today at 561.832.6262!