If you are not familiar with the platform Instagress let me fill you in. Instagress was one of the biggest Instagram promotion services available to people and businesses looking to grow their followings. The platform allowed you to pay for follows, likes, and comments while the automated platform pushed your Instagram profile to follow and unfollow other accounts, post generic comments, and like photos so continuously is was almost suspicious. While it was proven successful by every user in achieving authentic social growth, it took away from the organic nature of Instagram and industry competitors that clearly did not have the advantage. So why did Instagress fail? Let's take a deeper dive.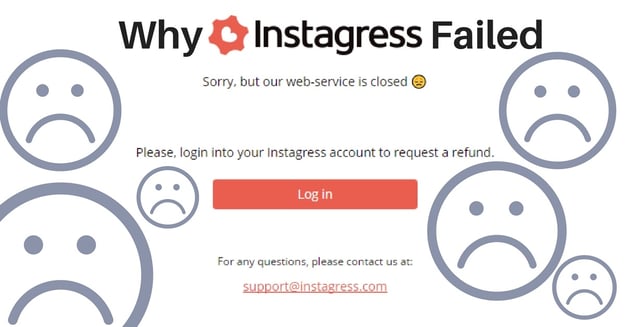 First and foremost, the reason the platform failed was because it had to unwillingly shut down. Leaving all the current users waiting for uncertain refunds, and losing a lot of money. Instagram's administration has had their eyes on this platform for years but according to anonymous sources they did not violate the rights of users, leaving it tricky for Instagram to shut them down. While the actual reason for Instagram's official request in not yet announced, it could have to do with Instagress' inconsistent attempt to update local legal relationships in a timely manner.
Instagram as you may know has grown tremendously since its launch in 2010. Although as it grows and changes, new features are being incorporated into the platform (ex. Business profile, and shopping tags in photos) Instagram's mission is still to provide an authentic experience and to connect people. They want users to be using the platform as much as possible eliminating the ability to schedule posts ahead of time and actually take time to post and to create connections to organically grow a social following.
So what can we learn from automated social followings? It begs the question, what would happen if the majority of Instagram was automated? Users would most likely become less interested in the platform because it appears "spammy" or "fake", with too many advertisements, brands, fake likes and comments, and ultimately an unauthentic experience. Although it may have started out as a harmless, helpful idea for a start-up, its' relevancy grew so strong it was even intimidating to Instagram. So if there is any take away from this, it would be to organically grow a social following using inbound marketing methods and help from an online marketing agency.