If you haven't been to an exciting business convention, well then you probably haven't been to Inbound. This past week, our team travelled up to Boston to Inbound17, an inbound marketing convention put on by HubSpot.
This was my first big business conference, and I wasn't sure what to expect, nor did I feel extroverted enough to walk around and eagerly introduce myself to the 21,000+ people who were there.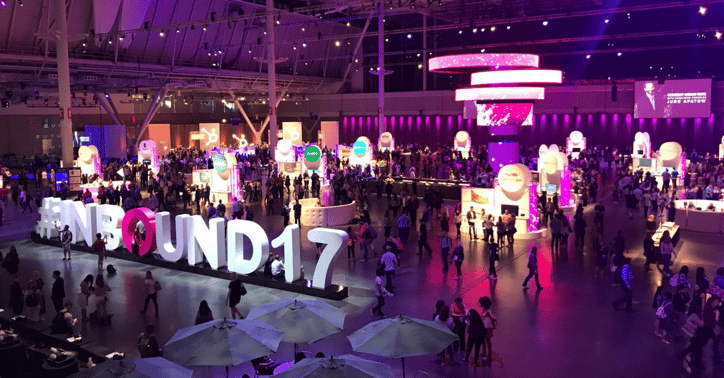 Well, I got there and there was only one word to explain it: Energy. The lights. The people. The Tech! (oh my god, the tech). Keynote speaker Brene Brown started off with a welcoming presentation on belonging and the energy kept going until John Cena's closing remarks on knowing and loving the work you do.
In between these two keynotes were a lot of sessions where industry leaders dropped knowledge left and right, as well as new products! In case you weren't there, here are a few things I took away from the experience that you can use to positively impact your business.
An Overarching Theme of Empathy
With the energy high and people's spirits higher, the overwhelming theme for the conference was to embrace empathy. Use it in your marketing. Use it in your company culture. In fact, one of the keynote speakers mentioned their company had a Chief People Officer as an actual role so the leaders always had a grip on how their employees felt about coming into work every day.
Empathy is how you establish your brand as personable. Human. Instead of solely being driven by numbers and focusing on growing bigger, it's just as important to ask yourself, "How can we grow better?"
Content Marketing
If you're like most companies out there, 53% to be exact, blogging has become a huge priority for your business in driving traffic to your website. But is text dead? Are people really reading blogs or are they watching videos? Well, yes…to both.
Video Marketing
It's almost 2018 and as you can see as you scroll your social newsfeeds, videos are everywhere. In fact, George Thomas from The Sales Lion said "If you're not doing videos, you're not in front of your audience" in his energetic presentation on habits of effective HubSpotters.
However, people are still reading. It's not about tailoring your content to fit only one medium. If someone wants to read about what you're talking about, they should have the option to. If they want to watch, empower them to view an awesome video.
As with any other form of content creation, it needs to fit into your customer's buying journey. Just because you make a video doesn't mean you're instantly going to succeed. Just like writing a bunch of blog posts doesn't automatically you'll get views and leads.
Your videos need to be contextual and make sense to your audience.
Email Marketing
Context and relevancy doesn't just matter when it comes to search engine rankings, but is extremely important in your email marketing as well. Tom Monoghan, Director of Product at HubSpot put on an awesome session on how to effectively re-engage contacts and segment your lists for success.
Ultimately, you need to get rid of contacts you haven't sent to in a while. They're not expecting it, and they've survived without the "value" you're trying to send them for all this time just fine. As much as we hate it as email marketers, deleting contacts from our lists is essential to maintaining a healthy database.
The best time to send an email is RIGHT NOW!
Before you log into your account and send something to every contact, let me explain myself. You need to reframe your mindset to that of your recipient. In other words, you need to send the email when it makes sense for them to receive it.
This is where email automation comes in. Setting up workflows and automatic email responses to be sent when someone engages on your website will save you time, maximize engagement, and show the recipient you care. So keep the conversation going.
Don't give them that awkward moment of silence in their inbox. Send them what they want when they ask for it.
New HubSpot Products
The most exciting thing that happened at Inbound17 (at least for me) was the unveiling of new product features to HubSpot. Revealed by Co-Founder Darmesh Shah after a compelling keynote on scaling your business by Co-Founder Brian Halligan, the new products will empower your business to do just that: Grow.
With some coming out in early 2018, and others available now, products such as conversations, messages, and the all-new sales professional empower you to create more of a 1 to 1 experience for your customers and your brand.
The customer hub coming in early in the new year gives you a centralized location for your to manage your customers, and make sure they're as happy as they possibly can with your products or services.
Other integrations including one with Terminus and a native integration with Shopify will empower you to include account based marketing into your inbound strategy as well as introduce an inbound approach to your e-commerce business.
HubSpot also highlighted their acquisition of an artificial intelligence company, Motion.ai. While this only happened a few weeks ago, infusion of artificial intelligence and machine learning will allow you to take your marketing to the next level and grow to the company you're striving to become.
Closing Thoughts
I've left a lot out, but these were just the highlights. If you've never been to Inbound, it's an experience like none other. The excitement and passion is contagious and you leave with more ideas than you ever thought possible.
So give it a shot. Include empathy into your marketing to appeal to people instead of just chasing the numbers. Try video and see how your engagement increases. Send targeted and relevant emails when your audience is expecting them and watch the clicks roll in.
If you have any questions about the conference, or how HubSpot could give your business the growth boost you're looking for, let us know! We'd love to talk to you and help you develop a strategy that pushes you passed your goals.