Facebook has announced the launch of Product Ads, a mobile-friendly ad format that allows retailers to promote their products through ads.
We've already seen how successful some brands have been with Google Shopping. These ads appeal to consumers who have previously shown high purchase intent, and they've worked well in driving conversions in many cases.
Here is what we know about Facebook Product Ads so far that we'd like to share with you:
1. They are available today in the API through Facebook Marketing Partners and are set to roll out in Power Editor over the next few weeks. Facebook says they'll incorporate multi-product ads into other ads interfaces later this year.
2. Product Ads can display either a single product, or a set of three, each with its own image, description, click target and statistics. We've already spotted some brands like Mod Cloth, Alex & Ani and Shutterfly currently running them.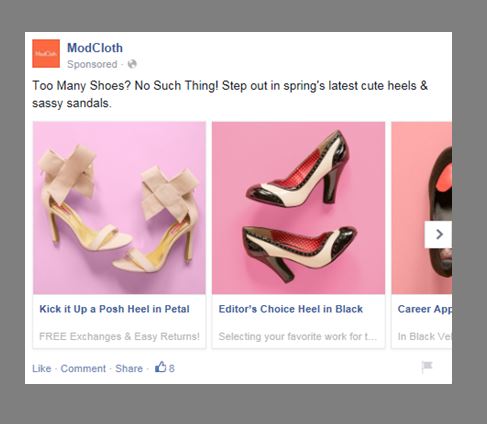 3. Facebook provides dynamic templates for these ads, which means that you don't have to spend time configuring your creative for each one. The templates are able to pull images, product names, pricing and more from your product catalog, based on keywords. And since it's integrated with your product catalog, Facebook will stop running ads on items once they're out of stock.
4. Product Ads are targeted based on a user's history on the advertiser's site or in their app, or using Facebook's targeting parameters. Additionally, Facebook is adding a new feature in Ads Manager and Power Editor that will allow marketers to create audiences based on parameters like "People who haven't visited in a certain amount of time," and "People visiting specific web pages but not others."
5. You will need a Business Manager account in order to manage product catalogs and feeds. If you're not already using Business Manager, you can sign up here.
Are you already running Facebook Product Ads? If so, let us know what you think in a comment!