One topic that seems to always come up in conversations about social is how hard it is to track. While there can be a gray area surrounding social ROI, it really isn't that difficult of a problem to solve if you approach it creatively. There is no cookie cutter industry standard for measuring social ROI, but there are a few simple ways to see how a social campaign is impacting your business. One of these ways is tracking content performance. Have you ever wondered what content on Facebook or Twitter has led to a sale? Using this simple tracking technique you can begin to start attributing ROI to your social campaign (and get those execs off of your back!).
Google has an awesome tool that allows you to build tagged links which can be read by Google Analytics (assuming you already have it set up on your site). It is a very simple process and can give you an idea of what kind of traffic your social channels are sending to your website at a granular level. First, you will want to pop your destination URL into the input field. Next, you will need to decide on what tags you want to use. The only mandatory fields are the Source, Medium and Name fields. Ideally, the Source and Medium would remain consistent and you would change the Name to something which identifies what you want to track. I have used this to track content performance in e-commerce websites, and I recommend using a detailed keywords to denote exactly what the content was.
For instance, if you wanted to post to Facebook about a sale on an ecommerce website, you would set the Source as "Facebook", the Medium as "SocialMedia", and the Name as "SuperAwesomeSale". Next, take the long URL that the URL Builder gives you and shorten it using one of the many tools available. Finally, take that link and post it to Facebook with an attractive image and engaging text and watch the clicks roll in!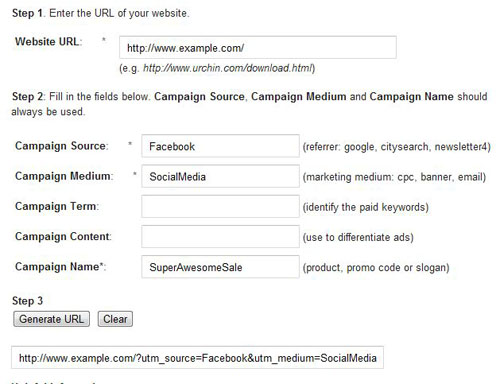 If everything has been done properly, you should be able to see activity register in the Traffic Sources section of Google Analytics. Also, make sure that you have set appropriate goals so that you can track what matters to your website. While Google has rolled out their Social suite in their analytics platform, the data there can be overwhelming and hard to follow for a beginner. Also, using this technique allows you to see exactly what content is driving visits and revenue for your site.