Hotel clients often ask us whether we think they should upgrade their TripAdvisor business listing. With a hefty price tag of $5,000 per year, it's a good question. The answer is simple: maybe. Even though we think that TripAdvisor may be evil, let's looks at this advertising opportunity a little more closely.
About TripAdvisor Business Listings
While the $5,000 per year price tag of an upgraded TripAdvisor may seem pretty steep, let's first look at what you get and how they justify it.
First, you get a link to your website. This is the real value. At the end of the day, you want to direct prospective guests away from the overly competitive and chaotic TripAdvisor.com website to your website to try to score a direct booking.
Second, TA let's you advertise a special offer. This offer displays in on your TripAdvisor listing page and also in a block called Special Offers which appears in the search results on TA. Basically, it means your TA page will get more exposure, especially if you're sitting pretty as a top-ranked hotel in your neck of the woods.
Third, you can add other direct contact methods to your listing such as phone number, etc.
Lastly, your mobile listing is enhanced. This is great, particularly if your website is equipped to easily service mobile users. If not, it can be.
So, are TripAdvisor business listings worth it?
Of course, the answer depends on your business and it's position and reviews in the TripAdvisor community. To find out without breaking the bank, follow these 2 simple steps. First, shell out $500 to upgrade your listing for one month (you don't have to commit to a full year). You can do that here: http://www.tripadvisor.com/BusinessListings.Add your website, phone number and a special.
Once your listing has been live for a month, go into your Google Analytics account (if you don't have one or have no clue how to use it, call 561.832.6262). Then, run a referring website report and switch to the eCommerce tab. Look for the 'TripAdvisor.com' line item.The report looks something like this: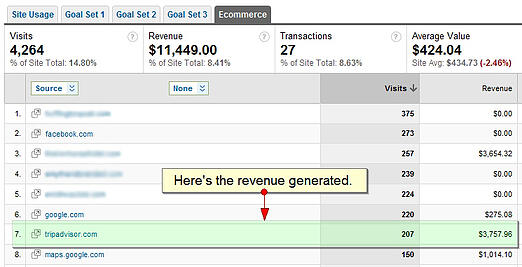 If the revenue generated from your listing pays for the listing ($500) plus whatever profit margin you like to see, the ad worked and should consider a longer term investment. If not, don't continue the ad and get out with minimal loss. While this tracking method isn't perfect, it's good enough to make a smart decision in my humble opinion. Arguments can certainly be made to the branding value of doing this but as self-proclaimed responsible marketer, I won't recommend any media for which i can't document ROI.
Who does TripAdvisor upgraded listings usually work for?
In general, you're going to generate the most revenue from direct bookings from TA if your hotel is ranked well in your city. Logic dictates that the more traffic your listing gets, the more traffic your website will and thus, the more bookings. So, if you're Top 5 in your city, this is definitely worth a try. If not, it still may be worth a try as a good special offer may compensate for your poor ranking within the TA community.
One (probably obvious) afterthought- try this test at a time when your recent TA customer reviews are pretty solid. Bad reviews mean few clicks to your site... And if you're looking for hotel marketing services, contact the expert digital marketers at THAT Agency to get started today!