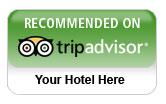 Having done a fair amount of marketing for various hotels, I've dealt with TripAdvisor often enough to have a pretty strong opinion about appropriate ways to interact with TripAdvisor. We've seen a number of clients take different approaches to implementing their own TripAdvisor stats into hotel websites and we often recommend against the practice. Today, I want to touch on the topic of why utilizing the TripAdvisor widget can possibly hurt your business with regards to both the impact it can have on your traffic and more importantly, your conversion rate. We'll also briefly cover a few different ways for hotels to promote a good TripAdvisor ranking while minimizing or completely removing the harmful side-effects.
Helping TripAdvisor to 'Own' Your Brand Name
Go ahead and search for almost any hotel name on almost any search engine and you'll probably notice that TripAdvisor.com appears in one of the first three spots. This not-so-gentle giant has done a brilliant job at competing with and sometimes even outranking hotels for searches related to THEIR OWN BRAND NAMES in the SERPs. As a result, it has become almost as important to have a good TripAdvisor rating as it is to rank well for keywords related to their hotel.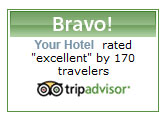 As with any search-saavy company, TripAdvisor has embedded somewhat 'hidden' SEO strategies in many of their product offerings, the most effective of which seems to be the infamous "free widget." If you have been to any hotel's website in the past few years, you've probably seen at least one variation of the widget. Most of the "free widgets" offered have a couple SEO friendly (for them!) things in common.
First, most of TripAdvisor's wonderful widgets include a keyword-rich text link back to the hotel's main listing on TripAdvisor. How does this help TripAdvisor? It provides a keyword-rich deep link using the hotel's brand name, further improving the chances that TripAdvisor will rank highly for searches related to that hotel's name. To be clear: Linking to TripAdvisor from your homepage, site-wide or wherever you choose display that widget helps improve the chances that TripAdvisor will compete with you for searches related to your own brand name. Additionally, the sheer volume of additional links which comes from these widgets continue to support TripAdvisor's search domination of location specific keyword phrases.
"But I want to promote the fact that my hotel is one of the highest ranked hotels on TripAdvisor!"
Hooray for you! But highest ranked or not, using their standard widget can cause you to lose traffic to TripAdvisor by providing a link to their website. Once visitors click off your site through that link, they will be presented with a number of ads from your competitors and other travel agencies. By providing a link to your TripAdvisor page, you're basically sending your own hard-earned website traffic to TripAdvisor will little chance of getting them back to book.
What can you do to promote your great TripAdvisor reviews without hurting your business?
Good solution - Create your own image promotion which promotes your TripAdvisor prowess and make sure that it doesn't link to TripAdvisor's website. This solution is recommended for any hotel with a very good TripAdvisor rating.
Another good solution - Don't mention TripAdvisor at all. If your TripAdvisor reviews cause you to sit up and cry at night, it should be fairly obvious that the best move is to avoid the subject completely by saying NOTHING about TripAdvisor on your website.
A mediocre solution [Updated] - Use an iframe to display your widget and disallow (robots.txt) the widget file for all search engines - If for some reason your hands are bound by corporate nonsense and you can't talk sense into your superiors, this solution will make them happy and, at the same time, will tell the search engines not to pass link credit on to TripAdvisor. Note: Users will not know the difference and will still be able to leave your website to visit TripAdvisor.
While you alone cannot completely control TripAdvisor's search impact on your business or even its ranking for your brand name, you can certainly have some impact. Think globally, act locally and help prevent TripAdvisor from controlling your hotel's future! If this was helpful, and you're looking for other hotel marketing services, contact the experts at THAT Agency to get started on your hospitality digital marketing plan today!