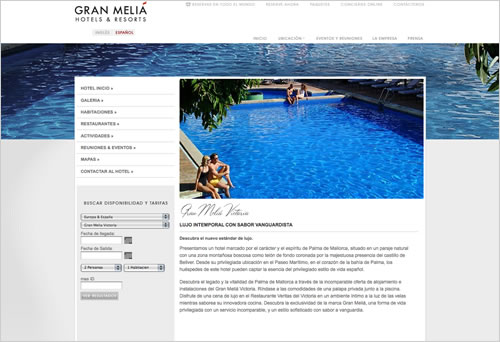 That Agency successfully captured the essence of sophistication and beauty of Gran Melia Vicotoria Hotel located in Plam de Majorca, Spain. By harmonizing design and functionality the site successfully conveys the atmosphere and elegance of this resort. The site caters to both English and Spanish speaking guests allowing users to find necessary items with ease.
Gran-melia-victoria.com also boasts an extensive photo gallery and the means to easily and efficiently book a hotel stay online.
The site uses a wide array of That Agency's skills arsenal. Built entirely in PHP using table-less CSS it's construction methods are at the very forefront of resort web design and construction. Gran-melia-victoria.com uses a wide variety of other online tools such as Flash and Prototype Framework Script.aculo.us making it cross browser compatible, search engine friendly and most of all, user friendly, informational and entertaining.