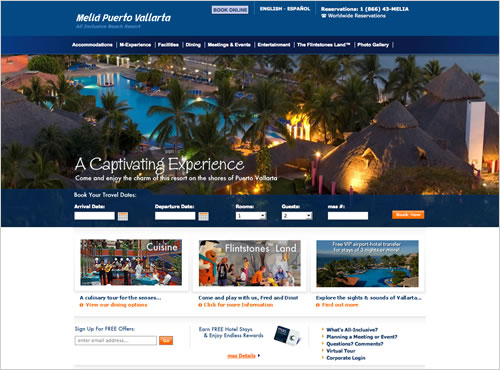 MeliaPuertoVallarta.travel now has a fresh new online persona that truly encapsulates the hotels grandeur. Located in beautiful Puerto Vallarta Mexico, Melia Puerto Vallarta is a gorgeous resort set in a Mexican paradise.
THAT Agency successfully set out to capture this resort and make sure the site has a true to life online presence. A clean calming layout of quiet sophistication the site does just that. Easy to navigation and a joy to view the site both functional as well as beautiful allowing any visitor to quickly book a resort reservation from any page. A custom booking engine handles all reservation requests, built using Ruby on Rails it's a solid and trustworthy system.
The site itself is constructed on a PHP base utilizing a table-less CSS layout structure allowing for quick loads and expert search-ability from search engines. The site boasts a set of interactive photo galleries as well as a custom virtual tour allowing the user to truly experience the hotel before ever stepping foot in Mexico.
Available in both English and Spanish Melia Puerto Vallarta caters to a broad spectrum of visitors with ease.