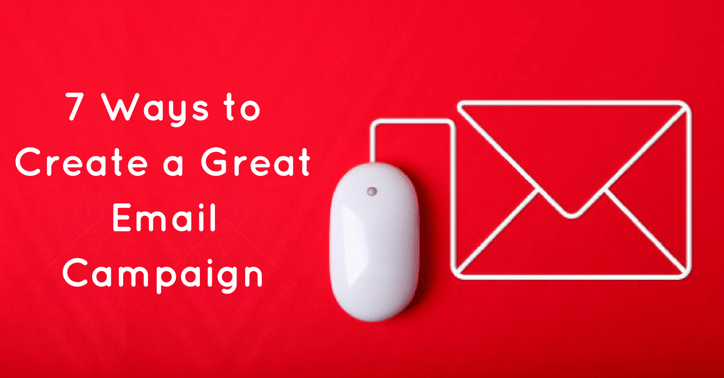 If you're getting frustrated that your emails aren't driving the engagement you hoped for, don't feel like you're alone. Email marketers everywhere struggle constantly with getting people to click through their emails, let alone open them. Winning the hearts of customers through the inbox is a difficult task we're faced with as marketers but it's incredibly important and can't be overlooked. With a 3800% ROI, email remains the most cost effective way to reach customers in a way that drives sales. So how do you create a great email campaign? Here are a few simple, yet effective ways to increase engagement in your emails.
Ask them what they want
Yes, it can be that simple. They don't want to waste their time scrolling through emails they don't want to read. Many ESPs (email service providers) offer the option to include a survey directly within your emails. If not, you can include a link that redirects them to a landing page where they can share their opinions and preferences. If you can't include the survey directly in the email, make sure it is more than clear that the link is for a survey. You don't want them to think it's just another link in an email.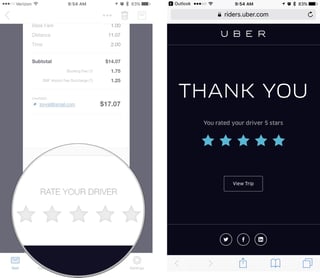 An example of a company who uses surveys exceptionally well is Uber. They've integrated surveys into their app's user experience, making the customer's opinions valuable. It also lets the customer know they care and strive to bring the best experience possible. Their surveys are simple, quick, and expected which means their engagement rates are through the roof. Instead of selling a product, they create an experience in the form of a service and therefore win when it comes to the inbox.
Everyone Appreciates the Royalty Treatment
Everyone likes to feel appreciated, especially if it comes along with an extra bonus like a coupon or free shipping. Thank your customers for their loyalty by giving them incentive to click through to your website. Creating a sense of exclusivity in your emails is a great way to accomplish this because it makes them feel like they're more important than someone who isn't subscribed to your emails. They're getting the special treatment…just like they deserve!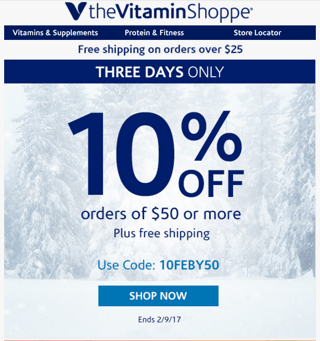 Here's a great example of an email that uses the royalty treatment to entice users to click. There are so many things right with this email I'm not even sure where to begin. The Vitamin Shoppe entices their subscribers with free shipping on all orders over $25, plus an extra deal if they spend more than $50. A sense of urgency is created by only making the deal available for 3 days which also makes it a very clickable email. On top of all of this, they encapsulate the royalty treatment by providing a personal coupon code to use at checkout. Who wouldn't click on this email?
Send Real-Time Triggered Messages
Nothing says you care like responding right away. Not only does it create the sense of having a conversation with your company, but it makes recipients feel important. In essence, what they did on your site caused you to react, adding context. Whether they chose to download the latest ebook or abandoned a shopping cart, let them know that you appreciate they're activity on your site.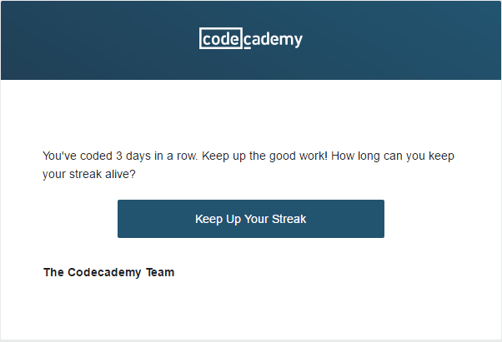 Here's a great example of a relevant, real-time triggered email. Codecademy sends an encouraging email that reinforces what the recipient has been doing on their site. It's simple, straight to the point, and makes the customer feel like they've been doing a great job. The Call-to-Action is the only link in the body of the email, and compels the user to get back to learning code.
Fear of Missing Out (FOMO) is Real!
When's the last time you heard someone say, "UGH I should've done that"? FOMO is a real thing and the thought of missing something that would create happiness breeds anxiety. To really create a great email campaign, create a sense of urgency. Have a sale that only lasts a few days, and send a reminder email on the last day to really create the urgency. Remember when department stores used to have random flash sales that only lasted for an hour or so? People would load up their carts and checkout as fast as they could so they wouldn't miss out on the best deals possible. With online shopping so widely accessible, you can do the same thing with your emails.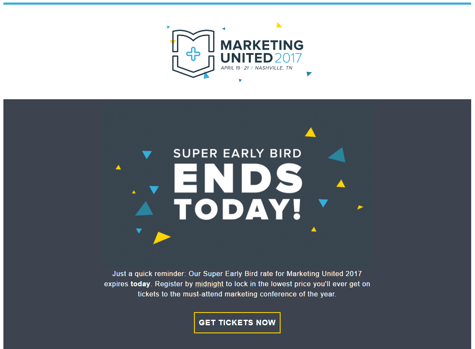 Marketing United does a great job creating the FOMO for their big event. People hate to spend more money than they need to, so knowing the lowest price for tickets to their event won't last much longer creates urgency and entices people to click through and buy tickets before the price increases.
Movement Captures Attention
Gifs are a great way to draw attention into your email. An image is worth 60,000 words…literally. Our brains process pictures 60,000 times faster than text, and if they have movement involved our attention will be drawn in quicker. A GIF is a great addition to an email, but don't overdo it. Know how and when to use them effectively and you'll capture the attention of your recipients.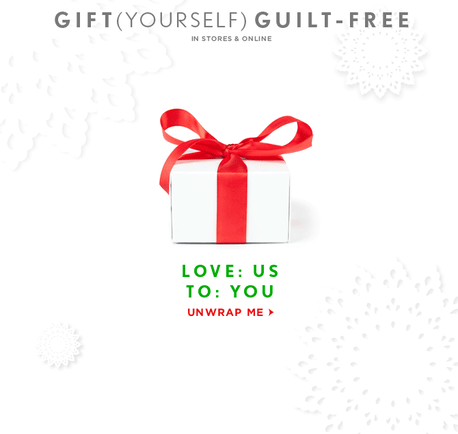 This holiday email from Ann Taylor LOFT uses a handful of techniques to drive engagement. The motion added to the present makes it feel like something inside can't wait to get out, and clicking through the email will let it escape. Regardless of whatever promotion is inside, clicking this email is irresistible.
Write Compelling Copy
No one likes to have a monotone voice ringing around in their head as they read. Spice it up a little. Don't be so boring! Write personable copy that creates the sense of a conversation. After all, that's what an email is right? Pictures are great at conveying information quicker and much more effectively, but if the text that goes along with it is vague, drawn out, or just plain boring it can hurt your engagement rates.
Create Clear Call-to-Actions
If people are wondering what to do after they read your email, it's probably because you don't have a clear call-to-action. Your email shouldn't be a puzzle for your recipients and the next step should be easily defined. Use contrasting colors to make your call-to-action button stand out from the rest of the email. You're trying to get the customer to act, so it should be action oriented. Use verbs and let them know exactly what clicking on it will do for them.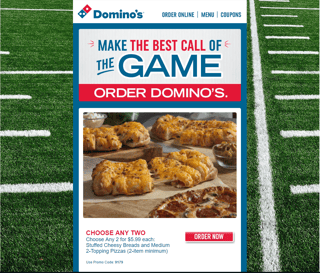 This Superbowl themed email from Dominos does a great job using a clear call-to-action. The use of hunger-inducing images followed by a coupon captures the recipient's attention, and the "ORDER NOW" CTA gives them an easy next step to get food for the big game.
Getting sub-par email engagement rates is a common occurrence for marketers across a multitude of industries. Using a solid inbound email marketing strategy can help increase click-through rates and bring better results. It's important to try one thing at a time. See if it works. See if it doesn't work. Everything won't work for everyone, but these are just a few ways to create an email campaign that stands out in the inbox. Good luck and happy sending!