So you're ready to start taking advantage of the effectiveness and massive roi email marketing can bring your business, but when you switch between the 12 tabs you have open on your browser, how do you decide which one will bring you best results? You're probably thinking to yourself, "I'll just get the best", but how do you know what the best email marketing software is before you try it? Sure, you could sign up for free demos, but when your contacts get an email with a different sponsored branding at the bottom every other week, your emails will suffer.
There's a way around this dilemma that will save you time. Here are a few tips on how to get the right system in place so you can start worrying about your campaigns, instead of how you'll be sending them.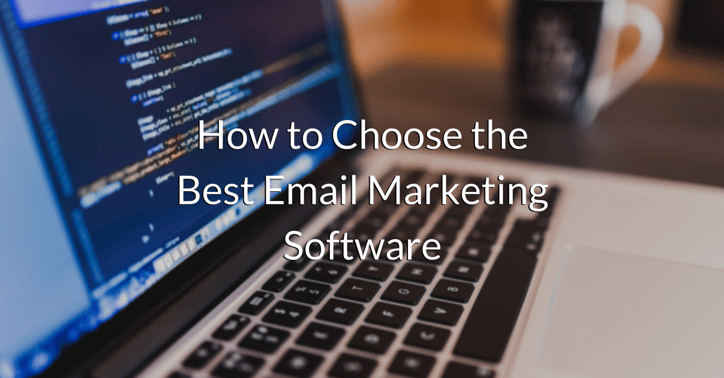 Create a Synergistic System
When you're deciding on new software for any part of your digital marketing strategy, you need to think big picture. How will your new email software integrate with the system you already have in place? While most of the big name email service providers have integrations that allow the steady flow of information between software, you need to make sure the software fits in with your system.
If you're in the process of setting up your digital strategy, you still need to think big picture. The last thing you want to do 3 months down the road is be in the same position you're in now because you didn't think about how your email program fit in with the rest of your strategy. Set yourself up for success and establish a synergistic system that promotes the growth of your business.
Get the Email Software that Fits Your Strategy
The best email marketing software for your business is the one that works for your business. I know this isn't really the answer you're looking for, but you need to understand what your goals are for your email campaigns in order to understand what will work.
What types of emails do you plan on sending? Do you need the ability to create automated workflows or will you just be sending out newsletters? Does the software allow you to create templates? What is the CRM's segmenting abilities? These are all questions to ask yourself before you dive wallet first into a platform.
Once you understand what you need, you'll be able to weed out the platforms that don't make sense for your business. Now it's' time to look at functionalities and, of course, pricing. At the end of the day, it's all about the value you'll get, and how it will help you achieve your business goals in an efficient way.
If you're looking for emails that are cutting edge, aesthetically appealing, you might look into a platform that allows you to manually code your HTML emails. If you're looking for a more streamlined approach, look for software that has a drag and drop editor so anyone on your team can easily go in and create a campaign.
Don't get hung up on bells and whistles. When it comes down to it, get what fits into your strategy. If you're not going to use the automation features, don't focus on them. Find the value that will work for your business, and go with it.
Keep Mobility in Mind
Mobility is a necessity for emails. Over 50% of all emails are opened on a mobile device, so making sure your message can be read and easily digested wherever your audience is viewing it is extremely important.
Many email service providers provide templates for their customers that are automatically responsive in design, making it much easier for us marketers to create great email campaigns. The trend is shifting towards mobile, so when you're looking for the best email marketing software, keep mobility in mind.
Balance Efficiency and Effectiveness
The best way to realize the roi email marketing is known for is to balance the efficiency of the email creation process with the effectiveness of your campaigns. This is where the use of templates comes into play. Templates allow you to streamline the email creation process by focusing on the content inside the email rather than the overall design.
Templates set up a system where you can send easily recognizable emails by establishing brand image in the inbox. Your templates set up the structure of the emails. With templates, your job is to pick a template, and focus on the content to include. Without templates, you'll need to design each email you send from scratch, as well as worry about the content.
Ultimately, templates allow you to find the balance between efficiency and effectiveness in the email creation process, so make sure the software you go with has template you can set up.
Ask an Email Marketing Agency
An email marketing agency will have expertise with all things email and will likely have experience with multiple email service providers. This can be an invaluable resource for you to get an idea of what softare to use, what emails to send, and how it can fit into the rest of your digital strategy. You can also ask about their email creation process to get an idea of what an efficient and effective process looks like, and how you can apply it to your strategy.
Wrapping it up
When it comes to choosing the best email marketing software, you need to first understand what you need from your email service provider. Take a look at your goals. Know your audience and where they check their emails. What types of emails does your digital strategy require in order to drive results?
Remember to think long-term, and focus on the value the software will provide your business. Make sure it fits into the rest of the strategy so you can easily report on results and identify trends so you can learn from your audience, and send them emails they can't wait to read.