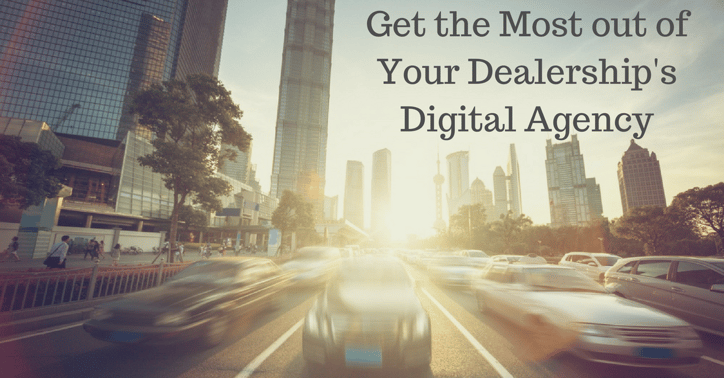 When it comes to a digital marketing agency for car dealerships, there can't be room for error. With potential customers spending over 10 hours doing research online before they visit a dealership, they're responsible for your first point of contact with the people you're trying to get into your showroom. It's more important now than ever to be on the same page with your digital marketing agency and if you're not, you could be missing out on leads day in and day out.
First Impressions are Everything
Since customers are spending so much time on digital platforms to research their next car, they are constantly flipping back on forth between dealership sites, blogs, reviews, and anything else that could possibly point them in the right direction. They want the content they're looking for, when they want it. They don't want to wait for your site to load and if yours is lagging behind your competitor's, you're already behind the eight ball.
Psychological studies show that it takes an average 4 seconds for a silence in a conversation to become awkward, and coincidentally enough a 4 second load time is when page abandon rates reach 25%. In other words, customers are treating their online research like a conversation, and if you don't respond within 4 seconds 25% of people will leave the conversation.
Every second counts, and your digital marketing agency should know this. Whether it is load times, times of day for targeting, or producing the hottest content on the web, site speed and relevance is your site's first impression to your potential customers.
So how does a good digital marketing agency make a great first impression for a car dealership's customers? It's all about user experience. This includes load times, ease of navigation, and relevance. Forget about pushing specials and flashy deals in front of their faces and focus on what they're looking for. If you try to push content in front of them, you'll end up pushing them away. Instead, complement their research process. They're in search mode and they'll find every bit of information they need, it's our job to make it easier for them, not annoy them in the process.
Take out extra bells and whistles that don't add value to the user experience. Create compelling call-to-actions that entice users to click for more information. Know when to ask for them for their information, not everyone wants to be a part of your dealership's newsletter and that's okay! In order to get the most out of your digital agency, you need to be willing to let go of some traditional aspects of marketing and embrace the transition into the digital marketplace.
Why? Your dealership has been operating like this for years and you've had no problem selling cars. I'll stick with my load time example. Let's take an e-commerce site for example. With 3% of people abandoning a page if it doesn't load within 1 second, that delay could potentially cost a site that makes $100,000 a day $2.5 million in lost sales every year. Like I said, every second counts.
It's more than a service; it's a Partnership
Instead of looking at a digital agency as providing you with digital marketing services, look at the relationship as a mutually beneficial partnership. Since there is increasing customer demand for digital information, your digital efforts should be a direct extension of your business. A common sales line is "the customer is always right", especially when they only visit an average 2 dealerships before buying a car. Customers don't care whether you do your digital marketing in-house or with a digital agency. In fact, that isn't even on their mind. In their minds, it's just the dealership.
If the relationship you have with your agency doesn't resemble a partnership, the user experience will suffer because of it. Instead of looking at digital marketing as a service, treat it as an extension of your business. Tackle the challenge of increasing digital leads together. This will ensure that your customers get a great user experience that encompasses your dealership's brand and at the same time increases leads.
Make SMART Goals
That being said, you need to keep your agency accountable for what they're putting on your website and the results they're providing. In order to make sure they're doing what they said they would, sitting down with them and outlining goals is a must. Goals are good, but what makes a great goal? We like to make SMART goals. SMART is an acronym that stands for the following:
Specific – Does your goal spell out exactly what will be accomplished? Include metrics such as cars sold, leads generated, website visits, etc.
Measurable – Will you be able to measure your progress and how well you performed in comparison to the goal you set?
Attainable – Is the goal realistic and within reach? Take a look at how your dealership is performing currently and go from there.
Relevant – Does the goal reinforce your dealerships brand, vision, mission, etc.? Make sure the goal will reinforce other goals you might have set for your dealership.
Timely – Your goal should have a time frame to create some sense of urgency and importance. This could be quarterly, monthly, yearly, or any length you want, as long as it makes sense for the goal.
These goals will help you and your agency get closer to operating as a partnership as well as aligning your dealership's goals with your digital efforts. These goals will set the foundation for creating a great user experience and establishing yourself as the leading local dealership during every aspect of the customer's buying journey.