It's no secret that just about every brand is on social media these days. While most brands maintain a presence on sites like Facebook, Twitter, Pinterest and more, it is easier for some than others to engage with fans and run successful promotions. Alcohol brands are known for being key content creators on social media, creating campaigns that capture the attention of many while successfully promoting their brands across multiple platforms.
Despite producing branded social content that consumers actually want to engage with, alcohol brands face tough regulatory challenges when it comes to marketing. According to the Federal Trade Commission (FTC), there are three major alcohol supplier trade associations which have adopted voluntary advertising and marketing codes: the Beer Institute, Distilled Spirits Council of the United States (DISCUS) and Wine Institute. These codes, which are periodically reviewed by the FTC, include guidelines designed to reduce the chances that alcohol advertisements will reach those under the legal drinking age. If you work for an alcohol brand, or a digital marketing agency that has alcohol clients, I recommend becoming familiar with these codes, and make sure to play by their rules in order to keep your brand out of trouble.
Beer Institute Advertising and Marketing Code
DISCUS Code of Responsible Practices
Wine Institute Digital Marketing Guidelines
Some of the key principles addressed in each of the above codes are listed below, as well as some explanations on what this means for social media marketers. Keep in mind that these guidelines refer to the U.S., and the rules and regulations around alcohol promotion vary by country.
Digital marketing communications are intended for adults of legal purchase age, and should only be placed on social media sites where at least 71.6 percent of the audiences is of the legal purchase age.
According to data from Nielsen, more than 80 percent of audiences on Facebook, Twitter and YouTube are older than 21. More recently, Instagram passed the 71.6 percent threshold.
Digital marketing communication that involves direct interaction with a user should require age affirmation prior to engagement.
Facebook restricts underage users from visiting alcohol brand Pages, allowing access only to those who have previously registered as being 21 or older. Ads from alcohol brands are only allowed to target those 21 and older- the ad will be disapproved if the age targeting is not correct.
Twitter has an age-screening feature that requires people to provide their date of birth in order to follow an alcohol brand.
YouTube offers brands the option to require either date of birth entry or to limit alcohol channel visitation to registered US users who are 21 or older.
Instagram and Pinterest do not yet provide users with a way to verify their age. With this said, alcohol brands are restricted from any two-way conversations with users. Still, even though alcohol brands shouldn't follow people back or reply to comments, people can still engage with the brands' posts. We recommend adding some kind of 21+ disclaimer into the bio of an alcohol brand's profile, as we have done with Natura Wines.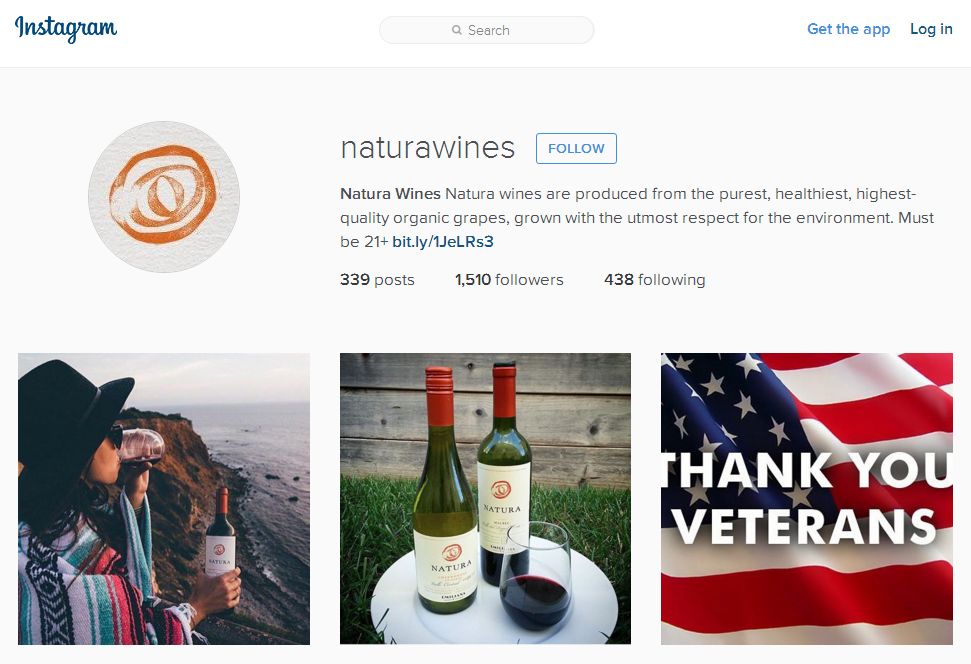 When it comes to paid ads on Instagram, they are created using Facebook's Power Editor, and marketers have access to the same targeting options. You can set your ads to only reach users 21 and older- they are reached only if they use the same email address on their Instagram account as their Facebook account, where their age is verified.
Pinterest does not currently allow alcohol brands to create Promoted Pins (paid ads).
User-generated content on a site or page controlled by the brand must be monitored and moderated on a regular basis.
The guidelines state that alcohol brands must police user-generated content that is inappropriate or that promotes irresponsible or underage drinking. Brands are advised to monitor user-generated content each business day, and remove any content that is inappropriate.
Digital marketing communications that are intended to be forwarded by users should include instructions that the content shouldn't be forwarded to individuals below the legal purchase age.
Digital marketing communications must respect user privacy.
Make sure that your brand has a privacy policy, and it is posted somewhere that is easy for users to find.