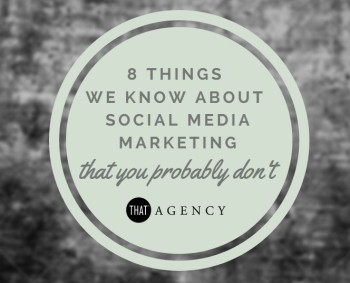 1. Facebook has recently cracked on News Feed posts from brands that they consider "overly promotional." If you've seen the organic reach numbers on your brand's page take a dip, this is likely the reason. We have identified several ways for brands to continue getting their content noticed, without the obvious option of paying for Facebook ads. These include sharing links a certain way, avoiding the use of certain words, and uploading videos directly to Facebook.
2. Facebook allows you to target ads to remarketed audiences- and you often pay less for a click than on Google. In addition to being able to target people who have visited certain pages on your site, Facebook also allows marketers to create lists that exclude conversion pages or to try to bring people back into the funnel after their first visit.
3. New research reveals that Instagram users are typically young, and they like to shop. Specifically, 70% of the 16,000 users in Iconosquare's 2015 study reported that they have already looked for a brand on Instagram. If you are a retail brand and you haven't built up a large Instagram following, you may be missing out on a big opportunity.
4. There are two ways to share links in a Facebook post, but one receives more exposure, as well as engagement and clicks. You can either upload a photo directly to Facebook and include the link in the caption, or you can add a link into the post and let it populate with an image and description from the destination URL. Go with the latter, and if you have any questions as to why, we will be happy to explain!
5. Did you know that when promoting blogs on social media, the ones with shorter titles/captions get most shares? A report by TrackMaven found that titles with around 60 characters got the most social shares, and a sharp decline was seen as the characters increased.
6. Even though 47% of Americans say Facebook is their #1 influencer of purchases, only 20% of consumer comments on branded social pages generate responses, and the average response time is over 11 hours. Does your brand have negative consumer comments sitting unanswered for all to see?
7. 72% of all internet users are now active on social media, and 1 in 4 Facebook users login at least five times per day. Here at THAT Agency, we realize that it is more important than ever to put your brand where your audience is, and to make sure that your brand stands out among the noise.
8. About 70% of marketers use Facebook to gain new customers, and 34% of marketers use Twitter to successfully generate leads. Why? Because it works.
THAT Agency has generated leads, sales and conversions for brands ranging from car dealerships to retail brands to hotels (and everything in between) by leveraging social media in a variety of ways. We'd love to help your brand achieve its goals by applying best practices on the social media platforms that make the most sense for your brand. To discuss how we can work together, contact us today.