Late last week, Facebook dropped a bombshell when it announced that it is working on a change to its News Feed algorithm that will result in drastically less promotional posts seen by users who have "liked" a company page. However, the social network promises that this algorithm change will 'not increase the number of ads' that users see. Basically beginning January 2015, if you want your company posts to be seen, you will likely need to pay to promote them.
"As more people and Pages are posting content, competition to appear in News Feed has increased. All of this means that Pages that post promotional creative should expect their organic distribution to fall significantly over time," the company warns.
"And for targeting specific audiences with predictable reach, Facebook advertising offers ways to achieve specific business objectives, like driving in-store sales or app downloads."
Although this does seem a lot like Facebook trying to get more brands to spend money using its ad platform, research has also shown that Facebook users feel bombarded with advertisements- with some permanently signing off the social network as a result. This latest announcement comes after a recent crack-down on click-bait, as well as Mark Zuckerberg stating that Facebook's efforts are intended to prioritize users over businesses.
What does this mean? What exactly is changing?
Facebook has long encouraged businesses, celebrities, and brands to represent themselves and create content for those who "like" their page to see. Over time, enough brands created pages, and Facebook began to see this as a problem. According to an evaluation that Facebook recently did, it found that users are annoyed by promotional content (but apparently not with ads).
Facebook is now tweaking its algorithm to "punish" News Feed posts that it sees as "too promotional," by burying them under more relevant content. The posts most likely to be affected fall under the following criteria:
• Posts that solely push people to buy a product or install an app
• Posts that push people to enter promotions and sweepstakes with no real context
• Posts that reuse the exact same content from ads
The post below on the left clearly promotes a Porsche vehicle, but is not spammy or aggressive like the post on the right.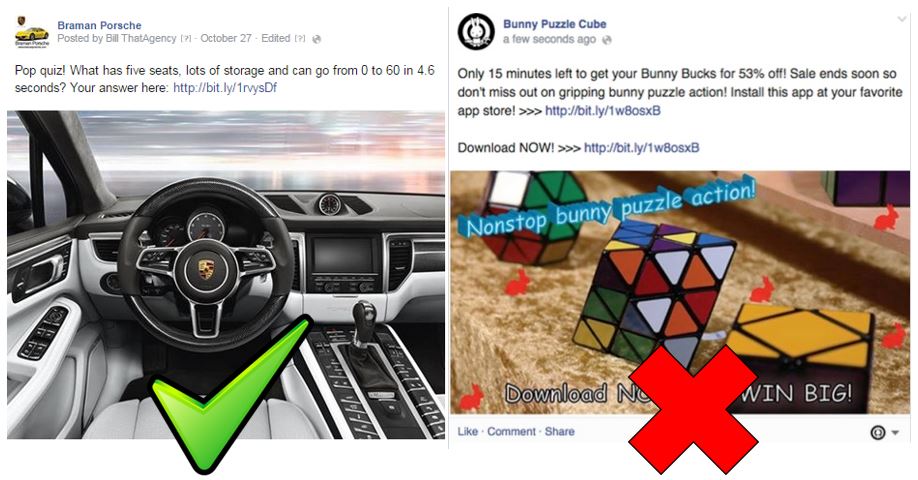 How will Facebook's algorithm change affect social media marketing?
Although Facebook maintains that the number of News Feed ads that users see will not increase come January, it's pretty evident that this move is going to boost advertising revenue. Without the free real estate in News Feeds, more businesses are going to be compelled to pay for ads, and there's a good chance that prices will go up. Prices have already gone way up- 274% over the last year, to be exact.
All of these crack-downs and changes that Facebook is making remind me a bit of Google's algorithm changes over the years, namely Penguin and Panda. While these algorithm changes have targeted different things, the end goal is similar: to provide users with better content that they want to see- not spam or annoying ads. If you want your brand to stand out (or be seen in the first place), you need to create compelling content. Or pay for ads.
With that said, we have a few bits of advice for marketers who are re-evaluating their social media strategies:
• Take a close look at your content strategy. Are you providing fans with content that is useful, or simply just throwing your products in their faces? What types of content do your Facebook fans engage with most? What gets the most shares? Chances are it's not the promotional garbage. Make an effort to create more good content, as this is what will likely survive the algorithm change.
• Avoid using words like this: "Buy today!" "Install now!" "Sweepstakes!" The new algorithm will almost certainly detect these words and immediately bury your post.
• Consider creating more videos for your company pages. Facebook says that "native" videos uploaded directly to posts (rather than posting a link from YouTube) are already producing more than a billion views a day. There's no guarantee that marketers won't soon have to pay for videos to show up in News Feeds, but for now, several marketers have also reported that native videos appear to be performing well.
Do you have thoughts about Facebook's algorithm change or advice for marketers? Let us know in a comment!