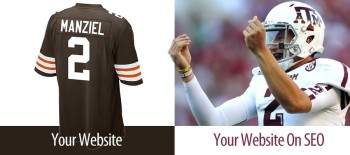 Take for instance that Johnny Manziel's number two jersey is the top-selling jersey in the NFL, according to ESPN. But in order for "Johnny Footballs" jersey to be ranked number one in sales, he first had to appeal to football fanatics everywhere, and to do this, he had to have the right tools put in place.
To begin, Johnny Manziel debuted for Texas A&M in 2012 as a red shirt freshman. He would go on to break several NCAA Division 1 FBS and SEC rec
ords, only to become the first freshman to win the Heisman Trophy, Davey O'Brien National Quarterback Award, and Manning Award.
Now, if we consider any other regular number two football jersey, most people will think nothing of it, and wouldn't think twice about purchasing that jersey without "Manziel" printed on the back. Similarly, a plain number two jersey is like most of the websites across the internet, there are thousands of them, but most never stand out.
With constant changes in Google's algorithms, it is forcing webmasters to develop different strategies in attempts to stay ahead of the game. At the same time, dozens of business owners are creating websites without the knowledge needed to receive the largest amount of traffic and conversions.
A website lacking a creative design, SEO, PPC, Social Media, and other online marketing features will likely not have the chance to be seen by the dozens of potential online viewers; therefore, becoming a plain number two jersey. Of course, when these features are added to a website, a business has the potential to make record sales, win industry awards, and become known by people across the country.
To learn more about our search engine optimization, we welcome you to contact us today. In fact, if you sign with us within the week, we will print your logo on the back of a number two football jersey. Seriously, we will!