A social discovery what?! Okay, I too was a bit perplexed by the term; however after reading a few lines into their About Us page, it was clear that I do not need to brush up on my social terminology…they made the term up! I guess when you feel you have a product that defies definition by any existing terminology; it's fair to just make one up.
TheHotList.com
Launched in late 2009, www.thehotlist.com is a geo-social networking aggregator which allows people to see where their friends are, where they've been and where they plan to be next. Hotlist was able to pull this off by creating a "super social algorithm" to go out and scour the web, with the specific goal of finding social chatter, cleaning it up, removing private information, figuring out what people are/will be doing, and determining which places are most relevant for each of their users (their "Hotlists"). Never again will their users sit home on a Saturday night trying to determine what to do, held hostage by their indecisive friends.
Within 12 months of the site's launch, The Hotlist was declared a Top 100 Website of 2010 by PC Magazine, and was a top five finalist in a record of three categories at the 2011 Consumer Electronics Show as part of the 2010 Mashable Awards.
And there are others…
Also, found when doing a simple Google search for "social discovery engine", are the following that all seem to classify themselves under this new social terminology:
Inveni.com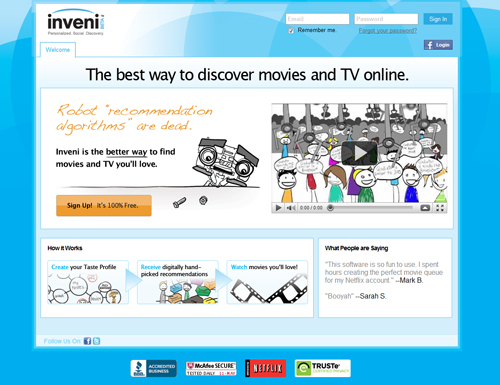 As a way to discover new movies and TV shows, Inveni.com uses your friends personalized recommendations, along with their recommendation algorithm. Whether you are looking for the newest blockbuster movie, what your friends are watching, or want to watch something based on your current mood, it is all possible with Inveni.
TunerFish.com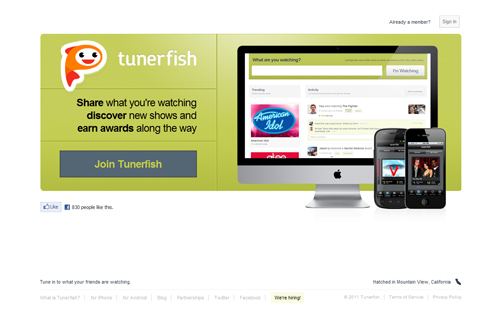 Created by Comcast, Tunerfish is still in Beta; however describes themselves as a social discovery engine for TV, movies and online video. [They] believe that channeling that willingness to share in an easy, fun, and rewarding service is the best way to help you discover great content you might otherwise have missed.
Who knows, maybe this will be the new trendy term, and when 2012 falls upon us, we will hear that "social discovery engine" has been added to the Oxford English Dictionary.