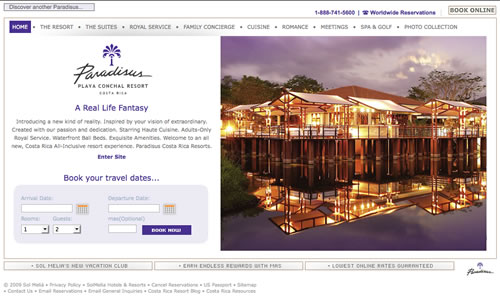 Paradisus Playa Conchal needed a site update and Sol Melia naturally contacted THAT Agency to make it happen. The new sited needed to be extremely search engine friendly, easy to use all the while keeping with the design standards of the luxurious Paradisus Hotel Brand.
THAT Agency delivers once again by constructing a fully functional site constructed on a PHP base utilizing table-less CSS layout techniques, Flash animation elements and a complete online booking engine built on a Ruby back-end. The perfect solution to Sol Melia's request.
The hotel itself is located in beautiful Costa Rica and is one of four all-inclusive vacation resorts located throughout Central America and the Caribbean.
The overall site goals where all met including increased search-ability, the ability to easily book a resort reservation from any page and an intuitive navigation system that quickly allows the visitors to find exactly what they're looking for with little or no effort.
Stunning imagery and a compact design ensure increased compatibility and convey the hotel property's online presence. Paradisus Playa Conchal is a clean, well designed and streamlined site designed to be both functional and elegant.