Look around your gym, your office, your fitness studio, whatever it is you've built to get people in shape, chances are they're snapping pictures of them workin' it! From loud music blasting throughout the gym to people connected to their perfect playlist on their phones, digital is everywhere we look. Unfortunately, many fitness companies fail to reach their target audience across digital channels costing them memberships, as well as brand exposure.
When you focus your fitness marketing on digital, you offer your audience relevant information where they're spending their time.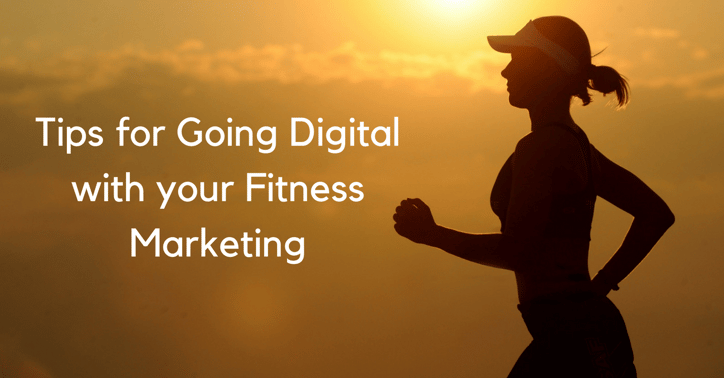 Burn Fat from your Marketing Budget
Billboards will always line the highways and radio ads will always air on people's commutes, however tracking the effectiveness of these channels is increasingly difficult. Think of it as working out without tracking your progress: how do you know if what you're working is getting you closer to getting that PR if you don't keep track?
The same thing goes with your marketing. When you turn your marketing campaigns towards digital channels, you get in-depth reports about reach, engagement, and conversions. This way, you can allocate your marketing budget to what's most effective at pushing you closer to your sales goals.
Use Social Media to Your Advantage
Going back to your customers taking mirror selfies, social media is an outlet you can't leave out of your fitness marketing strategy. As I'm writing this, #fitnessjourney has over 10 million posts on Instagram. Regardless of why people are getting in shape, they're documenting and sharing their transformations with the world to see.
Use this content to your advantage. Host social media contests. Promote check-ins on Facebook and other social platforms to maximize your reach. Regularly post about what's going on and specials you have. Anything that appeals to your audience and clients will allow you to increase engagement, get more shares, and get your brand further into the community.
Diversify your Fitness Marketing Content
I'm sure I don't have to tell you that getting your body in tip-top shape is more than just a one-time purchase. Take new-years resolutioners for example. They start off so strong, so motivated to get that summer body and then a month later, most of them disappear. Why does this happen? While it could be that leg day broke their souls, it could also be that they didn't know what to do or where to begin.
Developing a strong content strategy will give your customers the information they need to keep coming through your doors. Create a blog and regularly post content that helps your customers on their fitness journey. Develop a "How-To" video series and post it to YouTube to keep people engaged and trying new things. This will not only establish you as a thought leader for potential new clients, but will give your current customers something to talk about.
Take Advantage of Those Post-Workout Endorphins
Whether they just ran a 5K on an elliptical or benched a personal best, there's no better feeling than walking out of the gym knowing you crushed your workout. Your heart is racing, and endorphins flood the brain as a reward. Studies show that a notification from social media or even just the "Ting!" from your phone can do the same thing.
So how do you take advantage of this situation? Try setting up a loyalty program that gives them points each time they come in for a workout. Send them an email that updates them when they reach a certain amount of points and give them incentives to keep coming in. Offer them a free post-workut protein shake for a social media or yelp review to capitalize on their good mood.
It's important that you don't oversend or push these too hard. The last thing you want to do is annoy your customers so make sure they've opted in and have given you permission to send them updates.
Know your Customers
In order to stack up the best content for your audience, you need to know who they are. Are you creating content for the regulars who sign up for the classes at the crack of dawn or are you enticing newbies to come in and give the fitness life a shot? Chances are you'll be creating content for both, so it's important to differentiate your content based on who it's for. Remember, not everything you create will be for everyone and that's ok!
When you know your customers, you'll be able to maximize your fitness marketing efforts by sending the right message to the right person. In other words, your marketing will have context. You'll be able to segment your contact list by who they are, what they like, how long they've been a member, or even what their fitness goals are.
Knowing your customers is the first step to understanding what works and what doesn't. It's the foundation of a successful digital marketing strategy and without this knowledge you're shooting in the dark.
Get Started Early
The sooner you get started on coming up with ideas for promotions and marketing tactics, the better you'll be able to execute your strategy. As summer winds down, it's bulking season for the rush of customers looking to get fit for the new year. Getting started early will allow you to plan and get everything in place so you can maximize your sales.
It's not all about getting new sales either. You need to create ways to keep your current customers happy and engaged. Create incentive programs for the early months of the year to keep the new year's resolutioners coming back. Planning these promotions early will allow you to test them out and make sure your strategy is airtight for peak season.
Create a Community
With the rise of social media, it's never been easier to create a community of like-minded people. Sponsor events such as 5K's around town. Schedule classes that bike around town or have a yoga session in a scenic part of town. This will get people out of their normal routine and add some excitement into their lives.
Not only this, but they'll most likely post about it on social media. Take advantage of little outings and community gatherings like this to maximize your reach, all while keeping your existing customers happy. If someone who is interested is walking by, they might be compelled to sign up.
The community you create will set yourself apart from the other fitness clubs and gyms around town. It's your "secret sauce" in a way. Positioning yourself this way will show your target audience the value they'll get when they sign up, and will make it easier for your to achieve your goals.
And Finally….Make it Fun!
Some people loath working out. They don't have fun with it, and maybe that's why they don't stick with it after the first few weeks of the year. Others absolutely love it. At the end of the day, it all comes back to knowing your customers, but when you make your website, your marketing, and the entire atmosphere of your brand fun it will make it easier for people to keep coming in or scheduling classes.
Create monthly competitions your customers can sign up for and incentivize it with a free month or something they would like. At the end of the day, you need to know your customers in order to know what would make it fun for them. Find out, and do it!
Consider Hiring an Agency
If you don't have time or aren't sure where to start with your fitness marketing, consider hiring a digital marketing agency. They'll have the tools and expertise you need to make your brand come to life and help you achieve your business goals.
Think of it as a regiment of supplements. In order for your marketing to really be effective, sometimes you need a little help. An agency can provide your marketing with the boost of energy to launch effective campaigns and a recovery analysis to see what works and what doesn't.