Running a business is tough. From managing your employees to putting on a great face to customers to making sure your team is hitting their quotas, it can be somewhat of a rollercoaster at times. There's nothing wrong with outsourcing some work in a few departments, especially if that isn't where your "secret sauce" is. Here are a few signs that it might be time to shift your marketing efforts to an inbound marketing agency.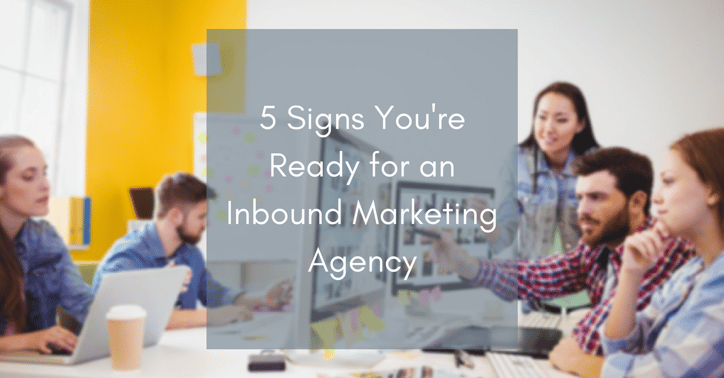 You don't think your marketing is working
If you don't think your marketing is working towards achieving the goals you've set for your business then it might be time for a change. Your marketing should work side by side with your sales and other departments to make sure the messages they're promoting are aligned with the value you provide your customers. Your marketing could be failing to meet your expectations for a few reasons, so make sure you delve deeper into finding out what's working and what needs to be changed.
Your website isn't your best sales person
Your website is your biggest digital marketing asset and should be working around the clock to bring in leads or customers for your business. It could be as simple as adding forms to your most trafficked pages or realigning your entire site design with your business goals. Either way, your website should be producing a consistent flow of opportunities for your business to capitalize on, and an inbound marketing agency can help you set your website to do so.
Your digital metrics have stagnated…or worse dropped
The last thing you want is for your website to stop producing the results you need it to. Take a look at your metrics and see how people have been engaging on your site. Has it plateaued? Has it dropped? When you hire an inbound marketing agency they'll be focused on making the trend lines go up and to the right resulting in business growth and increased revenue for your business.
You don't have the time in the day
I get it. You have a lot to do in the course of the day and managing your digital marketing campaigns doesn't always fall into your top priorities. If you're a growing business, that's a good thing! However, your digital marketing doesn't have to fall by the wayside because of it. In fact, your digital efforts should be increased so people are able to find your company online as they hear about you.
You don't have a solid SEO foundation
Nowadays consumers search for things in the moment, and whatever shows up on the search engine results page is what gets their engagement. It's becoming increasingly important for businesses to meet their target market where they are instead of where they want them to be and an inbound marketing agency will help your business do just this. Inbound coupled with strong seo serviceswill empower your customers to organically discover your brand and keep you top of mind.
When it comes to switching things up for your business's marketing, you need to make sure you're choosing the right option. Do you go in-house or hire an agency? How do you choose the right agency? As consumers increasingly turn to digital channels to find answers to their questions, it's important that you be there in an effective way.
The signs highlighted in this post are just a few of the reasons why you might consider an inbound marketing agency. Even if your business is doing well, when you transfer that across multiple digital channels with inbound your business will continue to grow.