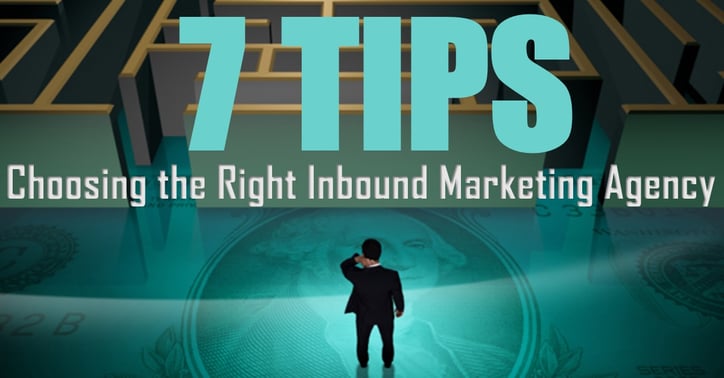 1. Check their Inbound Commitment
Choosing the right inbound marketing agency is a big decision for your business and comes along with a boat load of questions. The biggest question for both you and the agency is whether or not you're a good fit for each other. How much of a commitment do you need from your agency? Are you only looking for inbound or are you also looking for traditional digital marketing services? There's no right or wrong answer but this is an important question to ask. The agency should be able to match what you need, whether it be strictly inbound or a mix of inbound and other digital marketing strategies such as SEO, PPC, or email marketing.
2. Make Sure They Utilize Inbound Marketing for Themselves
Have you ever heard the expression, "Never trust a skinny chef"? Well, the same thing goes for your inbound marketing agency. If they're not confident in their ability to perform the Inbound methodology in their own industry, they will be even less confident when trying to apply it to yours. So how do you know if they apply inbound marketing to their own business? Look for a blog they regularly post to. Do the blogs have enticing calls-to-action for downloadable resources? Check out their presence on social media to see how they interact with their audience. All these things are ways to get a peek on how they'll implement inbound for your specific situation.
3. Strategy Oriented
Given they can implement a sound inbound strategy for themselves, you want to look for an agency that is dedicated to strategically improving the situation you're in. Even if the situation you're in isn't a bad one, there is always room for improvement and inbound is all about achieving goals. The agency you choose should keep your goals in mind when deciding how to implement inbound marketing for your business. Make sure you and the agency are a good fit for each other and you both have an understanding of where you are now, and where you want to be.
4. What kind of Inbound do YOU Need?
The next thing you need to figure out is what kind of inbound is best for you. If you're just getting started with inbound marketing, maybe you just need a little help setting up the foundation for a good inbound strategy such as regularly posting blogs, sending out helpful and relevant emails, or actively engaging in social media posts. This is all well and good, but what if you need more? Can the agency provide you with the more advanced aspects of the inbound methodology? Check and see if the agency's employees have certifications for inbound marketing. Are they equipped to deliver the services you need? In order to make sure you get what you need, be upfront with the agency and see how developed their inbound skills are and how they'd specifically help your business.
5. What gets done gets measured, and what gets measured gets done
Good inbound marketing consists of posting regularly and incentivizing users through content. Great inbound marketing is strategically using this content to develop and nurture the relationship with the potential customers. This not only provides the agency with valuable information about the user, but also gives insight as to how to better help other users. Measurement of key performance indicators (KPI) such as RSS Subscribes, open and bounce rates, click-through rates, and conversion rates are all extremely important for understanding what is, and isn't working. These tell you whether or not what they've been posting is working, and what could be changed to make it better. If the agency you're looking at doesn't have a sound way of measuring these, abandon ship.
6. Proven Track Record
This is probably the first thing on your list when choosing the right inbound marketing agency. Look at how they've performed for their other clients. Do they have a portfolio page on their website that displays their work? Even if they don't, call them up and ask! If they've been successful in their inbound efforts, they'll be more than happy to tell you about how it worked and answer any questions you have about how, and why it could also work for you. Not only should they have a proven track record for their other clients, but for themselves as well.
7. Are they more than just a blog?
Lastly, you need to make sure the agency is utilizing all the aspects of inbound marketing. Yes, blogs are a great way to create a presence online that users can connect with, but that's only the beginning. Inbound marketing consists of understanding where their target users (buyer personas) are online, and meeting them there. This means utilizing the different areas of digital marketing throughout the inbound process. For instance, the use of SEO strategies and services for 2017 throughout the different content provided for the users will increase contacts, leads, and in turn customers. Not only is getting the content in front of your buyer persona important, but it must be at the right time. Anything without context means nothing so make sure that the agency knows how to get the attention of the right people at the right time.
So, how do you decide when choosing the right inbound marketing agency? It is undoubtedly an important decision for your business and shouldn't be taken lightly. You need to make sure that the agency is a great fit for your business and the goals you want to achieve. There needs to be a mutual understanding of where you are, where you'd like to be, and how the both of you are going to get there.