As the vehicle market continues to evolve, the role of the salesperson will not become any less important - but these professionals will fulfil their responsibilities in different ways. And with different tools. Chief among them is a dealership website that facilitates the buying process while enhancing the experience for customers.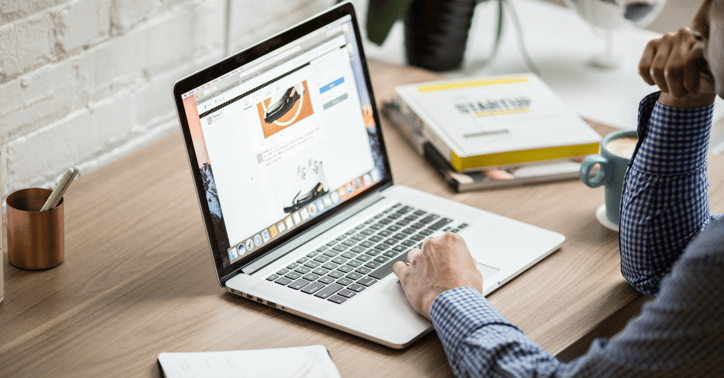 Digital car dealership marketing is the key to sales success, and not just in the future. Effective strategies will differentiate your business today. Put these tips to work to seize your competitive edge:
Focus on Customer Service
Even as more functions migrate online, dealerships still need to deliver the "personal touch." Your website must provide potential and current customers easy access to you, to your inventory, to your pricing, to your finance information, to your insights and resources. If they can't find what they need, they'll navigate elsewhere.
Customer service is the cornerstone of your brand; be sure that it is easy to contact you, that you are responsive to questions and concerns, that you offer a variety of communication options (phone, email, live chat, social, etc.), and that you create a seamless experience between physical and online domains.
Create a Personalized Experience
When a customer walks into your showroom, they expect a nice greeting. If it's their first time: "Hi, welcome!" If they've been in before: "Hi, Jill! Nice to see you again! Still have your eye on that Prius?" Do the same online; using tracking software, you can personalize their web experience.
A returning visitor, for example, may be greeted with targeted model recommendations, helpful articles that relate to their areas of interest, or timely specials and deals. Along with a "Hi, Jill! Welcome back," of course.
Provide Helpful Tools
Increasingly, customers want to complete most of the car buying journey online, only visiting a few carefully selected dealerships for the test drive. Give them what they want. Tools like the budget slider (shown below) empower customers to make informed decisions.
Also consider adding a convenient search box so people can browse your inventory by model and year, new or pre-owned, etc., and an option for owners to schedule service or test drives right onsite.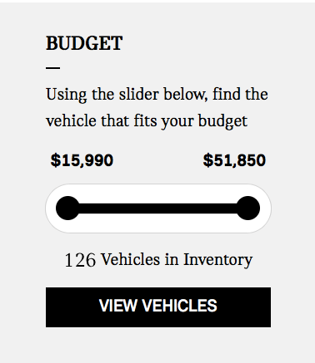 From Braman MINI of Palm Beach

Highlight Specials and Deals
Entice visitors from the second they arrive at your site.
Make your specials prominent, clear, and compelling. The example above, again from Braman MINI, appears on the homepage so visitors see it first thing. It is bold, and the photo is an attention-grabber.

Incorporate Search Marketing Techniques
Make sure that, when people search for cars or dealerships, they find you. From PPC (pay-per-click) to SEO, you can increase your visibility in search results. When it comes to ads, optimize them by make, model, and location, and do not forget to use retargeting. People researching cars often visit a variety of websites; if they visit yours and navigate away, retargeting with strategically placed ads can allow you to steer them back. Your web design agency can help you implement these techniques for maximum effect.

Online car dealership marketing positions your brand as a leader in the field, a responsive voice that speaks directly to customers. Harness the power and build your business.