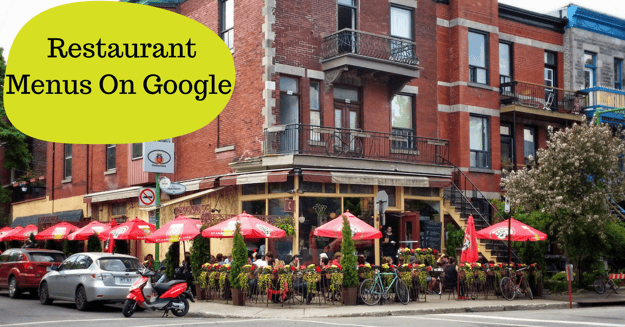 In the competitive realm of local SEO, standing apart from competitors is an important part to winning over your targeted audience and this is especially true with local restaurants. A strong SEO plan may place you within the top few Organic listings or within the local snack pack, but what else can you do to improve on users experience with your restaurants brand. Using the restaurant menu schema markup could present that solution to dominate the SERPs and drive more traffic to your restaurants.
The Benefit of Having Your Restaurants Menu on Google Search Listings
If you have an individual or team managing your SEO and digital presence, chances are they understand at least from a high level what the benefits of Schema markup may present. If you are unfamiliar with the schema language and capabilities, here is a helpful blog for MOZ. Previously, restaurants could use a menu property to present the restaurant menu URL to search engines, but this new capability of menu properties would allow engines to place menu items within SERPs. Here is a screen shot of the capability in action.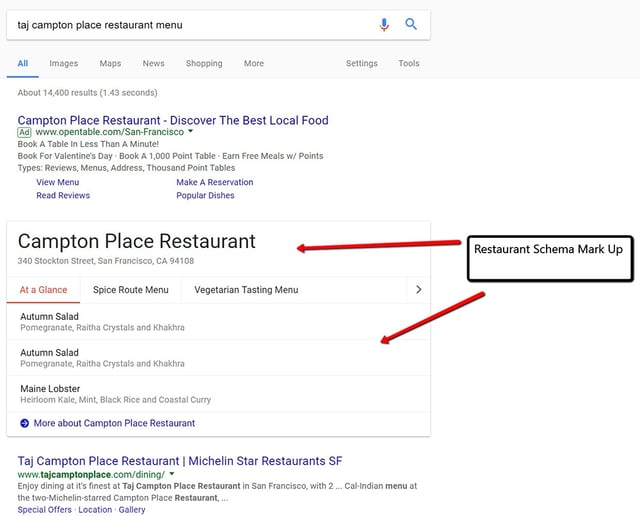 Despite the obvious benefits that are shown in the example image, this upgrade may also pay dividends with the future of search. The emergence of voice search could lead to Google answering questions such as "Hey Google, where is the closest restaurant that serves sushi?" By having an up to date menu available for Google to read and display, your restaurant could be placed within featured snippets and presented as an option within voice search answers. This increases your impressions as well as authority within the local restaurant industry.
The Elements and details of the "hasMenu" Markup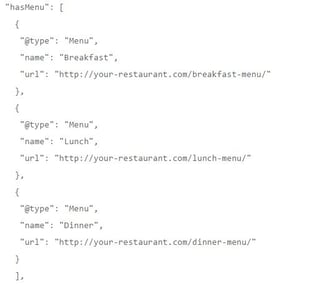 Before getting into marking up individual sections of your menu, it's important to start from the top of the data. If your restaurant has multiple menus, there is the option to add each of them along with their serving hours and corresponding menu URLs using the "hasMenu" markup on the respective menu page. Here is an example of a MOZ markup of three separate menus.
Next we would mark up the individual menu items in regards to their sections of the menu. For example, purposes, we may have a drinks section marked up with the "hasMenuSection" indicated by the name "drinks". This would allow you to add details of any drinks you may offer such as the name, description, size and price. See our example for a drink item here.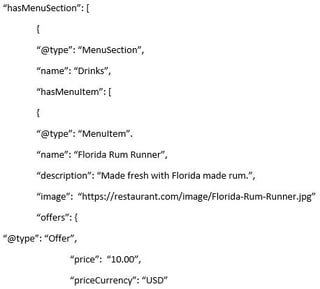 Closing thoughts on the Restaurant Menu Mark Up
Despite including this markup on your site, there is still a chance that it will not be displayed on the Google SERPs for a variety of reason, one being that this is a relatively new offering. Although you may risk the chance of this not showing, we believe that it is more likely to show than not, and having your site optimized as best you can will only increase your sites SEO. If you would like more on this subject, checkout Schema.org Food Establishment Markups or use some of the great MOZ resources available.
For more great tips and optimization resources, contact THAT Agency today.