It seems almost certain that local search will become more important as Google and other search engines improve their ability to accurately display local listings when they are relevant to search queries. One of the easiest and least time-consuming things that local businesses can do to drive targeted traffic to their website is to add or verify their local listing in Google. Here's how it's done:
1. Search for your business - Begin by going to Google Maps and searching for your business. A good way to search is to do "[business name] near [location]". For example, I searched for THAT Agency near West Palm Beach. When your listing appears, click more info.

2. Click Business owner?


4. Click Edit my business information and then continue.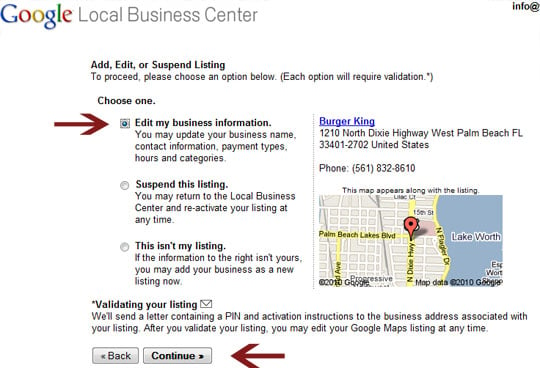 6. Now, you'll be taken to you business listing management screen where you'll be asked to fill in information about your business such as the location, description, website, email, business category, hours of operation, payment types accepted, photos, videos and more. Here are some quick tips for filling in this information:
Name - Use the business name that most of your customers or potential customers will know you by. This seems pretty obvious by for businesses that have a different legal name than 'marketing' name, it can cause difficulties when customers are searching.
Description - Use descriptive keyword phrases in your business description. For example, if you sell cars in Miami, FL, you may want to use phrases like Miami car dealer, car dealer in Miami, etc.
Phone number - Make sure your local phone number is included (even if you also have an 800 number).
Category - choose the most relevant and specific categories that match your business.
Photos and video - Photos and videos can make your listing more appealing. A brief video outlining your business services can be a great way to set you apart from your competition. Likewise, photos of work you've done (if appropriate) can also help improve your conversion rates.
Website - Don't forget this one! Include your website address so users can click-through for more information.
Coupons - Entice searchers to contact by including an appealing coupon offer within your Google Local listing. Coupons are also a great way to track the success of your Google Local marketing efforts.
When you're finished entering your business information, click the Submit button at the bottom of the screen.
7. In the final step you'll need to verify ownership of your listing. In this step, Google gives you the choice of verifying by phone or verifying by postcard. Both are easy to do although verifying by phone is much quicker.

That's about all there is to adding and optimizing your listing in Google Local. As time passes, you'll be able to track results through reports which can be found in your Google Local Listing Center. Best of luck!