Events can be both exciting and stressful. What do you need to gather and prepare leading up to the event and how can you put your ideas into actions? Creating a strong social strategy with goals can help organize what you want to achieve during, and after your event. Before you wait until the last minute and all hell breaks loose, consider these 7 ways to get the most ROI out of an event on social media: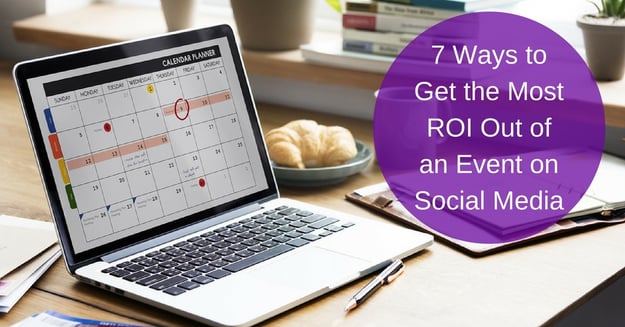 Create a Unique Hashtag- A unique hashtag will be the root tying together all ROI in your social strategy before, during, and after an event. How? When you create a hashtag that clearly defines your brand, the event, and your mission it will be the source to finding conversations, accessing engaged audience posts, and filtering those who are interested in your brand to focus on when trying to continue engagement growth. The people that interact with your hashtag are valuable because they found interest in your brand and what you have to offer, and are willing to participate. In other words, they act as free brand ambassadors.
Social Listening- There are helpful tools that allow you to access people talking about you and your event. Dashboards such as Sprout Social, Google Alerts, or Mention are great for accessing all the information in one central location to keep track. These platforms cut out the manual work and stream what you need. It is important to listen to who is not only talking about you and your brand on social but to actively seek out conversations to jump into. Use keywords and hashtags to access these conversation threads and pursue others engaging in the event. Answer questions, offer solutions, use CTA's, and make these people feel special so that they are willing to engage with you in the future!
Gamification- Who doesn't like a good game? Games and prizes are a great way to incentivize people to interact with you on social media. Scavenger hunts, photo contests, and Check-ins are just a few examples to excite and captivate attendees. Make sure you keep track of who participates and give them credit for participating even if they are not the winners! Games are used to not only increase your ROI but create something fun for your audience.
Brand Ambassadors- Influencer marketing is extremely beneficial to events. Brand Ambassadors recognized in a specific community can influence other people's decisions. Decisions to try your product/service, meet at a location, or expand your marketing efforts. Influencers have built a trusted community for themselves allowing you a platform to speak directly to these key players. It is just as important to promote brand ambassadors before and during the event as it is after the event is over. Continue to interact and post about your brand ambassadors to keep the momentum up post event.
Promotion Before, During, & After the Event-All three are valuable assets when promoting an event your brand is involved with. Promoting before creates excitement and gives people valuable information about the event, such as, where, when, how to get tickets, and how your brand is relevant to the event. Promoting during the event allows you to interact with attendees in real-time and gives you the ability to work hands on with directing people to visit your booth, try your product or service, or create an everlasting impression that allows them to make an action such as follow, like, buy, or promote your brand.
Make it Visual- Offer variety in your content, use signage with CTA's, create and share quality content from the event, whether it is posting your own unique photos or highlighting photos from others during the event and tagging them to get noticed. If you have a sound event social strategy but you lack the visual factor, people might not be interested in what you have to offer.
Leverage Paid Advertising- Even more crucial than the average target audience for your brands consumers, targeting those that are attending or interested in the event are key to sparking traction. You can target this specific audience by leveraging paid advertising. Some examples include targeted Facebook ads curated to people at/or interested in the event, Twitter ads promoting a chance to win swag for using your unique hashtag targeted to those at the event, or creating a visually appealing sponsored Instagram post to get your unique hashtag noticed and increase engagements.
It is important to create a social strategy for events to see ROI. Some marketers might think that being linked to a widely known, visually appealing event is enough to gain traction by just posting about it and adding their logo to it. You will inevitably be drowned out by the many other brands who are delivering higher quality content with a social strategy, on top of the actual events marketing efforts to promote. Think about what goals you want to achieve from the event and brainstorm ways to achieve those goals. Make sure you use some if not all the ways to get the most ROI out of an event on social media!