If you think it is just another buzzword, just another trend, consider this: everything - everything - today is social. The traditional roles of business and consumer have been overturned. Twenty-first century consumers are informed and savvy - most of all, they have options. They no longer wish to do business with faceless, soulless corporations. Consumers want to support - with their influence and their wallet - brands with which they connect. Social media marketing provides this opportunity. With a strong strategy, you can leverage social to drive revenue from social media and reach business-critical goals.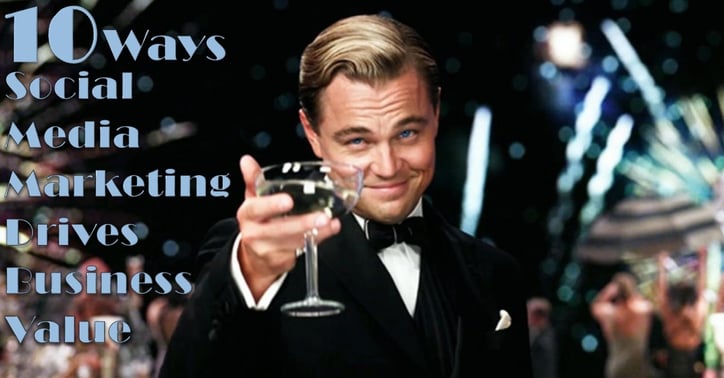 Building Your Brand Through Social Media
Nearly 2 billion people worldwide depend on social platforms from Facebook to LinkedIn to YouTube to Instagram to stay entertained, stay current, and stay informed. When you develop a strategy aimed at your target audience, you empower your business to move forward on a number of fronts. You can:
Build Brand Recognition.

Brand familiarity is highly correlated with brand choice: that is, the more people who are aware of your brand, the more people will choose it when they need a product or service. This is nothing new: what is (relatively) new is the ability to reach an exponentially larger audience. When people see you across platforms or your name is top of mind because they've seen great posts, you gain recognition - a critical step in more qualitative measurements.
Foster Brand Loyalty.

According to Convince&Convert,

53 percent of Americans who follow brands via a social platform are more loyal to those brands

. Loyalty, which is bolstered by familiarity, ensures customers buy again and again. As Starbucks CEO Howard Schultz says, "If people believe they share values with a company, they will stay loyal to the brand."
Beyond this, however, is the issue of consumer ambassadors or influencers: those who believe in your company will, in essence, market for you. Consumers trust their peers more than brands. It's that simple. If you can get customers on your side, they can help you reach your goals.
Highlight Brand Authority.

Consumers do not take brand claims at face value any longer. They research. They double-check. They gather intel. Social media enables you to share content (both original and curated) that establishes you as an authority. When they trust you, your brand becomes their first choice. Interact with influencers and followers; this shines a spotlight on your brand.
Increase Inbound Traffic.

Can you afford to generate traffic solely from people who are familiar with your brand or who search for the exact keywords for which you rank? No. Not by a long shot. Social media widens this traffic stream. Ultimately, it is engaging content that generates traffic. Post it, and they will come.
Create More Opportunities to Convert.

It's important to recognize that not every interaction with a prospect results in a conversion. But as you increase exposure, you also increase your opportunities to turn leads into customers. Excellent content and social posts enable you to interact with prospective, new, current, and old customers; and positive experiences boost your conversion rate.
Increase Conversion Rate.

Speaking of conversion… When you humanize your brand - put a face and an identity to the name, so to speak - you generate trust. According to Gallup research, in today's business climate, people "expect businesses to earn their money; they won't just hand it over." They will make more judicious decisions and opt for people who they trust.
Improve SEO.

In the "old days" of the internet, sprinkling a keywords into your content was a surefire way to achieve terrific rankings. Today, that is far from the case. Search engines, especially Google, want to improve their user experience by delivering the best results. That means top quality, relevant, and timely content. Social media plays a significant role in your search rankings; it is a strong brand signal that indicates you are legit, trustworthy, authoritative, and credible.
Decrease Marketing Spend.

Did you know that as little as six hours per week is sufficient to create more traffic and manage your social presence? That's just a bit more than one hour per day - and the ROI for that time can enhanced visibility, recognition, and results. This can free up funds and time for other marketing initiatives. With social, the biggest investment is in time - you need to commit to posting and interacting.
Improve Customer Experience.

When a customer has an issue or problem, they expect a near-immediate answer - typically within an hour or two. This makes social media a must. You can quickly and efficiently respond to commentary - both negative and positive - and answer questions. This improves the customer experience. They know you care enough to provide timely support. Every interaction is a chance to get it right, to deliver exceptional service.
Achieve Better Customer Insights.

Listen. Are your customers satisfied? Are they frustrated with a certain aspect of your company? Are they struggling with a common pain point that you can address? What are they saying? What are they

not

saying - and which topics can you guide conversations around? With social listening tools (e.g. Reddit Keyword Monitor, HootSuite, Reputology, Brandwatch, etc.) you can keep your finger on the pulse of your target audience and industry. This way, you can tailor content and strategies to most effectively drive you towards your goals.
Social media marketing is not a buzzword; it is here to stay. When you recognize its value, you can begin to formulate a strategy that will empower your brand to capitalize on the ubiquity of social - and win in the marketplace.