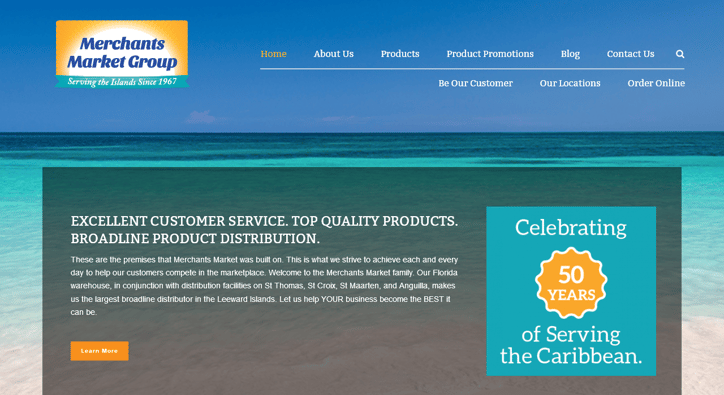 West Palm Beach, FL - Local company, Merchants Market Group recently partnered up with West Palm Beach Digital Marketing Company to revamp their digital presence. Recognizing an immediate need to refresh Merchants Market Group's branding, THAT Agency's first task was to design and develop a new website.
The website was developed on the open-source PHP platform, WordPress, and was customized utilizing numerous plugins, to create a custom website feel, without having to build the website from the ground up. Additionally, the website needed to integrate with an existing 3rd party ordering system, allowing for certain pages of the website to be password protected; however allowing the user to not have to login to both systems separately. THAT Agency was able to integrate the required functionality through an API integration.
Through the use of large background imagery, and bright colors, THAT Agency was able to impart an "island" feel to the website, while keeping it clean, modern and efficient.
To complete the project, THAT Agency incorporated their standard suite of search engine optimization onsite best practices. These services included (but are not limited to): keyword and competitor research, meta title and description optimization, 301 redirects, XML and HTML sitemaps, and much more!
About THAT Agency
THAT Agency is a full-service interactive design agency whose focus is all about their clients, including their web designs and development, search engine optimization and pay per click management and social media marketing. THAT Agency also provides business planning services, such as: specification documentation, wireframes and competitor analyses, for companies of all sizes, from start-ups and sole proprietorships to Fortune 500 corporations. For more information about all of the services or to get a quote, visit www.thatagency.com or phone 561.832.6262.
About Merchants Market Group
Merchants Market Group established in 1966, started out as a small retail marketing and grew into a broadline foodservice distributor serving St. Thomas and the neighboring island, St. John. In 1974, Merchants Market Group expanded, opening a distribution facility on St. Croix, and eventually opened a distribution center in Florida, in 1975. Today, Merchants Market Group also has facilities in St. Maarten, covering both the Dutch and French sides, as well as an office in Anguilla, establishing them as the leading and largest broadline distributors with over 100,000 s.f. of warehouse space in the USVI and Leeward Islands. For more information about Merchants Market Group, visit www.merchantsmarket.com.