If you are one of the 40% of small businesses that say filling open positions is harder than expected, you just got a new way to attract talent. Facebook recently introduced Jobs on Facebook which allows brands to post job openings on their page and on a dedicated and searchable hub of jobs. This new addition is aimed at helping brands of all sizes find qualified people where they are already spending most of their time online – on Facebook!
Did you know that 79% of job seekers use social media in their job search? While you might not think people traditionally turn to Facebook to actively look for jobs, they absolutely DO use Facebook (and other social media sites) to research companies before they apply. Having a strong employer brand showcased on Facebook is advantageous if you want to attract and retain the best people to work for your company. This all sounds great, but how does Jobs on Facebook work?
1. On your Facebook page, navigate to where you would normally create a post and select the "Create a Job Post" option.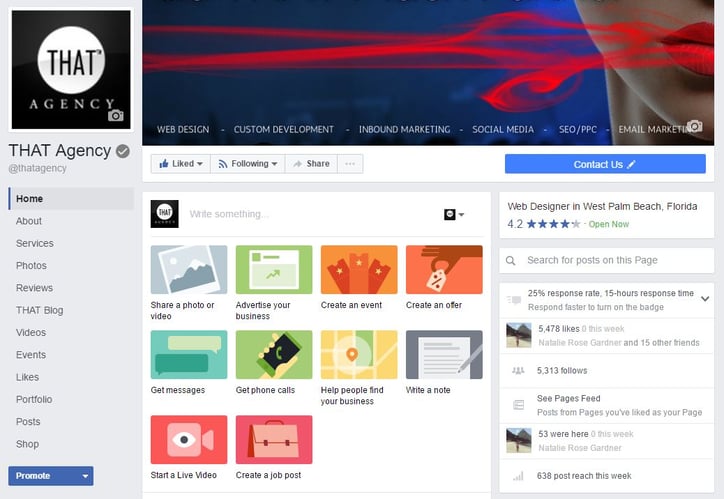 2. You are then presented with the configurator menu which allows you to customize your job posting. You can add all relevant details to jobseekers like salary, job requirements and you can even ask custom questions to learn more about applicants.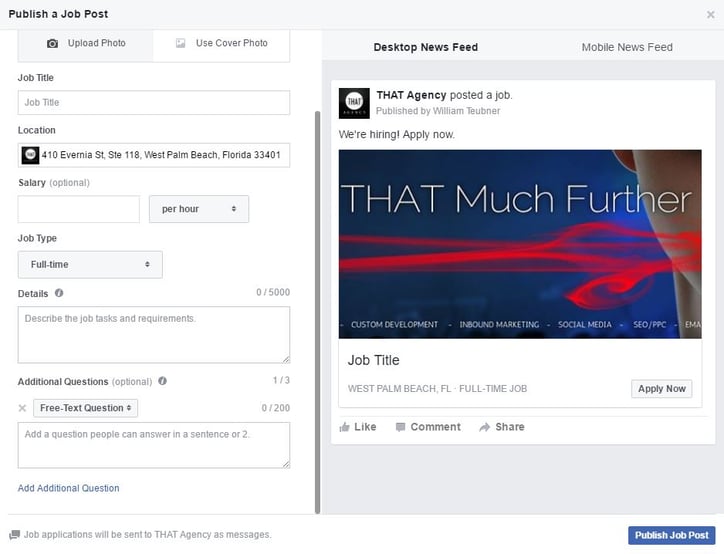 3. When you click "Publish" you are then notified that your position is under review and should be posted if approved within 24 hours. All applications that come from your posting will be delivered to you via Messages to your Facebook page.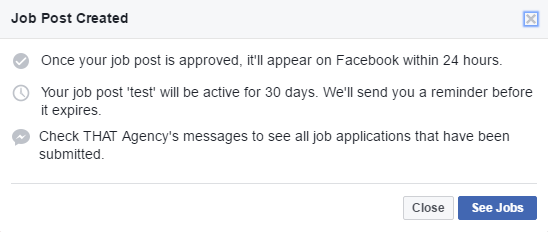 4. The newly created Job will live on the "Jobs" tab on your Facebook page. from here you can prmoote your job posting to the ideal audience using Facebook's targeting parameters. Dont know how? Lets talk!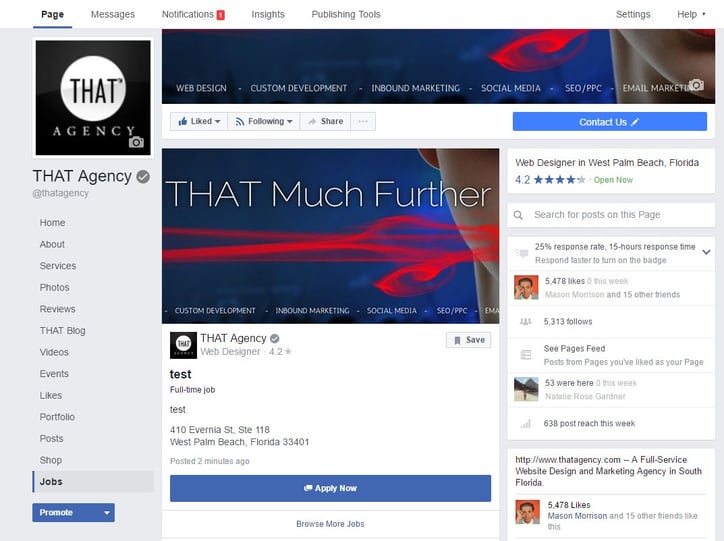 Are you tired of the ridiculous costs of LinkedIn recruiter seats, job board contrast and other methods of digital recruiting? Why not give Jobs on Facebook a try?!