If you've ever been through the process of designing a website, you understand how stressful it can be. Will it be perfect? Why isn't it done yet? Will it be mobile responsive? Why won't the designer get back to me? The truth is, this situation is much more common than it should be. The traditional process is built on a "set it and forget it" mentality and in today's digital marketplace, you can't afford to let your website's performance slip. This is where SMART Design comes in. This post will explain how this new approach to the web design process will result in a peak performing website that will help you achieve your business goals, and then some.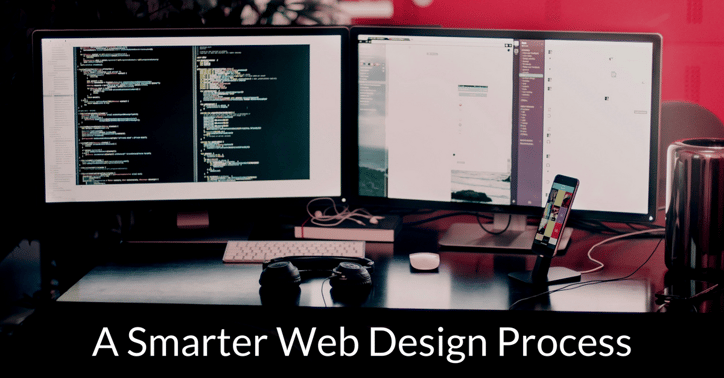 Traditional Web Design
Regardless of if you've been through the process of designing or redesigning a website, there are inherent risks you expose your business to when you change your site. The traditional approach embraces these risks as normal, and doesn't make any effort in minimizing them, leaving a lot up in the air for your business.
The biggest risk is the large amount of money you need to shell out just to start the project. The average small to medium-sized business website can cost anywhere between $15,000 - $80,000 so making sure you're making the right choice becomes even harder. Most of the time, this is paid in full before the development stage even begins so it's a huge upfront investment based on a loose trust that the site will perform.
Not only this, but it usually takes around 3 months for a website to be completed. The initial investment takes up a quarter of the year without any results to back it up. That's IF the project stays on time and according to budget. Many times, it doesn't and ends up costing the business even more time and money.
Already you can get an idea of the bleak and miserable picture I'm painting. I'm not finished either. With this traditional process, there is no guarantee that the website will perform the way you need it to. You get the final project, and since it's been so long and so heavily invested in you seemingly have no choice but to push it live and hope it does well.
SMART Design
SMART Design is a much more intuitive and agile approach to the web design process that enables businesses to create peak performing websites without the traditional painstaking aspects. It shifts the focus from just creating another site, to building, maintaining, and adjusting a site that fosters business growth. Already sounds like a much smarter approach to the huge investment you're about to make, right?
Let's keep going!
The SMART Design Process
This web design process is broken up into 2 main phases. Each phase contains different steps that will allow you to get the most out of your new website and break through the challenges of traditional design.
Phase 1: Strategy
As with any website, the first step is outlining an in-depth strategy. This is where you work with your designer to establish the goals you have for your website. These should be measurable, realistic, and have time frame so you can keep yourself, and your designer accountable.
The next step is understanding exactly who you're designing your site for. This is done by analyzing your current customer base, your target audiences, as well as looking at the analytics you've established on your current site. A persona is a semi-fictional representation of your ideal customer, and you'll likely have multiple. Simply put, they're your target market.
It takes the user and makes them the ultimate decision maker. Instead of designing around what the business thinks will work well, defining your personas and making decisions based on their engagement levels ensures you create a site your target audience can easily convert on.
From this primary data, you'll then create a "wishlist" for your launch pad website. This is a brainstormed list of the impactful, creative, and innovative ideas you'd like to include on your new site. Once each member of your team has come up with a good amount of ideas, it's time to classify them as either high-impact, medium-impact, or low-impact.
You then finalize the strategy phase by pulling the high-impact items from your wishlist and including them on your launch pad website. Remember to keep your list of ideas, as they'll all eventually make it on to your final site. The purpose of only including the high-impact and maybe some medium-impact items on your launch pad site is to speed up the process and get a working "demo" in front of your audience. This way, you can get started on making adjustments to create as close to a perfect site as you can.
This is just a glimpse of what the strategy phase consists of. You can get a more in-depth understanding here.
Phase 2: The SMART Cycle
Phase 2 begins once you launch your launch pad site and start collecting primary data from your users and how they behave with the new site. This is where you start implementing some of those medium to low-impact wishlist items that didn't make the initial cut.
This cycle is centered around the personas you created in the strategy phase. A question you need to continuously ask yourself is "how will this add value to the user". If it doesn't pass that test, go back and visit your strategy to align your efforts with the goals you've set.
In order to make this phase as effective as possible, it's important to plan out how you'll analyze, learn, and implement changes to the website. Your new implementations should work towards boosting conversions, improving user experience, personalizing the experience, or building marketing assets. All of these will increase the value you provide your users, and work towards the goals you've set.
From here, you take a step back and let give users some time to interact with the changes before the cycle repeats itself. To get a deeper understanding of The SMART Cycle, click here.
The 3 Pillars of SMART Design
In order to switch up the process into a much more data-driven approach, we've broken it down into 3 aspects that encompass this intuitive approach.
Minimize Risk
As highlighted earlier, the traditional process comes along with a handful of risks that could bring devastating results to your business. One of the main goals of SMART Design is to reduce these risks and make it easier for you to commit to building a website that performs. Instead of waiting around for a final product to be finalized, this approach gets a fully functional "launch pad" website out quickly.
Don't be fooled. This launch pad site is a full website and will be completely functional. It just gets something in front of the users so you can see how it performs and what changes could be made to create a better site.
Continuously Learn and Improve
The traditional process stops here, however SMART Design sees this as just the beginning. In order to make sure you're getting the site that you pay for, you must analyze and understand how your audience interacts with your site. Once the launch pad site is live, the following months will be spent analyzing user behavior and learning how to make the site better.
This process minimizes the risk of getting a site that won't perform. In fact, it ensures you get a site that will work for your business and your specific audience. Instead of creating a site based on how you think users will react, it enables you to make improvements founded on user data straight from your site's analytics.
Business Goal Alignment
The last pillar of SMART Design is focused on enabling your business to make impactful decisions based on primary user data. This is what allows the growth aspect for your new website. SMART Design works because of the open communication between your design, marketing, and sales teams. From this information, you can empower your marketing and sales team to make decisions to push you further towards reaching your business goals.
This system completely turns the traditional design process upside down and provides your business with a peak performing site. If you're looking for a smarter web design process, contact THAT Agency. We're a full-service digital marketing and web design agency and can use this process to turn your site ideas into a growth-driven reality.