Do you enjoy car shopping? Purchasing a new or new-to-you vehicle? You may be biased, as you're in the business of selling these cars! But most consumers beg to differ. In fact, a recent Autotrader study found that only 17 of the 4002 people surveyed like the process as is. That is 0.42%. In other words, a full 99.58% of consumers dislike the traditional approach to buying a vehicle. This is because the modern car buyer wants to purchase from a modern car dealership.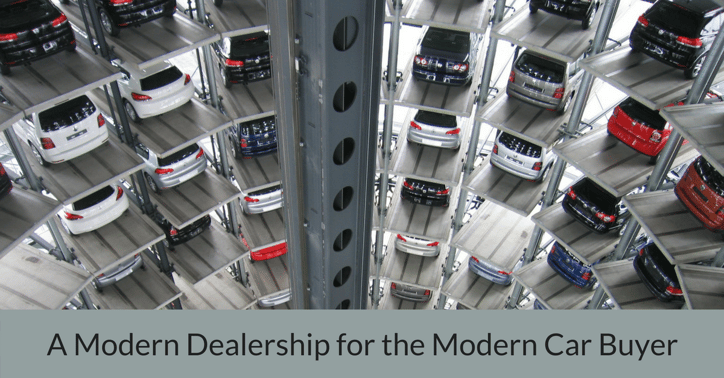 But what exactly does this mean?
What Consumers Want
Buyers want to drive (oh yes, pun intended!) the process rather than being in the passenger seat. Today's consumers are empowered; they want information and education, and they will seek out businesses and brands that can deliver. Let's take a look at some of the more illuminating findings of the Autotrader study:
84% of car buyers want to purchase in-person. Surprisingly, this includes millennials. While they expect a digital component to their experience (mainly for education and brand differentiation), they prefer to go to the lot, take a test drive, talk to a salesperson, and, yes, even negotiate with your sales staff face-to-face.
43% of car shoppers go to the dealership to learn about the vehicles they have their eyes on, as well as deals, specials, and finance instruments.
Price is not the only, or even the most important, factor in many consumers' decision-making process. Autotrader found that more people would be willing to travel further to deal with a great salesperson (73%) than to get a lower price (65%). More than half (54%) go with the dealership that offers the best experience rather than the lowest price.
The lesson: the experience is the key. And the experience begins not on the lot but online. Further, the digital thread weaves itself throughout the entire process. A modern car dealership accommodates today's buyers by creating an integrated experience, seamlessly blending online and offline activities to create a cohesive whole. The biggest factor is to recognize the "desire for consumers to have more control and convenience," according to Autotrader.
The modern car buyer wants to engage digitally at various points of the purchase journey: key touch points include:
Initial research

. A whopping 88% of consumers use the internet to research before buying a car. They spend about 60% (or about 5 hours and 12 minutes) of the purchase process researching, with most (78%) turning to third-party sites and apps. They also visit dealer websites.
Traditionally, auto sellers have used push marketing techniques — that is, they push their products at consumers via flashy ads and over-the-top claims. Advertising is a critical component of your strategy, but it isn't the only one. Use an engaging, user-friendly website with quality content to pull leads to you. This enables you to convey your brand's unique selling proposition: what differentiates your dealership from others? What types of experiences can you offer that others cannot or will not?
Mobile intel.

Forty-two percent of car shoppers use multiple devices to research vehicles and dealers. About a quarter of buyers use their smartphones to do research while they're at a dealership. Make this information mobile-friendly — if not mobile-first. They need to be able to find and compare pricing, check inventory, compare inventory at other dealerships, and look into trade-in pricing.
F&I.

No matter how wonderful your customer experience, the fact is that satisfaction declines after 90 minutes at a dealership. Typical F&I (financial and insurance) paperwork takes more than an hour. Dissatisfaction begins to creep in. Most customers prefer to start this process digitally. This saves them time, and aggravation, while they are actually at the dealership. And it saves you from having tired, disgruntled buyers on site. Happy customers are far more likely to refer friends/family and use your service center for their repair/maintenance needs.
The modern car buyer wants education, not pressure. When you provide reliable, relevant information at every stage, online and off, you can capture their interest — and their signatures on the purchase paperwork. A reputable automotive marketing agency can help you figure out how to integrate digital and physical strategies to create a winning experience for your customers.