Influencer marketing has established itself in the past 5 years with its ability to leverage online leaders to drive brand's messages to the larger market. While 2017 was focused on defining "what is influencer marketing?" and "Establishing mutually beneficial relationships", 2018 will be about taking the process one step further. What does this mean? Well, to stay ahead of the game there are a few influencer trends that are gaining popularity that all marketers should be taking advantage of in 2018:
Microinfluencers (Influencers with a following of 100,000 or less) are highly influential within their niche communities to drive conversions through authentic native advertising. Instead of just seeking quality and quantity we are looking further into strategizing what we do in terms of goals and expectations with these influencers.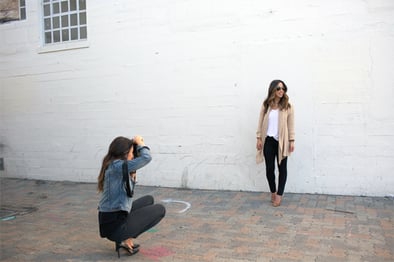 Integrated Influencer Marketing in the Buyers Journey
We are huge advocates of the inbound marketing strategy model. Inbound marketing is the process of attracting the attention of prospects, via content creation, before they are even ready to buy. The stages include Awareness or Attract, Consider or Convert, Decision or Close, and Advocacy or Delight. These stages are built to target consumers where they are in the buyers' journey.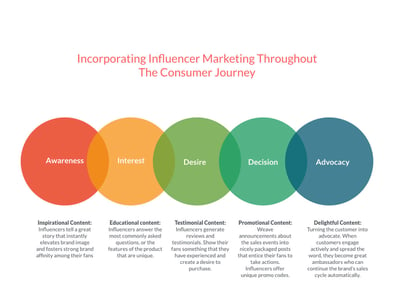 Integrating this process into the buyers journey is easy, but also takes planning and defining objectives. Setting clear expectations and guidelines for an influencer marketing campaign, allows for transparency between the brand and the influencer. Now that the relationship is already established between you and your influencer it is time to think about what content will target their audience at each stage.
For example, if the influencer is posting a photo with the objective to spread brand awareness or attract, it will look inspirational and appealing, if the influencers objective is to get their audience to consider or convert, it will be educational and answer questions the consumer might want to know, if they are trying to drive their audience to a purchase decision they might include something that creates a desire to purchase such as a discount code, or review, and lastly in order to delight their audience they will help turn the customer into an advocate of your product or brand continuing the brands sales cycle automatically.
Always-On Strategy
Like many marketing techniques, campaigns have a start and finish. In the world of influencer marketing moving into 2018 we need to think with the always-on approach. Once these campaigns end consumers are still looking to convert, so we need to be prepared to engage them in every stage of the buyers' journey continuously. How does this work? By building an influencer network we will have relationships with a database of influencers that are already our brand advocates.
In 2017 many marketers used these influencers once, saw results and reported. Wouldn't it make sense to continue with what is working? Maintain those relationships with your current influencers to analyze which ones hit your target audience and caused a reaction. Did they buy? Did they ask questions? What more can you leverage with this influencer to gain more customers and expand your reach?
Working with Technology and Solutions
One of the challenges (or solutions) becoming increasingly relevant with the growth of this incredibly effective marketing channel, is the need for platforms to organize, manage, and report on your efforts. Without these services, there is no standard or universal way for working with influencers yet. Currently without the use of discovery or reporting tools, the influencer marketing process can be very manual (searching hashtags, locations, tapping into blogger communities) to find influencers, and reporting (monitoring past posts to track results), all while creating your own database to keep count of the data (excel sheets, PowerPoints, created videos, etc.)
There are currently many platforms that are realizing the need for this service that are ramping up to evolve the way we work with influencers. However, not all of them solve the same pain points and they may come at a heavy price. Some offer marketplaces or databases to discover influencers, some offer campaign management and relationship management, and some offer reporting and analytics. It can get tricky when trying to decide which one will work best for you depending on how many clients need influencer marketing, what pain points can the platform ease, and what you can afford, not to mention incremental payments for the influencers partnered posts on top of it all. It may take some research to find one that works best for your efforts and budget.
Complying with the FTC
As influencer marketing grows and evolves so are rules and restrictions. Most people refer to this type of marketing as the "Wild, Wild, West" and I agree…but is that a good thing? I like to think of it as any new concept breaking into the market. When new ideas become relevant, people jump on it, and while there is still little saturation or room for interpretation that's when you can achieve the most before social platforms and authorities crack down and make your efforts harder. However, that means to say: PROCEED WITH CAUTION. Be aware of the FTC regulations as they change. In 2018, there will be new rules enforced to ensure consumers are aware they are seeing a paid ad as compared to an influencer just sharing her favorite product without a partnership with the company. Some of these rules include using the hashtag #Ad or #Sponsored. The FTC is aware that the community has tried to get creative with this expectation by using hashtags such as #Partner or #Spons, but the FTC states "that's not sufficient". Get creative, but stay in-line to ensure your company, your clients, and your influencers are protected.
I'm interested to see where digital marketing trends such as influencers head in the next decade. It is true that influencers are then next brands and celebrities, and that is exciting news for us. It is important to realize that now, and take advantage of building these relationships before it costs a pretty penny to work with your favorite influencer. The good news is, as long as influencer marketing is flourishing there will always be hungry Microinfluencers willing to start their personal brand and grow.