Whether you're a business owner or have been tasked with finding the best person to design your new website, it can be difficult to know where to look for the best possible new site. A question you might start out with is "should you hire a freelancer or web design agency?". Both come with benefits and drawbacks, but to provide you with a simple answer; it depends. There are a lot of factors that go into deciding on who will design your new site and finding the balance between these factors that works for your business is critical to making the right choice. This post will highlight the common factors that go into this decision and what you can expect from both.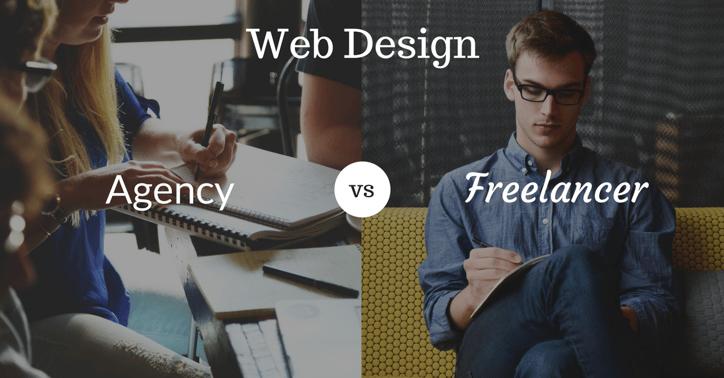 Cost
First things first, let's talk money. Web design projects can be pricy and depending on the type of site you're looking to build it could cost you a pretty penny. If you're a smaller business or are just starting out, a freelance web designer might be your best option. They typically charge much less and will be able to handle a small site without a problem.
However, if you're looking to expand your site because your business has been killin' it, an agency would probably be your best bet. While it might come with a larger price tag, they have the experience and industry knowledge to recognize your business vision, set goals for your website, and create a system to ensure you reach them.
Time
Freelancers are usually a one-person crew. They might have a few people that help them with hiccups that happen along the design process, but for the most part they work alone and dedicate their time to finishing your project. Depending on how many client's they have and the complexity of your project, they know their process and will be able to give you an accurate sense of when you can expect the site to be ready for launch.
Agencies will also be able to give you an accurate estimated time of completion. Agency business models are often built on time allocation, and managing multiple clients means time management skills are a must.
However, an agency can often pump out an urgent project much faster than a freelancer. After all, time is money, right? This is one big advantage that comes with an agency. They have the resources and people power to work on multiple aspects at a time and can cater the time of completion to your schedule.
Flexibility
One thing you need to understand when thinking about when planning out a new site is that the only constant is change. This varies from freelancer to freelancer, but many times they have a process set in stone and might not be up to date on the most efficient and effective design practices.
A web design agency thrives on client success. It's their reputation and ensuring client happiness means remaining flexible in the design process. This means making sure the sites they create are competitive and adhere to industry best practices.
Communication
The last thing you want in the design process is a lack of communication. Since freelancers work on their own schedule, you can typically contact them at any time about any issues or concerns you might have.
With an agency, you'll typically have a main point of contact that will handle your project. At the beginning of the relationship, you should clearly identify the communication process, who you'll be in touch with, and the best times to get in touch. This will make the entire process much less stressful for you.
The biggest thing you want to avoid when hiring either a freelancer or an agency is signing the contract, having them disappear for 3 months, and then coming back with the finished site. This happens way too much and often results in a site that isn't what you want and doesn't perform like you expect.
Results
At the end of the day, you're hiring someone to produce a website that performs. When working with a freelancer, make sure you make it extremely clear what your expectations are for your site. Expectations for aesthetic, functionality, as well as ease of future maintenance are important to establish before the project begins to avoid any unexpected surprises. Ask for examples of their previous work and see if their work aligns with the vision you have for your company.
When you hire a web design agency, results are what keep them in business. Aligning your goals and expectations is just as important with an agency as a freelancer. Many times, an agency will have an extensive strategy formation phase that will establish these expectations and what you can expect throughout the entire project.
Maintenance and Support
Many times, businesses need ongoing maintenance and support for their websites after the initial site launch. Many freelancers only specialize in web design and won't be able to provide you with the extensive support or marketing activities after the site is finished.
If you do need ongoing website management after you launch your site, an agency will likely be the way to go. Many agencies can also provide ongoing digital marketing services to make sure your website performs how it is supposed to. This is a great option if you're looking to design your site for business growth.
Looking Towards the Future
Ultimately, your site is your biggest digital asset. It's your most invested in piece of content. Understanding how users discover, engage, and convert on it is critical to creating a peak performing website. It's essential that the person developing and designing your site is aligned with your business goals so they can create a website with a purpose.
Your designer should also understand the latest trends in web design. Here at THAT Agency, we recognize that the traditional "set and forget" approach is broken. It delivers websites that will be outdated in a few years, putting you in the same position you're in now.
We take a data-driven approach to our web design process. We're a full-service agency that provides web design, as well as the digital marketing services that will help you crush the goals you've set.
If you're looking for a data-driven approach to your design, contact us! We'd love to explore your goals and see how we can work together to make them a reality.