Does your hotel digital marketing strategy reach travelers' during the multitude of micro-moments they experience along their buyer's journey? It needs to if you want to capture their attention — and a piece of the $1.2 trillion travel market.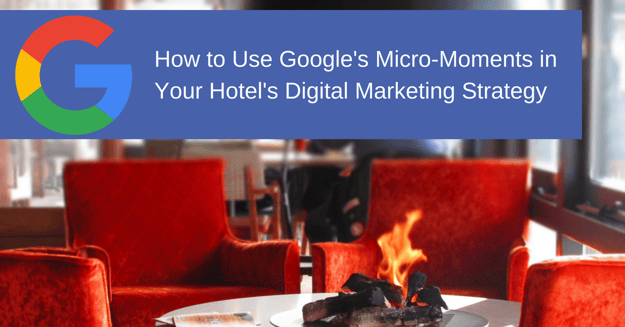 Waiting is Outdated
Google Senior VP of Ads and Commerce Sridhar Ramaswamy writes, "Waiting has become a thing of the past. That translates into today's pervasive micro-moment behavior — immediately turning to a device to know, go, do, and buy."
A micro-moment is a time when a traveler picks up a device to answer an immediate question or need. The information and content they find at this time "shape travelers' preferences and decisions." It is in these micro-moments that they clearly demonstrate their intent; and it is these moments that present significant opportunities for hotels.
Google has identified four key micro-moment stages:
I-want-to-get-away

. This is the dreaming stage; every traveler starts with a "Wouldn't it be nice…" vision of escaping daily life. The majority of travelers (82%) haven't decided on what accommodations provider they'll use on their trip. This means the opportunity is yours to seize.

Time-to-make-a-plan

. The traveler has decided on a destination and is in the planning phase.

Let's-book-it.

Now, it's time to get real: the traveler will start booking flights, rental cars, and hotel accommodations, as well as solidifying plans for what they'll do when they arrive.

Can't-wait-to-explore

. The traveler is ready to live the dream! At this point, hotels need to be focusing on capturing their guests' desire to share their vacation with their friends on social media and with fellow travelers on review sites.
To get an in depth- look at how each of these moments plays into your marketing, download our comprehensive hotel marketing guide.
Let's look an example: a traveler is in the time-to-make-a-plan stage of her journey. At this point, she wants to know more about her destination; let's say she's going to sunny South Florida. She might grab her phone and search for: hotels in West Palm Beach; best restaurants in Palm Beach; South Florida car rentals, best time of year to visit Palm Beach, etc.
As more consumers use mobile technology to conduct travel-related search, they are accustomed to getting the answers they want now. As a brand, then, it is essential that you are there in these micro-moments, and that you are relevant.
"Be There and Be Useful"
Your brand needs to capture travelers' attention during micro-moments; to do this, according to Google, you need to "be there" (i.e. be visible and present for their moments) and "be useful" (i.e. provide relevant information to meet the consumers' needs at that moment).
To return to our South Florida-bound traveler during her time-to-make-a-plan stage: when she searches for best hotels in West Palm Beach or Palm Beach hotels with spas, for example, you need to be there. Through integrated strategies, including SEO, content marketing, social media, Facebook ads, hotel ads, etc., you can achieve visibility in the search results pages.
The next step is to put that spotlight to good use: what do you have to offer this traveler? You need a mobile responsive site that loads ultra-fast and gives your target audience the information they need to make their decision: prices, amenities, nearby features and attractions, whether or not you have a gorgeous pool with lounge chairs and fluffy towels and… (people can dream throughout all the phases of their journey!).
La Quinta is a shining example of being there and being useful, thus seizing the let's-make-a-plan micro-moment. Recognizing that one-third of its online visitors comes via mobile, the relatively small chain utilized Google Hotel Ads and an updated mobile platform to capture the interest of travelers in their planning stage. They doubled their conversion rate over regular website traffic. It's all about now, now, now, and La Quinta delivers.
Travelers conduct hundreds of searches over many months between the I-want-to-get-away and the Can-wait-to-explore stages, and there are hundreds of potential micro-moments on which you can capitalize. Start with examining the "big" four identified by Google and identifying ways your brand can make the most of these micro-moments.

Consult with a firm that specializes in hotel marketing services, and you can position your brand as the one that delivers value and relevance to your audience. You marketing needs to focus on your guests and deliver a one of a kind experience. Centering your hotel's marketing around them will help you drive direct bookings and create lifelong guests.