With the recent release of Google AdWords Click-to-Message ad capabilities, Google has once again given SEM managers yet another touch point to connect consumers with businesses. The Click-to-Message ad capabilities launched mid October and allows individuals to tap on a texting option which launches a user's SMS app with a pre-written message tailored to the product or service that they're interested in.
In Googles latest blog referencing Click-to-Message Ads, there are multiple testimonials endorsing the Click-to-Message ads by digital marketing managers at companies such as Travel Pass Group, Any Van, Auto General and Global Industrial. Gavin Chan from Any Van writes,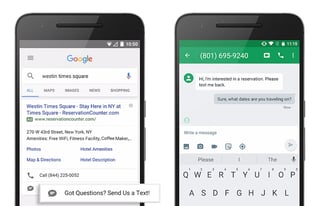 "Click-to-message is a useful tool that allows consumers to engage with our business in a way that's comfortable and efficient for them. They could be on their commute or in a rush, so they can text us quickly through click-to-message. It's also a good medium to get questions answered that aren't addressed on our website, or to reach us during hours when our office is closed. Our main performance objective is to help customers as much as possible - when we take care of their questions and needs in a helpful, relevant way, that leads to better business results."
Before jumping into this exciting new feature, THAT Agency has some quick tips to leverage the success of Click-to-Message ads.
1.) Like any new capability launch with SEM tactics, to be certain of its validity and ROI, a testing process must take place. THAT agency suggests creating new campaigns specifically tailored to Click-to-Message ads. These campaigns will have the click to message ad extensions associate with them. Typically, after a few weeks of data, a decision of its ROI can be decided, but should continuously be tested after the first period of evaluation.
2.) The new ad extensions will need to have one number associated to it. This leads to one phone receiving the text message from a potential client. Before launching the Click-to-Message ads, have a plan of action on distributing and handling leads.
3.) Be sure to use ad scheduling to match the hours of business that you are willing to answer text messages. Ad scheduling is done at the campaign level. A video tutorial can be found here.
For more information, contact THAT Agency and find our how a PPC marketing agency can help you!