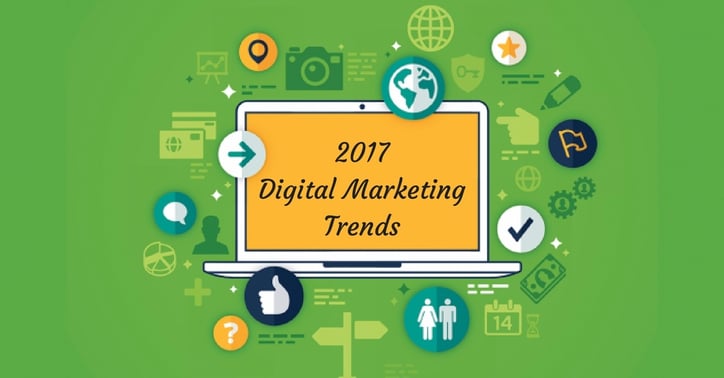 2016 was a strange year. From viral videos of a gorilla to a guy named Daniel wearing white skate shoes to presidential candidates hashing it out on Twitter, I'd be lying if I wasn't a little happy it's all over, but what has this set the stage for? People are eating up the randomness the internet brings them and it's becoming more and more of a staple of their everyday lives, making it even more important to understand how your target customers are spending their time online. So where does this leave us for 2017? These are the top digital marketing trends for 2017.
Content Marketing
Content marketing, sometimes roped in with Inbound Marketing, is all about creating and promoting content for your target market to view and consume to provide them with the information they need to make the most informed purchasing decision. Content can come in a variety of formats including blogs, whitepapers, ebooks, videos, infographics, newsletters, as well as webinars. Content marketing strategies are a great way to increase qualified lead generation because the specific nature of your content will weed out the leads that have no intention of converting.
Content such as blogs can be available to the public for free and can increase the amount of time spent on your site. What's more, it will establish your authority as a thought leader in your industry and create a solid link profile through the use of backlinks. Other content such as whitepapers or ebooks are more specific and in-depth content pieces. Users who wish to read or view these pieces are usually intent on getting the information within, so asking for basic information such as name and email address can be appropriate.
Big Data
Providing valuable content to your customers will leverage your ability to gather data and further qualify leads in the marketing funnel. Gather basic information from your content marketing strategy and you'll be able to personalize and create a tailored user experience for each person. Don't think this is as important as other trends? According to Forbes, more data has been created in the past two years than in the entire previous history of the human race. With 40,000 search queries every second (just on Google) people are spending their time researching on the internet more than they are calling up businesses and asking questions themselves.
Businesses can use all this data to their advantage. Tracking behavior on sites is a great way to see how users interact with your company online. This will give insight as to what people like and what they don't like. What colors perform better? What image would increase click through rates? In the past these questions would be answered with "go with whatever one you think looks and feels better". As easy as that sounds, those days are over. The correct answer nowadays is the answer to another question; "What performed better in the A/B test?".
Marketing Automation
Marketing automation is a technique in which companies provide value to users at their demand. Instead of putting ads, content, products, etc. for your target audience to view and hoping they do just that, marketing automation puts the timing in the user's hands. Did they click on that compelling call-to-action? Send them an email with what you promised or redirect them to the page they clearly want to be viewing.
Qualifying leads has never been easier for marketers today. Once a user is in the funnel, a great marketing automation strategy will hold their hand and walk them through the marketing funnel providing them with valuable content at the perfect time; right when they want it. Even though this might seem like a marketer's dream, building out an effective automation strategy is still a lot of work. Everything on every webpage must be there for a reason and must provide value to users. Doing this makes every click or action taken by users an opportunity to provide them with added value and an integrated, personalized experience.
Mobile Marketing
According to Smart Insights, 80% of internet users own a smartphone. With 89% of the time spent on digital media being spent within smartphone apps, all age groups have adopted the smartphone takeover that occurred in 2016. This is increasingly important for marketers because it stresses the importance of mobile optimization. Understanding that websites, emails, ads, and everything else you provide on the internet will be viewed on a multitude of screen sizes means you need to make sure it will create a user experience that delivers value, regardless of the size of screen.
Social Media Marketing
It's time to connect all of this. By all of this, I mean everything. Social Media Marketing is what is responsible for promoting content, sharing ideas, and maintaining face for your company on digital platforms. Social media provides businesses with the opportunity to promote content to targeted groups of individuals, and with over 2 billion social media users, the possibilities are endless. Exposing your target customers to the right content at the right time is much more doable through the utilization of a sound social media marketing strategy. With 78% of the U.S. population on some type of social media, that is where they spend their time. Geared towards their personal interests, social media is the platform that combines the first 4 trends and brings it all together. Promote content to the right people by segmenting the massive amount of personalized data to automatically send them relevant and valuable content wherever they are, desktop, tablet, or smartphone.
While many of these trends thrived by themselves in 2016, 2017 will be about integrating all of these trends into an integrated, personalized user experience. Link your content and social media strategies to maximize reach and exposure. Test, then test again to ensure you're creating content that people can't get enough of. Most importantly, deliver the right value at the right time in the right way and 2017 will be a year you, and your customers won't soon forget.