---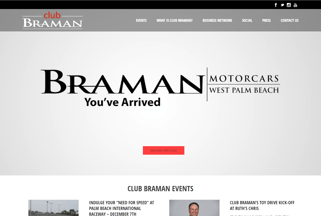 West Palm Beach, FL THAT Agency approached Braman Motorcars with the idea to build a standalone experience based website to convey the value of becoming a member of Club Braman, as well as provide current Club Braman members, a basecamp.
When asked what their point of differentiation was, Braman Motorcars always came back to a key element: Club Braman. When a customer purchases (or leases) a vehicle from Braman Motorcars, they automatically become a member of Club Braman. As a member, they have access to monthly events, such as: Polo, Palm Beach International Racetrack, model launches, fashion shows, and much more. Additionally, club members have access to partner businesses, and can receive great incentives! All this, but their existing dealership websites were not built to allow this story to be told.
The new Club Braman website was built with a clean navigation, large imagery and video, to really tell the Club Braman story, and immerse users in the feel of what it is like to belong to Club Braman. The website contains all upcoming events, as well as a gallery for all past events, where members can access and view photos and videos of themselves at the event. Additionally, for events which are invite only, users can easily and conveniently RSVP right from the website!
The new Club Braman website contains these great storytelling features, and happens to be mobile responsive as well, so whether customers are on a mobile device, or their desktop computer, Club Braman is always accessible.
About Club Braman
Club Braman is an exclusive members-only club offered to any Braman Motorcars' customer who has purchased or leased a vehicle within the last 3 years. Members receive access to exclusive Club Braman events, such as: new model releases, fashion shows, Polo matches, Palm Beach International Raceway events, and much more. For more information about all the great aspects of Club Braman, visit the Club Braman site today.
About THAT Agency
THAT Agency is a full-service interactive design agency whose focus is all about their clients, including their web designs and development, inbound marketing, search engine optimization, pay per click management and social media marketing. THAT Agency also provides business planning services, such as: specification documentation, wireframes and competitor analyses, for companies of all sizes, from start-ups and sole proprietorships to Fortune 500 corporations. For more information about all the services or to get a quote, visit THAT Agency or phone 561.832.6262.
---