Successful inbound marketing in 2018 will have to be centered around your customer. Companies need to tailor their message to effectively engage with them wherever they are and whatever device they're on. While so many companies have adopted an inbound marketing approach in 2017, the focus was still centered around their product or service. Companies focused primarily on the "consideration" stage of the inbound methodology, and left the "delight" stage out to dry. Here are 5 ways to make sure you set your inbound strategy up for success in 2018.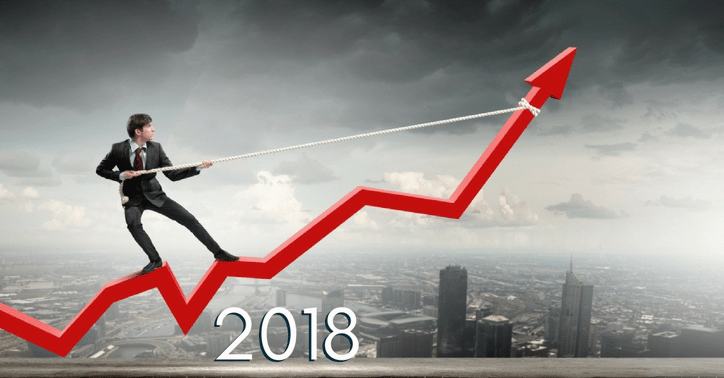 1. Integrate Delight Into EVERYTHING
To succeed in 2018, you need to adopt a growth marketing approach. Instead of only focusing on delighting your current customers, you'll likely have more success delighting your audience at every lifecycle stage instead of just when they become customers. Yes, treat your customers like royalty. After all, they're paying you to!
However, if you want to get more of them, you need to give them a sneak peek of your royalty treatment while they're still choosing between you and your competitors. Give them the extra reason to go with you with a little pre-purchase delight.
2. Content with Motion
Your 2018 content strategy should get a significant makeover from 2017. If you haven't embraced video marketing, the time is now! Video is more engaging across every channel and can help boost your campaign metrics from social media to email to landing page conversion rate.
Another awesome trend we're seeing come forward is the use of cinemagraphs. Much like animated gifs, these images are mostly still but capture users' attention with a single moving element. For instance, a picture of a car with just the hair flowing in the wind. These motion graphics can help you catch your audience's attention and get your brand to stand ou especially on social media in 2018.
Click Here to learn more about Web Design Trends for 2018
3. Artificial Intelligence is replacing us…when we're not there
There has been a large concern about whether artificial intelligence is going to replace our jobs. While the advancements in this technology warrant questioning, using artificial intelligence in your marketing will empower you to solve your audience's problems with unmatched efficiency.
For example, AI in messaging bots will allow businesses to address customer issues without us having to be on the other end of the message. Mostly when we're sleeping in the middle of the night and your customer who's had too much coffee is bouncing from site to site in an internet binge.
AI will allow us to more effectively be there for our audience when they need us to be.
4. Listen up…Voice Search is about to BOOM!
Back in 2016, 19% of people reported using Siri on a daily basis. With Google Homes, Alexas, and Amazon Echoes becoming a common household item, people will find it more convenient to ask their search engine assistant instead of typing in a query into a search engine. Get ready for a huge wave of voice search.
This means your content and seo strategy in 2018 needs to focus on search intent more than anything else. Optimize your blogs and articles to be featured in search engine answer snippets so you can be the first thing their robotic companions find when locating the answer to their question.
5. Listen Some More
Effective inbound marketing takes a lot of listening. From social monitoring to understanding how users engage and interact with your content in 2018, listening to what they do and how they respond will allow you to more effectively deliver a relevant brand experience.
As I noted earlier, 2018 is going to be the year of the customer. Every aspect of your digital marketing in 2018 needs to be focused on delivering a delightful experience for not only your customers, but every visitor and every lead that comes to your website.
You need to stand out. Be a little weird. Give them the extra value they want, but won't necessarily expect. Going the extra mile for your customers in the new year is what will define your brand and position your company ahead of the competition.
Next: 4 Changes to Expect in Email Marketing in 2018 -->