Having a blog for your business has become incredibly popular over the last couple years, and the trend isn't going away. In fact, 53% of marketers say blog content creation is their top inbound marketing priority. That's a lot of blogs, but how many of them drive meaningful business impact?
After all, if you're investing time and resources into creating a whole new marketing channel, you're expecting a positive ROI. In this post, I'll highlight the fundamentals of blogging for businesses, design tips, and some KPI's to monitor to ensure you build a successful blog for your business.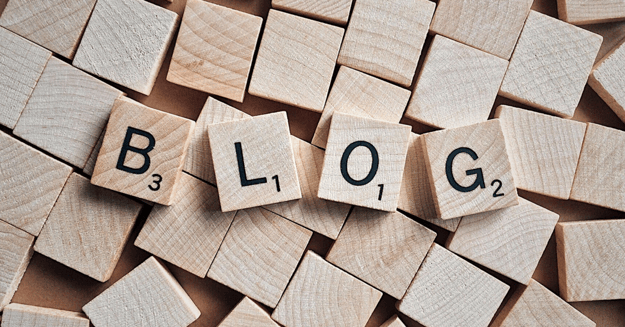 Fundamentals of Business Blogs
There are plenty of reasons to start a blog for your business. When done correctly, this section of your website can be responsible for the majority of traffic to your website. It's all about creating authentic and relevant information for your audience to enjoy.
However, just because you create content and post it on the internet doesn't mean people will see it. More importantly, without a solid strategy, the right people won't see it.
Your Blog's Purpose
The purpose of starting a blog for your business is ultimately attract visitors to your site. Instead of allocating your budget towards a paid medium, blogging attracts a higher quality of visitor to your website. Below are just a few of the many reasons a business blog will help your company.
More Content, More Ranking Opportunities
When it comes to SEO (search engine optimization), content marketing is the name of the game. Consistently publishing to your blogs increases the number of rankable pages on your website and more opportunities for your audience to discover you.
A Higher Quality of Visitor
Search engines are getting scarily good at finding the most relevant pages for what users search. Posts relevant to what your company does will attract an interested visitor and give them the information they're actively searching for.
Internal Linking Structure
On the more technical side of SEO things, a blog allows you to tell search engines which blogs and website pages are related to each other while simultaneously creating a strong user experience. You can link to related pages of your website to keep the conversation going with the user and increasing engagement.
Establish Thought Leadership
Have you ever searched for something online and find that the first page of results is predominantly from a single site? This is what we like to consider thought leadership. While it could be considered topic dominance, you'll be able to position yourself as the leader in that category for your users.
What to Blog About
Now that we know the purpose of a business blog, the next question we usually get is about what to blog about. This is common and if you struggle with writer's block, getting started with blogging can be a daunting task.
When it comes to topics, focus on what your audience is looking for. A blog gives you the platform to attract your audience and help them on their journey towards a purchase.
We've found the following tactics work quite well.
Instructional Posts
Let's be honest, not many people read the instructions when they get something new. That little packet of paper is usually thrown to the bottom of the box, or simply ignored. Fact is, people want to experience the value your products or service offers first hand. Key word: experience.
However, when the inevitable "How do you use this thing?" question comes, people are turning towards the internet to find answers.
Enter your blog. If your customers often have issues or challenges experiencing the value your products and services provide, your blog can answer their questions while creating happy customers at the same time.
Sounds like a win-win to me.
Company News and Updates
Along with what you post on social media, your blog acts as your business's own news feed. Keep it fresh and tell people what's happening.
Tell your audience about updates to your products. If you're extending your product line, tell the world about it. If the news you're posting about can impact your audience in a positive way, then there could be value in blogging about it.
Educational Tips
We've seen a lot of success with this tactic here at THAT Agency. This tactic goes along with establishing thought leadership and can position your company as the "solution to the problem". Make it conversational and relate it to a common situation your audience might find themselves in.
Show me the numbers!
People like statistics. Why? They explain things that happen in life. They help people understsand the way the world works and why things happen the way they do.
If you have information and statistics that back up your business, blog about it! Create a list of stats with a quick explanation about it.
5 Impressive Blogging Statistics
Speaking of stats, I thought I'd share a few with you about business blogging.
1. 47% of buyers viewed 3-5 pieces of content before engaging with a sales rep. Source: Demand Gen Report
2. Marketers who prioritize blogging are 13x more likely to achieve a positive ROI on their efforts. Source: HubSpot
3. 70-80% of users ignore paid ads and focus only on organic results. Source: Search Engine Journal
Your Blog's Design
Your company's blog should be designed similarly to the rest of your website. This will help keep the message branded and let people recognize the content as yours. You want to make sure you're not distracting from the purpose of your post.
Take a look at some web design trends and keep these things in mind when designing your blog.
Does it Clearly Belong to Your Company?
If your target audience is going to be using the content you post, you want to ensure that they associate your business with what they're learning.
Is it Focused?
While your site might reflect the creativity of your web designers, your blog isn't the best place to showcase these skills. Keep the design clean, uncluttered, and structured. You don't want to distract users from the main points of your post.
Is it Responsive?
With more than half of Google searches coming from mobile devices, it's extremely important for your post to readable on any device your audience might be viewing it on. This holds true for your website as well, but it's equally as important for your blog.
Is it legible?
Can people easily read and understand your post? Is the font too small or too big? You want to make sure you present your information so users can easily digest. Try to stick to a simple font and normal font size of at 15px.
Sidebar
To keep the presentation of your blog organized, there are typically larger margins than normal on both sides of the content. Will you include a sidebar on your blog? What will you put there to take advantage of the extra space?
A few common things to put on a blog's sidebar include:
Post Categories
Recent Posts
Calls-to-Action
Newsletter Sign-up Form
If you decide to include these in your blog's design, make sure they're not distracting. Even though your calls-to-action should grab user's attention, they came for the information in the post and you don't want to scare them away with something they could confuse as an ad.
Measuring Your Blog's Performance
Since it's a business blog, making sure it's pushing you towards achieving your company's goals is extremely important. At the end of the day, if your blog isn't 1.) generating traffic and 2.) not getting views, you're not going to see such a positive ROI.
The first step is setting up a system to analyze the activity on your blog. This can easily be done with Google Analytics.
Metrics to Watch
Once you have a tracking system in place, now it's all about knowing what to look for and recognizing trends. To maintain a successful business blog, you should monitor the following metrics.
Views
First and foremost, are people viewing your posts. This number will show you how many times someone landed on one of your blog posts.
Source of Traffic
How are people finding your blog? Is it organic traffic from search engines or are they finding you through your social media marketing efforts? This information helps you get a better understanding of your audience and help you cater your future content to what they're attracted to.
Average Session Length
How long are people staying on your site? For your blog, this number will tell you how much of the content they're actually consuming. Are they skimming your posts or are they reading the entire thing?
Bounce Rate
This metric will show you the percentage of users who come to your blog, but don't take any action. Are they coming to your page then quickly leaving? A high bounce rate could indicate a poor user experience and can help you identify room for improvement.
Conversion Rate
Are your blogs driving conversions? Through the strategic use of calls-to-action and internal linking, you can direct your users to landing pages where they can convert into leads. Keep an eye on how well your blogs convert to make sure they're useful for your business, not just your readers.
Subscribers
Throughout your site you should give users the opportunity to subscribe to your blog. This way, you can send them the most recent relevant articles and stay in front of them. The number of subscribers you have can give insight into the quality of your content.
Growth
Are all these metrics getting better? For instance, are you getting more views each month, quarter, year, etc...? If you're failing to grow in views and subscribers, check out some SEO best practices so you can make sure you're moving up the ranks on search engines.
A lack of growth can indicate ineffective topic choice as well. This can be fixed by undergoing extensive keyword research, so you know what your audience is searching for.
Ranking Position
Blogging is a huge SEO investment and you want to make sure your posts are written after thorough keyword research. With tools such as SEMRush, you can track search engine rankings for keywords and see where your blog posts rank.
This metric brings it back full circle, as the first step to getting views is showing up in search engine results.
Next Steps
One of the most important things your blog must do is offer a next step for your reader. This is done with a call-to-action.
A call-to-action lays out a logical path for your reader to follow in the form of a button or image graphic. For instance, the banner below will direct you to a comprehensive digital marketing guide for 2018. It highlights everything we recommend for a successful growth marketing strategy, including blogging! Feel free to check it out.
To sum all of this up, your business's blog needs to have a purpose centered around your target audience. When you maintain an effective business blog, it'll become one of your most valuable marketing assets and deliver an incredible return on investment.