West Palm Beach, FL - New home décor and interiors shop on Antique Row in West Palm Beach, FL hires THAT Agency to redesign their website, modernizing the website design and bringing it up to date with current technology.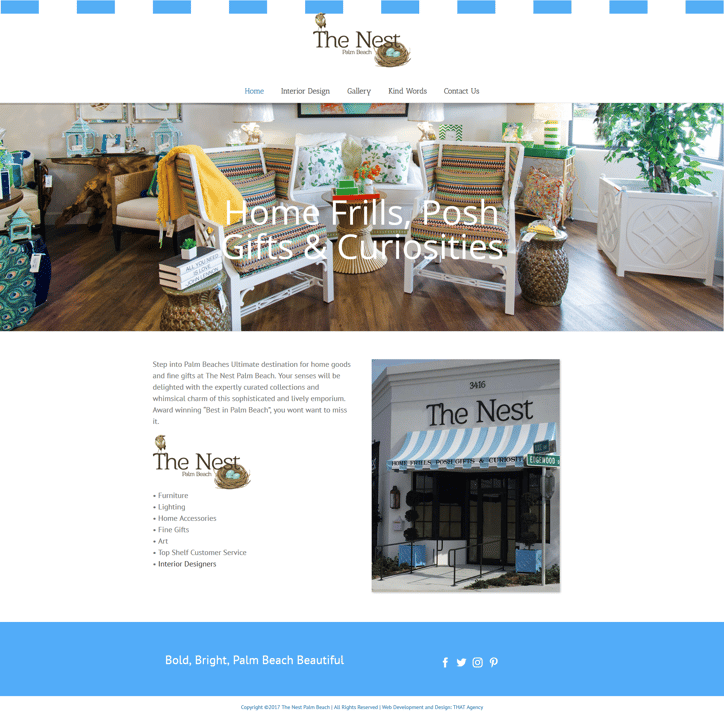 The website was developed on the open-source PHP platform, WordPress, and was customized to provide a modern, open look-and-feel, to showcase the home décor's showroom, and interior design portfolio.
To complete the project, THAT Agency incorporated their standard suite of search engine optimization onsite best practices. These services included (but are not limited to): keyword and competitor research, meta title and description optimization, 301 redirects, XML and HTML sitemaps, and much more!
About Nest Palm Beach
The Nest Palm Beach is the ultimate destination of the Palm Beaches for home goods and fine gifts at . Your senses will be delighted with the expertly curated collections and whimsical charm of this sophisticated and lively emporium, containing: furniture, lighting, home accessories, fine gifts and art. All with top shelf customer service and interior designers on premise. We understand the importance of designing interiors that reflect the taste, needs and lifestyle of our clients, and believe in making homes livable and appropriate without sacrificing beauty and style. With our ability to layer color, shape and texture and our understanding of space, scale and proportion we will transform your home. For more information about our store location, or interior design services, visit the new Nest Palm Beach Website or call (561) 557-1300.
About THAT Agency
THAT Agency is a full-service interactive design agency whose focus is all about their clients, including their web designs and development, search engine optimization and pay per click management and social media marketing. THAT Agency also provides business planning services, such as: specification documentation, wireframes and competitor analyses, for companies of all sizes, from start-ups and sole proprietorships to Fortune 500 corporations. For more information about all of the digital marketing services THAT Agency provides or to get a quote, visit www.thatagency.com or phone (561) 832-6262.