THAT Agency Launches New My Pharma Place Website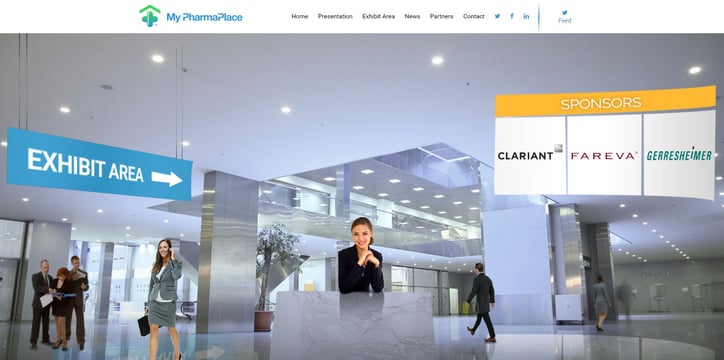 West Palm Beach, FL - France based company, retained THAT Agency to design and develop new pharmaceutical virtual convention website for the U.S. Market. As a new concept in website design and development, we eagerly embraced the task.
The new My Pharma Place website, built on a custom PHP platform with MySQL database, needed to accomplish a multitude of goals. THAT Agency outlined, planned for, designed and implemented functionality to meet each goal.
The new virtual pharmaceutical convention style website, contains front-end features, such as featured "Gold Sponsors" area, virtual convention space, interactive pharmaceutical company booths, including: company description, contact information, downloadable documents, company videos, and full product detail pages. While the back-end of the website, allows for administrators to easily create and edit pharmaceutical companies, assign various booth layouts, and sponsorship level. Additionally, administrators have the ability to manage the content of all content pages within the website and news section.
The website was designed and developed to be responsive, meaning the website will resize according to device, allowing users to have a great website experience from mobile, to tablet, to desktop.
About My Pharma Place
My PharmaPlace is a B-to-B exhibition area, a "meeting" place for suppliers and customers, dedicated to the pharmaceutical industry. From contract manufacturers to packaging and equipment suppliers, My PharmaPlace showcases companies of your field, and helps you get in contact with them.
About THAT Agency
THAT Agency is a full-service interactive design agency whose focus is all about their clients, including their website development and designs, inbound marketing, search engine optimization, pay per click management and social media marketing. THAT Agency also provides business planning services, such as: specification documentation, wireframes and competitor analyses, for companies of all sizes, from start-ups and sole proprietorships to Fortune 500 corporations. For more information about all of the services or to get a quote, visit www.thatagency.com or phone 561.832.6262.