If you find yourself stumbling across this post, you're probably considering HubSpot as your CMS or CRM. The great thing about HubSpot, is that you get both a CMS and a CRM with the platform. Even though there are plenty of other CRMs and CMS platforms out there at a seemingly lower price and less commitment, this post will explain why HubSpot is 100% worth the investment and how it will help grow your business.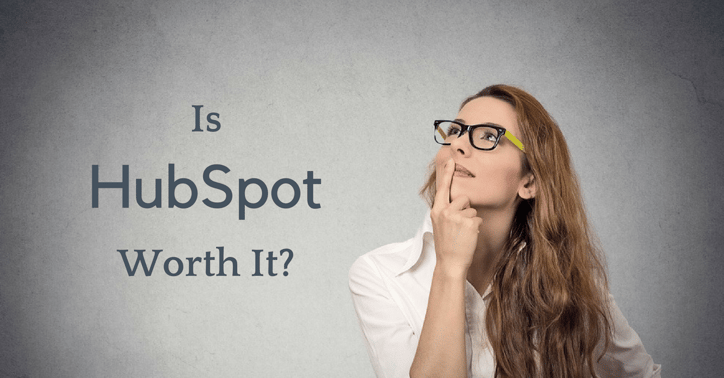 So...Is HubSpot Worth it?
Absolutely. The inbound marketing platform comes loaded with marketing and sales tools for businesses to attract, convert, and close leads in a way no other software can. It provides businesses with the ability to target buyer personas and create dynamic websites to display content tailored specifically to their audience.
When you get HubSpot all set up, you have what you need to start creating and publishing content for your target audience. You have the ability to create forms and landing pages to capture visitors' information and send them targeted email messages with an extensive email workflows tool.
The platform allows your marketing and sales teams to be on the same page. Once ready, your sales team can log into the sales dashboard and can see every single interaction each lead has had with your website. They can then make notes, create tasks, or create a deal and get an accurate report of your marketing ROI.
What You Get with HubSpot
Whether you're deciding to go with HubSpot over Wordpress or are looking for a more effective CRM software for your email strategy, you get a set of tools as host of benefits you won't find anywhere else when you get HubSpot. While you can find each individual tool around the web, you won't be able to get a single "hub" where it's all integrated into one centralized command center.
Content Optimization
If you've worked with a content management system (CMS) before, you've probably had a plugin installed the entire time and have taken the SEO aspect of content creation for granted. I've definitely been guilty of falling into that category, but with HubSpot, it doesn't even matter. When you take a side-by-side CMS comparison, the advantages of HubSpot are clear.

Whether you're writing a blog post or creating a landing page, this side bar menu is always available for you at each step of the content creation process. With the option to preview, optimize, and edit the different elements (modules) on the page, you have the ability to optimize your content as you create it. With SEO optimization built into each content creation tool, HubSpot empowers businesses to create optimized and discoverable content without having to think about installing an extra plugin or signing up for another software service.
Advanced CRM and Email Automation

HubSpot is centered around Inbound Marketing. Any inbound marketing campaign needs a great contact relationship management (CRM) software and HubSpot doesn't fall short in this area. When a visitor fills out a form on your website, their information is collected and added into your contact database.
From there, you have a plethora of options. You can segment them into lists, send a follow-up email, or send an internal email to let someone on your sales team know that someone is interested in your content. The workflows tool will allow you to send timely and targeted messages to the people who engage with the content on your site, without needing to sign up and pay for an extra email marketing tool.
Keyword Tool
Even though optimization is built into the content creation process with HubSpot, you still need a solid foundation of keyword research to make sure your content is relevant. Luckily, the keywords tool is just a click away and automatically integrates with your site so you can see exactly which page is ranking for which keyword.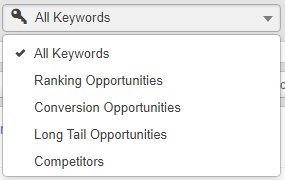 As my personal favorite tool in the HubSpot platform, you're allowed to explore the data of 1000 keywords. Adding keywords is simple, and you get the data you need in seconds. This tool makes keyword research not only extremely efficient, but fun. You can organize your keywords by looking for different opportunities, as well as see what your competitors are ranking for. Want to see if a blog topic is worth writing about? Check out your long tail opportunities and see how they match up with your ranking opportunities.
Reports Tool
As with any marketing activity, you need to be able to report on what you're doing to help the business. HubSpot makes this easy by allowing you to create custom reports on a schedule. Since everything is within HubSpot, there's no need to frantically click between tabs to get your reporting done on time. All you have to do is select the report, hit export, and send it to who you need to and suddenly your Friday afternoon is all cleared up.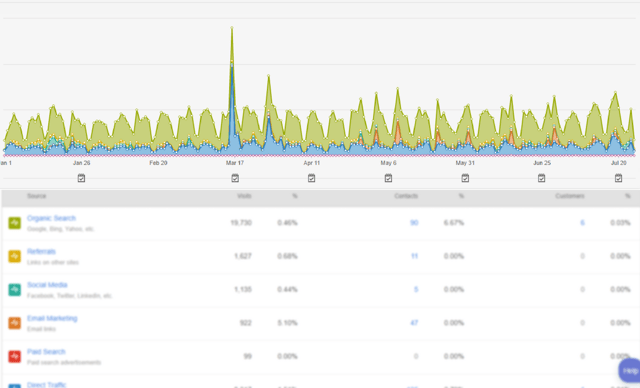 With HubSpot, you get a full scope of analytics to see exactly where your visitors come from and how they're interacting with your website. You'll be able to see which source is creating the percentage of your total visits, the rate at which you convert visitors into contacts, and the rate at which you close those contacts into customers. This makes reporting extremely easy, and everything is able to be exported and sent to whomever it needs to be.
Social Media Center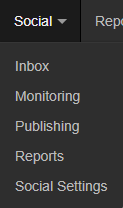 We can't forget about social media either. HubSpot's social tool allows you to schedule posts and create streams for social listening so you can stay on top of what people are saying about your brand. All this information is pulled into your CRM, so if one of your contacts engages on social media more often than other channels, you can create personalized content specifically for that person to increase engagement.
HubSpot makes it easy for you to schedule, publish, and report on the content you post across your social media channels so you can worry about delivering the right content to the right person.
Calendar and Campaign Management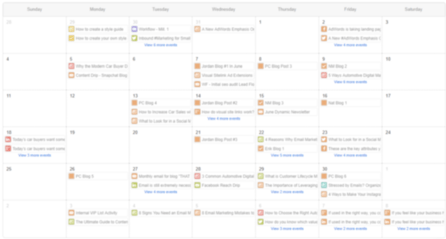 What's all of this if it isn't manageable, right? Simply click the productivity tab and you'll be able to manage your team with a fully integrated content calendar, campaigns tool, and projects center. Assign tasks to your team to make sure projects get done on time, content gets published by the due date, and keep track of your campaigns all in one simple, easy to use tool.
HubSpot Academy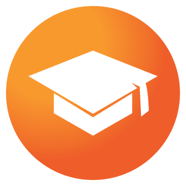 If the centralization of your entire digital marketing strategy wasn't enough, HubSpot also offers training and certification courses from HubSpot Academy. They empower their customers to keep learning about the tools that grow their business, and develop the marketing and sales professionals into top performing assets their companies couldn't stand to lose.
Closing Thoughts
So is HubSpot worth it? Very much so. It offers businesses a growth stack of marketing and sales tools in a centralized place to maximize effectiveness and efficiency. Not only this, but their easy to use platform enables pretty much anyone to develop a digital marketing campaign and report results.
While it might seem more expensive than picking and choosing other platforms and puzzle piecing together a full stack of marketing tools, the centralized "command center" that HubSpot provides will increase efficiency, align your sales and marketing teams, and give you every tool you need to execute an in-depth, multi-channel digital marketing strategy.
If you're interested in seeing what HubSpot can do for your business, we'd love to talk about it! As an inbound marketing agency, we'd love to sit down and get a sense as to how we can use HubSpot to grow your business and answer any questions you have.