News has quickly spread about Instagram's new feature to its platform "Go LIVE with a Friend". This addition gives users the ability to invite friends who are watching their live video to join in on the conversation. Now you and your friends can join discussions live while other friends watch and comment! How does it work? Many fo you are interested in using Instagram to grow your business.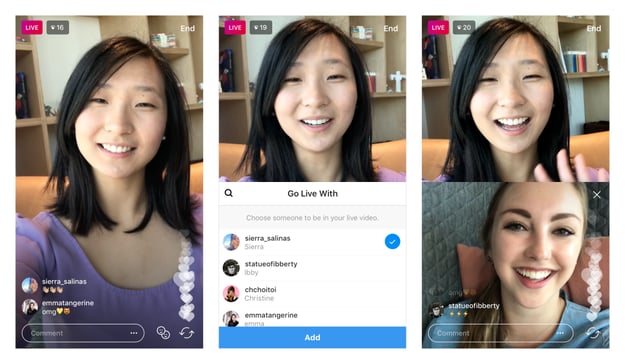 Instagram has noticed the trend in using live video since they released the ability a few months ago. With millions of users and brands taking part in this movement Instagram wanted to cater to those who may feel doing a live video on their own is intimidating. By inviting a friend to your live video, you are sharing a screen with two profiles making it more approachable when the light is shined on more than one person. Simply tap the new icon on the bottom right and tap "Add" to invite anyone who is currently watching your live stream. Wait for them to join and the screen will split allowing you to see whoever you invited into your conversation.
The idea to incorporate more people into Instagram live sprouted from a previously successful app called Houseparty that allows up to 10 people to join in on a facetime conversation. Due to its success Instagram felt giving users this opportunity will increase the number of users comfortable with testing the live stream.
Right now, the live guest feature is being tested amongst small subset of Instagram users, but Instagram plans on rolling it out more widely in the next upcoming months.
If you are not familiar with Instagram or are itnerested in using Instagram to grow your business, contact us today! We specialize in all things digital marketing from social media, to web design in west palm beach.