Something I've been hearing a lot about recently is the confusion between inbound marketing and content marketing. Are they the same? What's the difference between the two? Why is there so much hype about both of them? I thought I'd take the time to answer these questions and explain these two integral aspects of a strong digital marketing strategy.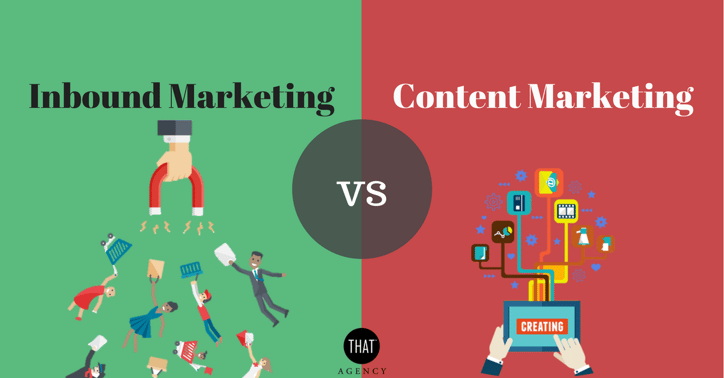 The Quick Differences
There are a few main differences between these engagement driven marketing tactics. These differences are:
Inbound Marketing

Content Marketing

Requires content
Focuses on business growth
Uses content in each decision making stage
Multi-channel integration is essential
Driven by lead generation data
Personalized targeting

Doesn't require Inbound
Focuses on educating/informing
Generalized info vs personalized info
Single channel or multi-channel
Driven by traffic and engagement data
Topical targeting
Inbound Requires Content…Content Doesn't Require Inbound
When we take a look at the Inbound Methodology, we see that content is extremely important to an inbound strategy. It's what keeps the conversation going with your site's visitors and gives them the value they're looking for. Whether it be a blog post, a video, or an ebook, your content's purpose in an inbound marketing strategy is to extend a helping hand to users, as well as qualify their interest in purchasing your product or service.
In other words, your content is the medium by which strangers become leads, and in time customers.
Content Marketing on the other hand, is using content to inform users about a product or service instead of traditional ads. Consumers typically engage with the content in a positive way, but it lacks the lead generation aspect that inbound provides.
Inbound Marketing Makes Content Personal
I'm sure you've seen it plastered all over the internet by now; content is king. Well if content is king, then context is God. Content marketing does a great job informing people about whatever they're reading or viewing, but what next?
When we include context to content, it boosts engagement rates and makes the user feel important since you've produced content that actually means something to them.
Inbound Integration Elation
The best thing about inbound marketing is the multi-channel integration it delivers. This goes alongside with context, but inbound marketing focuses on winning the attention of users where they're spending their time online. Whether they're scrolling their Facebook newsfeeds, checking their email, or jumping from blog to blog, inbound is there.
Content marketing is just that…content. It doesn't focus on walking users through the buying journey towards a decision. This is why lead generation and inbound marketing go hand in hand.
Inbound Focuses on Business Growth
Content focuses on informing. This is great, but once users engage with content…what next? Inbound has an answer for that. Including calls-to-action throughout your website and content will provide users with a clearly defined next step, further bringing them closer to a purchasing decision.
The calls-to-action will then take them to a landing page with another piece of content, but this time it's gated. This means, the user must fill out a form with some basic infor mation (i.e. name and email address) to view the content.
If they're really interested and want the content, it will be a no brainer for them as they see the value your content will provide. Teasing some information on the landing page and transitioning into the content offer is a great way to increase leads with inbound marketing.
To wrap this up, no, inbound marketing and content marketing are not the same. In fact, a strong content marketing strategy is an integral part of any inbound marketing strategy. Without content, your inbound campaigns simply just wouldn't exist. Content marketing alone serves its purpose to inform users about a product or service, but inbound marketing provides users a valuable next step to make their decision easier.