If you're building a new website for a new business or redesigning your existing site, deciding on CMS services is a big decision. It's a long-term commitment and choosing a system you can efficiently manage your site is essential to fuel the growth of your business. Speaking of business growth, this post will highlight why the HubSpot CMS is like jet fuel for growing businesses where as another CMS is simply regular unleaded.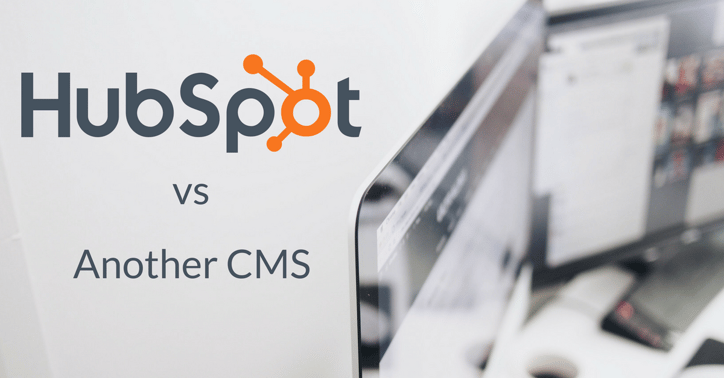 What's Wrong with another CMS?
Absolutely nothing. Platforms such as WordPress are great and have thousands of plugins that enable your businesses to operate and generate revenue. However, when you do a side-by-side CMS comparison, other CMS get blown out of the water when it comes to delivering a personalized experience throughout the buyer lifecycle.
Yes, it's possible to create a functional website with an inbound strategy in place, but without the functionality and efficiency of the HubSpot CMS it can only go so far.
Is HubSpot a CMS or COS?
Great question. In your CMS research process, you've probably heard HubSpot referred to as a COS (Content Optimization System). This is the way they positioned their CMS initially and for a good reason. The all-in-one marketing suite allows you to optimize content across every channel in your marketing strategy with ease; something an ordinary CMS can't do right out of the box. This means you can manage and analyze your website pages, landing pages, email campaigns, social posts, CRM, and forms all in one convenient location.
Let me take a step back and talk more about the CRM aspect of HubSpot. HubSpot is "people first" in every aspect. From calling their 24/7 support team to the way the platform is engineered, it's designed for people to do business with other people. The CMS was designed after the CRM, which allows you to pull relevant contact information to create a one-of-a-kind personalized experience for your users.
Relevancy is Gold
If Google has taught us anything, it's that we need to make our content as relevant to what people are looking for as possible. The HubSpot CMS empowers you to create a dynamic website that shows relevant content to whomever lands on your site.
In other words, the content changes based on who is viewing it to provide them with a more contextual experience. Not only does this give them a better user experience, it largely increases the chances of conversion. If you're building a website for lead generation, HubSpot is the way to go.
You might be thinking, "Ugh that sounds great but I don't have that kind of coding knowledge to build that out". Relax. Like I stated earlier, HubSpot is people oriented and is designed to be used by marketers, not developers. They make it easy to deliver a unique and valuable experience to your users by using Smart Content.
Smart content can be used on website pages to change the message of the page, as well as show different calls-to-action and forms to different people in different scenarios. For instance, if you want to create a shorter form for people who visit your site on mobile, not a problem. If you want to change the message for people coming from an email campaign, easy. Promote 2 different offers at the same time, in the same place, to completely different people, piece of cake.
HubSpot is as effective as it is efficient
My favorite aspect of the entire HubSpot platform is how efficient it is. Instead of constantly switching between tabs to do keyword research, write a blog, see what's going happening on social media, and creating an email workflow I can easily navigate the platform without friction. Not only is it easy, but it's without worry of any outdated plugins that need to be updated. Everything is in one place, and it makes your marketing team operate smoothly.
With everything working together efficiently, it's easy to make changes to your pages, blogs, emails, social posts, reports, etc... and make sure you have an effective site for your business. It gives your team the tools they need to get started right away, so you can start seeing results as soon as possible.
Other Awesome Features
HubSpot Academy
If you want to learn more about inbound marketing or become a master HubSpotter, they offer certification training courses so you can learn and further your inbound marketing knowledge and capabilities. Like I said, they're people oriented, so get ready to become a better you!
HubSpot Marketplace
Along with the awesome community of users you can discuss topics with on community boards and forums, the HubSpot Marketplace allows you to shop around for landing page, website page, and email templates to incorporate into your strategy. You can also list your own and sell it for some added revenue.
Top-Notch Customer Support
When you really dive into the platform, you're bound to have a few questions about whether an idea you had is a possibility. When this happens, (and it will), their 24/7 support team becomes your best friend. They'll happily answer your questions, and if they don't know it personally they'll find someone who does and give you a call back with your answer.
Security and Backup Included
When you become a HubSpot customer, all the content you create is backed up. Everything means everything. You website pages, landing pages, emails, blogs, everything. Not only this, but your site comes with SSL encryption to ensure its secure.
Feedback and New Features
A couple times a year I get asked to answer a few questions about what's working for me and what I think could be improved. The company makes sure that as a customer you're getting the value you're paying for, and takes the steps needed to make the platform better. As they do so, these new and improved features are available to you without added costs.
So What's The Point
The point is that the HubSpot CMS is unlike any other CMS platform out there. It covers all your bases when it comes to establishing and maintaining your business's online presence. It gives you're the power to control your digital strategy from a single command center where you'd be updating plugins and switching between sites with a different platform.
HubSpot makes digital marketing efficient, and people focused. It allows you to speak to the person on the other side of the screen and deliver them the value they're looking for in a personalized way, and that's why it helps businesses grow.