Use Hotel Ads, and Google promises "You're going to need a bigger welcome mat." Is this just a little marketing hyperbole from the tech giant, or can Google's Hotel Ads boost online traffic and onsite bookings? It could be both! It depends on how effectively you put this dynamic tool to work for your business. Your digital marketing agency can help you maximize results.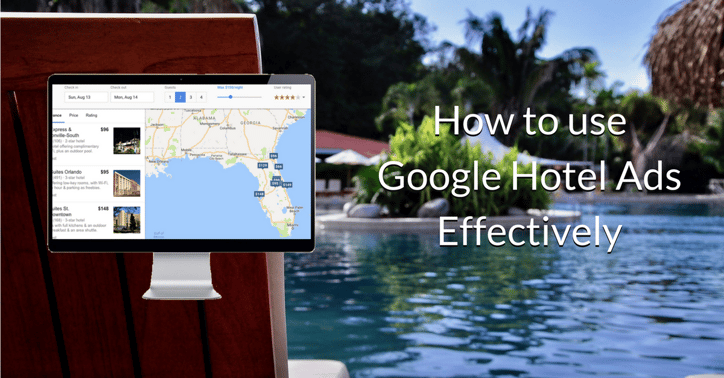 Google Hotel Ads -- From the Customer's' Point of View
Say you're searching for a hotel in South Florida. Like the majority of travelers, you turn to your favorite search engine. According to Google research, "The internet is the top source for both leisure and business travel planning." More specifically, search engines are the top tool for leisure travelers and #2 for business travelers (second only to hotel websites/apps).
A search for "hotels in South Florida" shows you the following results: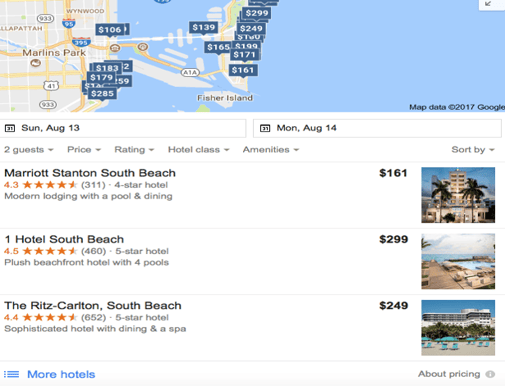 You can easily interact with the listings. Choose the dates, number of guests, price range, rating, hotel class, and amenities you'd like. For our example, you select 2 guests, under $150, user rating of 4 stars, any class, free breakfast, and pet-friendly accommodations. Google refines your options, provides a list of relevant hotels, and offers a map: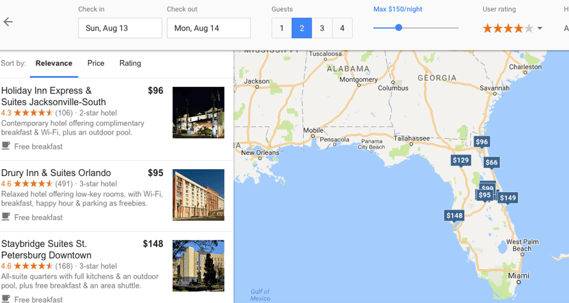 See something you like? Click on the listing to see the hotel details card, which includes offers from Expedia, Hotels.com, Kayak, etc. as well as the hotel's website. You'll also see a quick summary, reviews, pictures, and web results. A big benefit: you can book right from there. Easy, quick, convenient.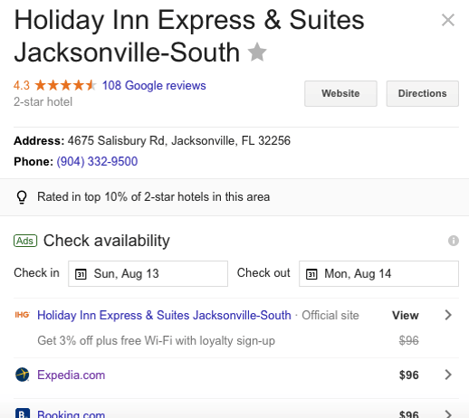 Competing online is essential for today's hoteliers. Over 148.3 million online travel bookings are made each year; that accounts for about 57% of all travel bookings. Google Hotel Ads can help you navigate this tech-oriented market by:
Enabling you to compete with OTAs.

Searchers can book directly through your website. You gain the customer without having to pay the OTA commission.
Increase online visibility across platforms.

These ads help searchers on Google.com and Google Maps find you, whether they are on laptops, desktops, phones, or tablets. The platform works like PPC (pay-per-click); you only pay when your ad results in a click or booking.
You pay to play -- your way.

Decide what to pay for your ads. You can pay-per-click or set a percentage of the room rate for each booking. Unlike OTA models, this percentage is much lower. Your

hotel marketing

agency can help you choose the right model.
Leveraging Google Hotel Ads
To put these Ads to work for you:
Price strategically.

Want your offer to appear first in the hotel details card?

Make sure you supply the lowest price; this is a significant ranking factor for Google

. Your website price should always be the most competitive. Otherwise, why should people book direct?
Price accurately.

Make sure the price for all properties/itineraries is accurate at all times. When users click on an ad, they should see the same price as they've seen on Google. (*Total price includes all fees, including base rate, taxes, and additional fees).

Be consistent.

Searchers hate feeling like they've been the subject of a "bait and switch.

Set bid multipliers.

This enables you to target your audiences more specifically. Set a base bid for your ads, and then zero in on travelers by device type, advance booking window, check-in days of week, length of stay, end-user's country, and Google site.
If, for example, you realize a higher conversion rate when searchers use smartphones and go through Google.com, you can use the multipliers device type and Google site to increase your bids. On the other hand, if you're doing just fine booking direct on weekends, why not decrease your bids by editing your check-in days of week multiplier.
Use your logo.

Whenever you can show off your brand and logo to build familiarity, do it! It helps searchers immediately identify your hotel, essentially shining a spotlight on your listing: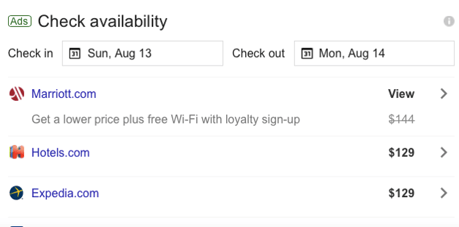 Simply send your Google technical account manager (TAM) an .ico or .png file with your logo (centered and 32x32 pixels).
Manage your ads.

Use Google's built-in tools to manage your Google Hotel Ad campaigns. Hotel Ads Center allows you to access pricing, hotel, and diagnostic reporting, as well as to manage groups and bids.

You can also add conversion tracking so you can see the journey users take after clicking on your Hotel Ads. See if they booked, which hotel, from which device, the value of their booking, and more. You can adjust your strategies based on this data.
These are all important initial steps to help your hotel capitalize on the promise of Google Hotel Ads and implement a strong hotel search engine marketing strategy. When you partner with an agency experienced in hotel marketing, you can realize big gains -- and see your occupancy rate rise right along with your online visibility.