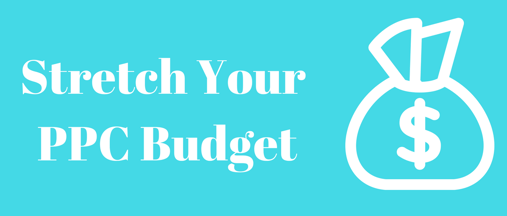 If you are running PPC strategies for a company of any size, chances are you have thought about increasing your Pay Per Click budget. Yes, increasing your budget will typically lead to more impressions, traffic and even goal completions. But before you turn up the dial on spend, here are some easy questions to ask on maximizing and stretching your PPC dollars for a better ROI.
Get More Out Of Your Pay Per Click Budget
What are the goals of your PPC campaigns? - Before we jump into the nuts and bolts of a PPC campaign, ask yourself the most important and obvious question. What are the goals of your PPC campaigns? Revisiting this question and really giving thought to how your strategy is reaching those goals may eliminate some unnecessary targeting and tactics. If your goal is to drive phone calls to your sales team, then setting up call only ads or click to call ad extensions should be the focus of your campaign. Of course this is just one example, but the purpose is to assess how your strategy may be leading to the end goals.
What are the search queries revealing? – No matter how many keywords are in your account, there is always a refining process. Keyword trends continually change which leads PPC managers to using a variety of keyword types. Using broad, modified broad and phrase-matched keywords allow for holes and useless spending but are necessary to find profitable terms. If you don't know where to locate this information, you can find the search terms used to trigger your PPC ads by navigating to your keywords tab. When finding terms that are irrelevant to the campaign or using a significant piece of the budget with a low ROI, make sure to add them to your negative keyword list. This process should happen a minimum of two times per month.
Is your bidding strategy updated? - There are many different bidding strategies that PPC platforms like AdWords have built into their campaign settings to help maximize the effectiveness in achieving your campaigns goals. Some notable strategies PPC managers choose when setting up campaigns are maximizing clicks, target CPA, target search page location and manual bidding. Choosing your bidding strategy was most likely related back to your goals, but this needs to be revisited from time to time. Understanding which keywords are providing a strong ROI and which ones aren't can make change your monthly budget drastically. Finding these bid optimization opportunities allow you to decrease bids on under performing keywords and conserve more of your monthly budget.
These three questions aren't the only questions you should be asking, but they can lead to a revamp of your campaign and your budget going much farther in the long run.
For more information or questions please don't hesitate to contact THAT agency.